Private outdoor space. Does it really add value to a property?
Summer is a time to enjoy being outdoors with friends and family, sharing BBQ food and spending long, light evenings in your garden space. But how many of us actually have the luxury of a private outdoor space at home? Is this really a priority for the masses? And, does having an outdoor space actually add value to a property?
To find out if private outdoor space is an important feature for most people when it comes to looking for a new home, we asked 1,000 British house hunters for their opinion. We also carried out in-depth geo-targeted research to see if the financial value of outdoor space differs depending on where a property is based in the UK.
Is a garden really a must have?
For over half of the British population (54%) a garden is their top must-have when it comes to choosing a home. It seems that as a nation of gardening and wildlife lovers, spending time in our own private stretch of outdoor land is more important than we might have thought.
Those looking for a new house would even favour a house with a garden over a house in a better location or one which is bigger and with more bedrooms. Only 18% are motivated by a premium location and a miniscule 4% are bothered by size.
A private driveway is also a pretty important feature of a home according to almost a quarter (24%) of the population, who are looking for a reserved spot to park their car and increased privacy when arriving home.
Must Haves when Looking for a New Home
Does having a garden add value to a home?
Again, the answer is most definitely yes! Having looked at a wide range of properties around the UK, both with gardens and without, it's clear that the additional value that having a garden gives is quite substantial.
That said, the cost of this added value changes dramatically depending on where in the UK you're living. If, for example, you live in London, where the average house price is £482,200, you could expect to see a whopping 69% added value to your property if it has a garden space of its own, taking the average asking price up to £813,500!
Away from the capital, the added value of a garden is not quite as hefty, however, it's still substantial enough to have a big impact on your finances. If you own a home in Nottingham, for example, you can expect the value of your property to almost double (48%) if it comes with a decent-sized patch of green grass or a private paved garden, taking the average house price up to £228,994.50.
Homes in Yorkshire, however, are not as affected by value increase depending on the amount of garden space they offer. Perhaps this could be down to the fact that there is plenty of green space to share among the houses in the area, compared to other, more urban areas. For example, those living in and around Leeds can only expect to see around a 10% increase in value for properties with a garden, compared to those without.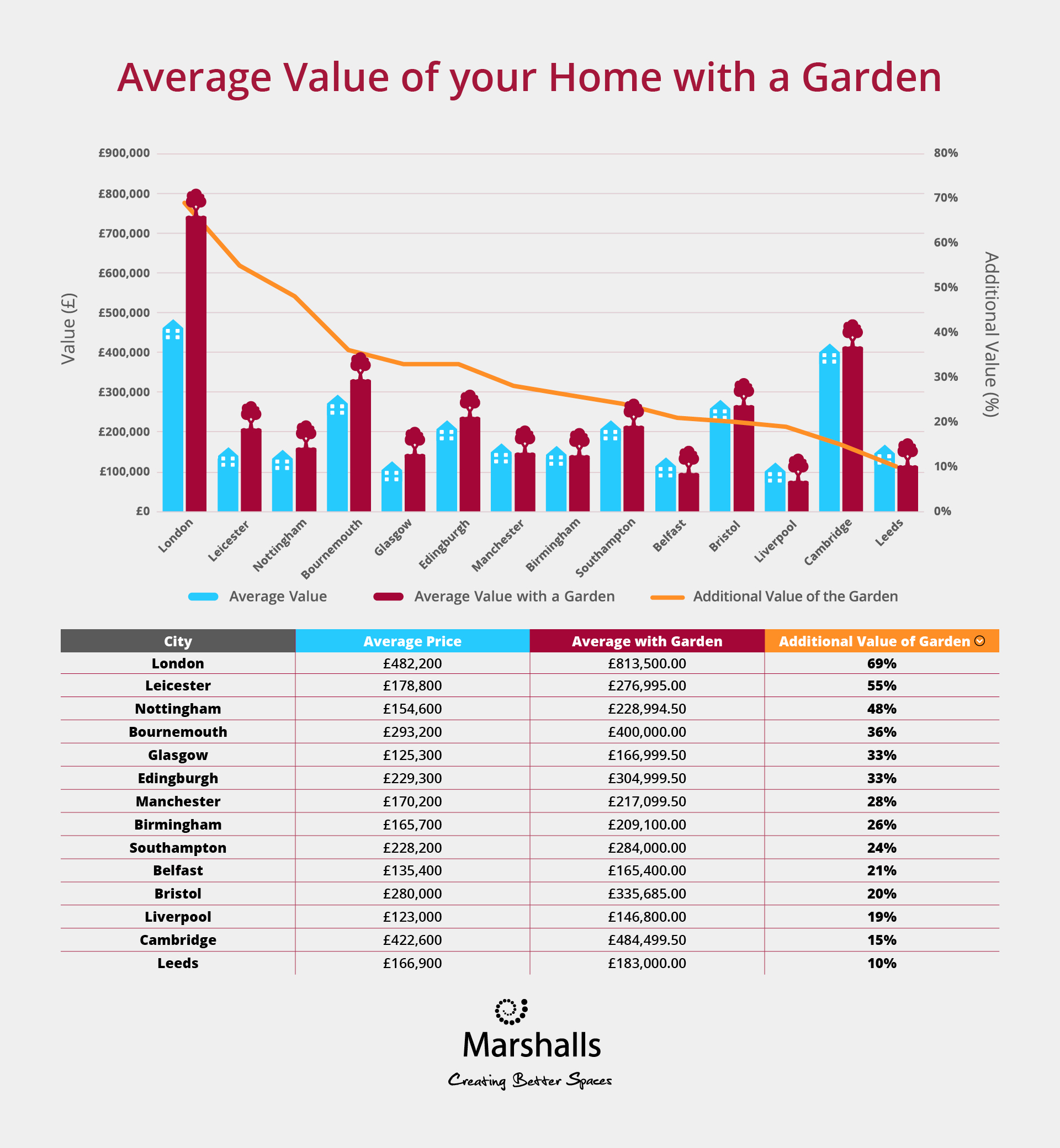 So, how about the value of having a driveway?
When it comes to wanting a private driveway leading into your home, again, we have to expect to pay a premium. But is the value of a driveway higher than that of a garden? Given that 45% of respondents complained about finding parking near their home, it would seem that this type of outdoor space could be like gold dust.
When comparing properties and their market value, again there is widespread variety dependant on what region of the UK we are looking at. There doesn't seem to be a one-size-fits-all formula when it comes to assessing the value of a driveway over the value of a garden.
For example, in comparison to a 69% property value increase in London for homes with a garden, property owners can only expect to benefit from a 22% increase for a property with a driveway. However, those properties in Glasgow with a private driveway would be valued at 53% more than those without, whereas a property in Glasgow with a garden would be valued at only 33% more than a property with no garden.
As a whole, driveways in Leicester come with the largest premium, adding a further 60% to the value of homes in this area. At the other end of the spectrum, properties with driveways in Liverpool and Bristol can only expect to see a 4% increase in value, compared to those without this luxury. Perhaps this is due partly to the fact that it takes the average Liverpudlian only 4 minutes to find an on-street parking space near their home – this is under half the length of time (10 mins) it would take someone in London to find a similar parking space within walking distance of their property.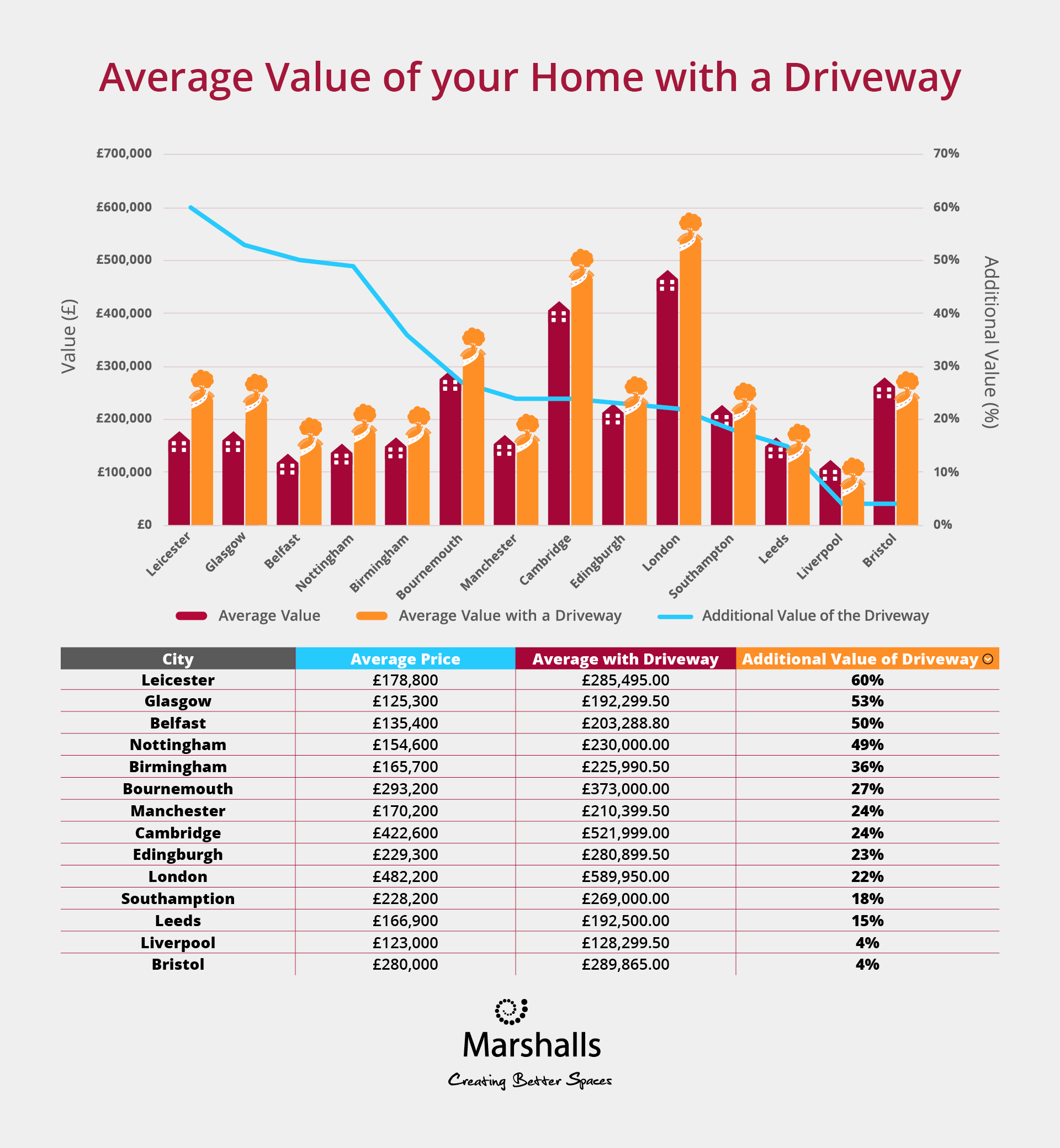 As with all large financial decisions, it's worth doing your research before buying a property to establish which geographical locations are best to invest in for the highest return value.
Having discovered some very interesting statistics from our research about the value of outdoor space, it seems that it's also important to assess what property features might be valued more by residents in each location, which could dramatically affect the market value of a property.
If you're interested in similar outdoor living topics, please feel free to bookmark our blog.