How do I know I am buying good quality Indian sandstone paving?
With any purchase, if the price seems too good to be true then it often is and patio paving is no exception. Using Indian sandstone paving in your garden can create a luxurious and stylish finish but it's important to do your research or you risk disappointment (and additional cost) a few months down the line.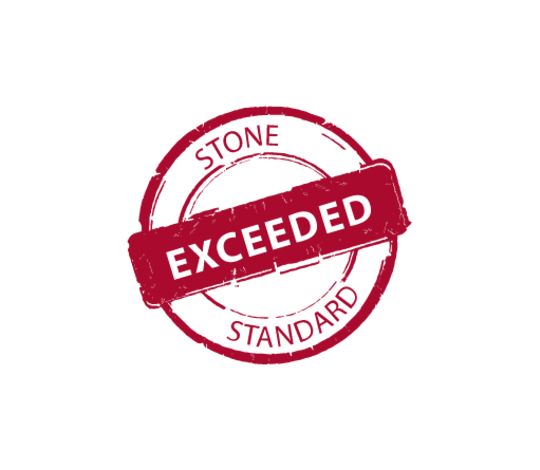 The Marshalls Stone Standard is a symbol of quality and shows that our Indian sandstone products have gone through rigorous tests at independent laboratories. But what do we test for, and what can you do to make sure you're buying good quality Indian sandstone?
The British Standard
The first thing to know is that there is a British Standard (BS 7533 Class 2) which covers Indian sandstone. This is the minimum standard you should accept when it comes to your paving, always look out for the CE Kitemark. Never assume that just because a stone is on general sale that it meets the standard – we carried out tests on a random selection of Indian sandstones available on the market, and discovered that half did not meet the British Standard. All Marshalls stone paving exceeds the British Standard.
Water absorbency
A sandstone with a high level of water absorbency – that is, one that draws in too much water – will be more vulnerable to frost and more likely to attract algae or lichen growth over time which means it is harder to keep clean. All sandstone sold by Marshalls has a maximum water absorption of 1.7%, anything higher than this could go green within a few months and may be more slippery than you'd like too. Because our sandstone has such a low level of absorbency we don't recommend sealing it. If a supplier recommends their stone needs to be sealed it may be because the water absorption is so high that the product will go green with algae growth within weeks of installation and, by sealing, it will hide the poor performance of the stone.
Flexural strength
Flexural strength is an indicator of the strength of stone. The higher the number, the less chance there is of the stone becoming damaged either in transit or once it has been laid in your garden. Stone that is less than 12MPa* may not be protected during the harsh British winter; all Marshalls sandstone has a flexural strength of no less than 12.9MPa.
Frost resistance
Regular frosts are common in the British winter and a repeated freeze-thaw can have an impact on the strength of stone over time. All sandstone sold by Marshalls is frost resistant, which means the impact of a harsh winter will be minimal. Make sure you ask your retailer how a stone performs in a cold climate to avoid disappointment when you head back out into the garden come Spring.

Ethical sourcing
Another consideration when it comes to stone is where it has come from and whether it has been quarried and manufactured in a way that is safe and fair. Too many overseas quarries continue to use child labour in conditions that are unsafe for everyone, so it is important to know where your patio has come from. All of our natural stone paving is ethically sourced under the Fairstone brand. Through buying Fairstone you can be assured that the stone is quarried and processed to the strict standards of the Ethical Trading Initiative; it ensures no child labour, fair wages and safe working conditions are maintained.
Ask the right questions
The process of purchasing the right stone is more than just choosing the right shade and quantity, but the time it takes it time well spent. Before you buy any stone product, you should make sure the manufacturer has fully tested it for the measures we've listed above – ask your installer to see an up-to-date test certificate if they are buying it on your behalf. Only this will tell you that your new garden feature won't turn green or crack in the rain and frost. And make sure your installer or supplier knows the origins of the stone too, so that you know you're getting a beautiful garden that has contributed positively to all those who've been involved in its journey.

All Marshalls Indian sandstone meets our strict Stone Standard and you can be confident that you're buying quality. Visit our sandstone product pages if you're ready to browse the range and start planning your renovation.

*MPa - megapascals – the unit of measuring tensile strength