Small Patio Ideas
PATIO IDEAS FOR SMALL GARDENS
Whether you're entertaining guests outdoors or simply want to relax on a sunny afternoon, you can create a versatile living space in your garden with a well-planned patio.
Even if the available space outdoors is limited, there's no reason you can't have your dream outdoor space. With help from a few clever space-saving measures and some attention to the finer details, you'll be making the most of your space in no time, and turning your small patio into an extension of your home.
We've put together a few of our favourite small patio ideas for inspiration, because we know that just because your space is limited, it doesn't mean your creativity has to be.
1. BRINGING THE INDOORS, OUTDOORS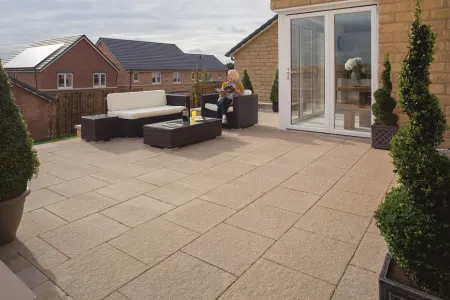 Some people want their patio to feel like a secret escape, an oasis away from the everyday hustle and bustle. If you're after the feel of a cosy home extension without the fuss, consider a no-frills patio paving stone that closely matches the flooring of the room inside. Neutral and buff coloured paving is perfect if you've got lighter carpets or wooden floors in your adjoining rooms. That way you'll have a seamless transition from the interior – whether it be a living room, dining room or kitchen – to the outdoors.
2. GOING GREEN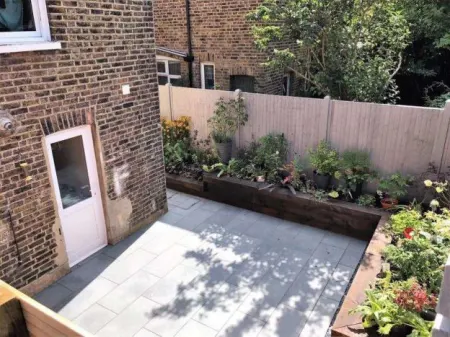 Neutral and simple, easy-to-maintain paving can be livened up by the addition of lush plants and colourful flowers in planters skirting your patio. The combination of greenery and a light, airy patio paving colour adds depth, and makes for an inviting atmosphere, even in smaller spaces. Fairstone Granite Eclipse is available in Ember and Light, colours which can bring out the green hues around the edge of the paving and add brightness and functionality to your outdoor space.
3. SELECTING THE SEATING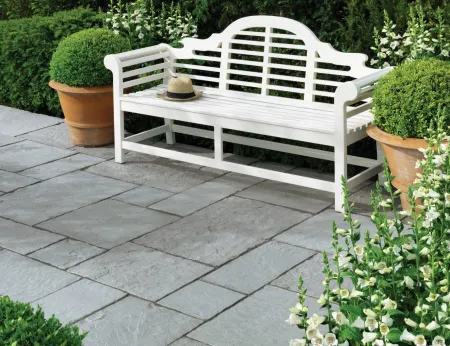 One of the best things about having a new patio installed is getting to choose the furniture to match. If you're keen to give the rest of your outdoor area a refresh, start by thinking about the shapes and colours that will accompany your planned patio design. The cool blues and greys of granite add definition to a white garden bench or al fresco dining table. Rustic-hued paving stones will contrast with metal or wicker outdoor furniture for a Mediterranean feel, especially when your patio is offset with bright flowers and terracotta plant pots.
4. GETTING INTO SHAPE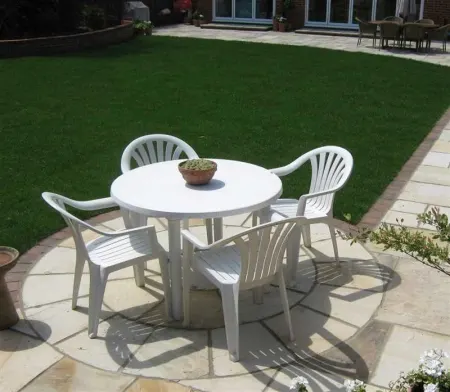 Think about the shape of the furniture you choose in order to maximise the space available – a long and rectangular table will be more difficult to place in a round patio setting for example. Choosing furniture which coordinates with the shape of the patio also improves the perception of space, which is vital for a smaller patio. Tables and lounges are perfect for those warm weather months where you can enjoy a glass of something cold in the sunshine.
5. MIX AND MATCH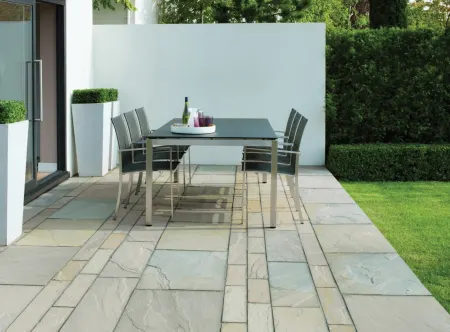 If you're feeling adventurous there are plenty of ways to shake up your patio. Consider it an extension of the house, a second family or dining room. Like with your indoor flooring and rugs, experiment with a variety of colours and sizes – choosing from coordinated paving ranges can really stamp character onto a smaller space. For a sleek finish which lengthens your patio, create lines with longer, thinner paving slabs in alternating rows. If you're looking for something more fun, choose from a range of different coloured paving stone slabs or try herringbone or basket weave layouts for a dash of personality and interest.
6. DARING DESIGN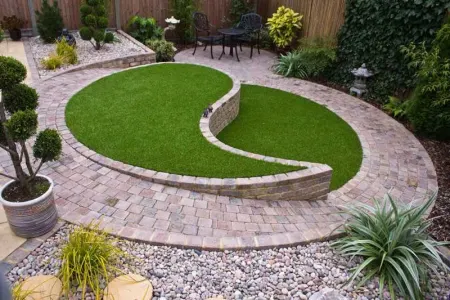 There may be limited space to play with, but that doesn't mean that small patio designs can't be striking in other ways. Work with the gradient and contrast of your space to create something daring. An inventive use of space can be a talking point for visitors, and help you maintain your garden and patio area. Think about the surrounding elements like aggregates and edging and see if you can keep the theme going elsewhere in the garden. If you've got a sloping or staggered garden, planters add interest to the different layers, as well as adding even more greenery to the space.
7. DOUBLE DUTY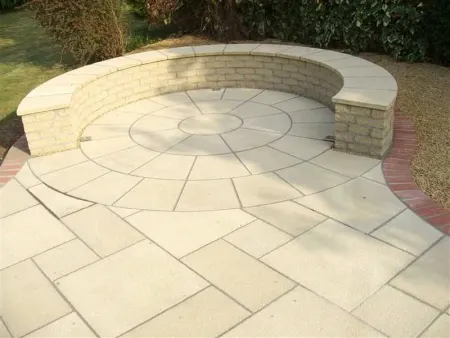 Where space is at a premium, you may not want to fill up the available room with furniture or other features. However, you can use what's available in other ways. If you're looking for patio walling you could consider setting it low enough so that the surface doubles as seating – then you won't need to clutter up the space with chairs. Also think about installing lighting into walling recesses so there's no need to invest in additional outdoor lighting. If you do want some furniture for your space, try and get some multi-purpose benches or tables that double up as storage, or can pack away flat.
8. CRUNCH TIME
Make the design of a smaller patio even more striking with the contrast of decorative gravel. It adds colour and texture to the main pattern paving, and can be placed to accompany the overall shape of the patio, in sweeping lines or narrow channels as your design dictates. Compared to grass, it's low maintenance and adds tonnes of interest to your patio area when contrasted with the right paving.
9. SOFTEN UP THE EDGES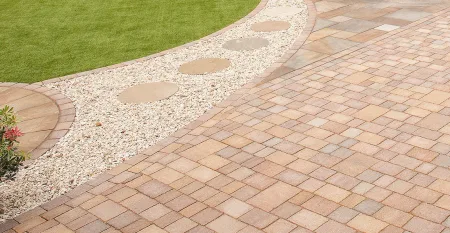 If you'd rather not have hard divisions between grass or gravel and patio paving, you could introduce different elements into adjoining areas. Laying stepping stones into gravel or grass, for example, is a practical and pain-free way to keep your area protected blending the hard edges of the garden. Softening up different areas adds interest and makes it easier to maintain at the same time.
PATIO PATTERNS
If you want to make a statement with your patio, try a beautiful paving design that raises its aesthetic to a new level. A tasteful decorative patio pattern is sure to provide a talking point for visitors and gives an eye-catching focus which can be sharpened by using a mix of colours and styles in your paving or planting lush greenery around it.
PLANNING THE PERFECT SMALL PATIO DESIGNS
No matter how the size stacks up, you can achieve effortless style and an easy-to-maintain patio using quality products. Whether you're going green with natural planters or looking to extend the warm and welcoming interior of your home out into the garden, there's plenty of inspiration out there.
Download our guide to the most popular garden patio paving patterns and see for yourself how a small patio doesn't have to mean a small sense of character.