The value of outdoor space
Smaller spaces
The current trend of growing rent prices alongside shrinking spaces is making the availability of a private outdoor area more important than ever to city centre residents. After all, outdoor space offers a number of benefits, including adding value to a property, increasing appeal to potential renters and providing psychological benefit to tenants.
The question is, how easy is it to find, and how much more does it cost? We did the research to find out the numbers around the globe.
The average size of one-bed properties
First, to understand the current plight of city centre residents, we looked at the average size of one-bed properties in 10 major cities around the world.
| | |
| --- | --- |
| City | Average sqaure metres |
| Sydney | 130 |
| Edinburgh | 88 |
| Berlin | 70 |
| Dublin | 68 |
| New York | 66 |
| London | 58 |
| Amsterdam | 49 |
| Madrid | 45 |
| Rome | 45 |
| Paris | 45 |
The results show quite an impressive disparity between locations. While residents in Sydney appear to have plenty to work with, those in many of the major European capitals are extremely limited.
Making the most of a confined space
With so many city residents dealing with a smaller property, interior design has become a key factor in making the best of a relatively confined space. Anne Haimes, founder of luxury interior design agency Anne Haimes Interiors, told us:
"Don't be afraid to be bold with colour, or with scale. Using a darker shade on the walls can be hugely successful and make the space feel intimate. Hang a large mirror on a wall opposite the window and the whole area will open up in a way you could never achieve if the walls were painted in a light shade."
"Less is more. Don't fill the room with numerous small items of furniture. Choose just a few statement pieces you love and these alone will draw the eye."
The number of properties with outdoor space
The limited room afforded in many major cities only enhances the importance of the availability of outdoor space. This can come in the form of a balcony or garden - but how likely are residents to find a property with access to outdoor space?
Number of properties with a balcony or terrace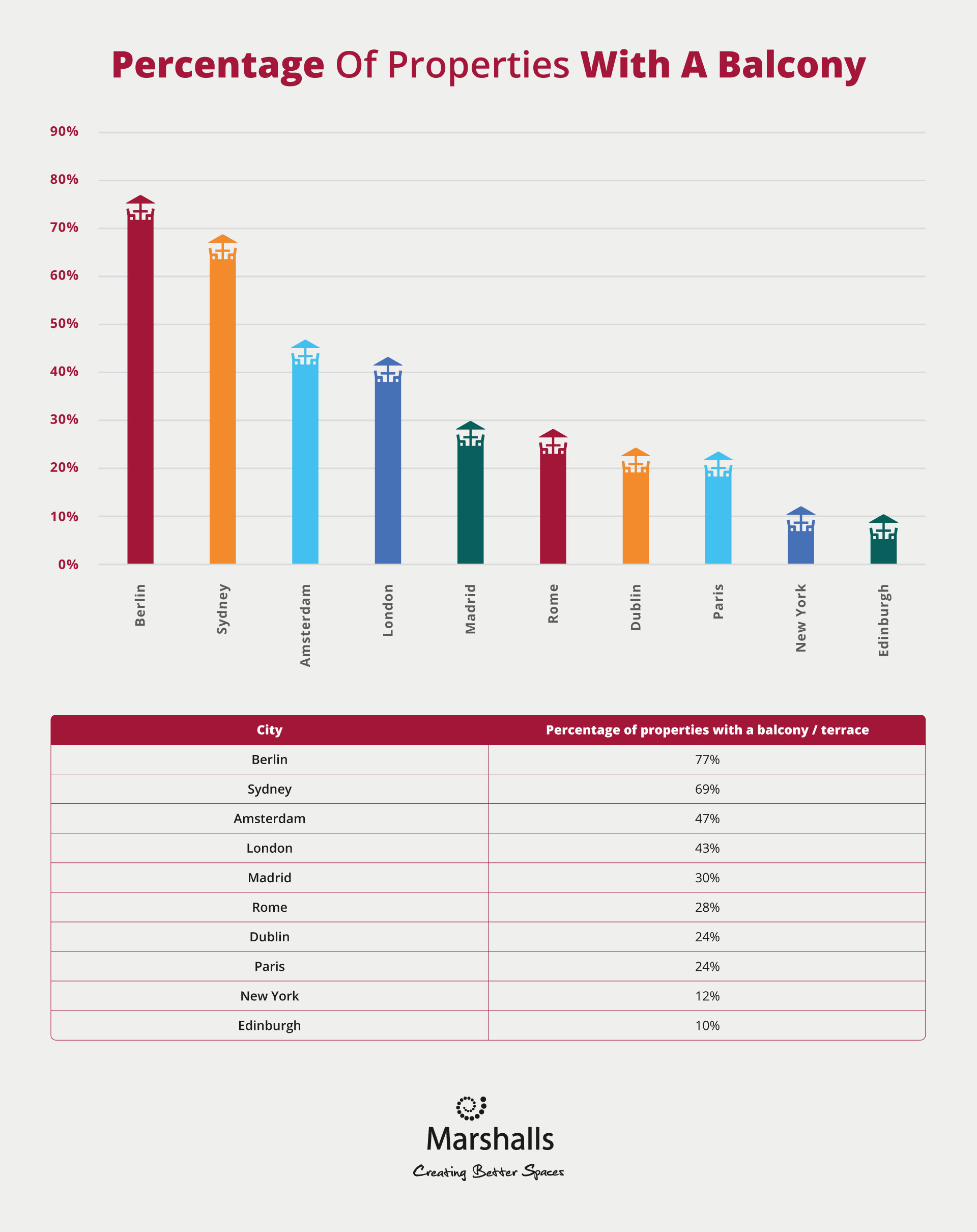 Number of properties with a garden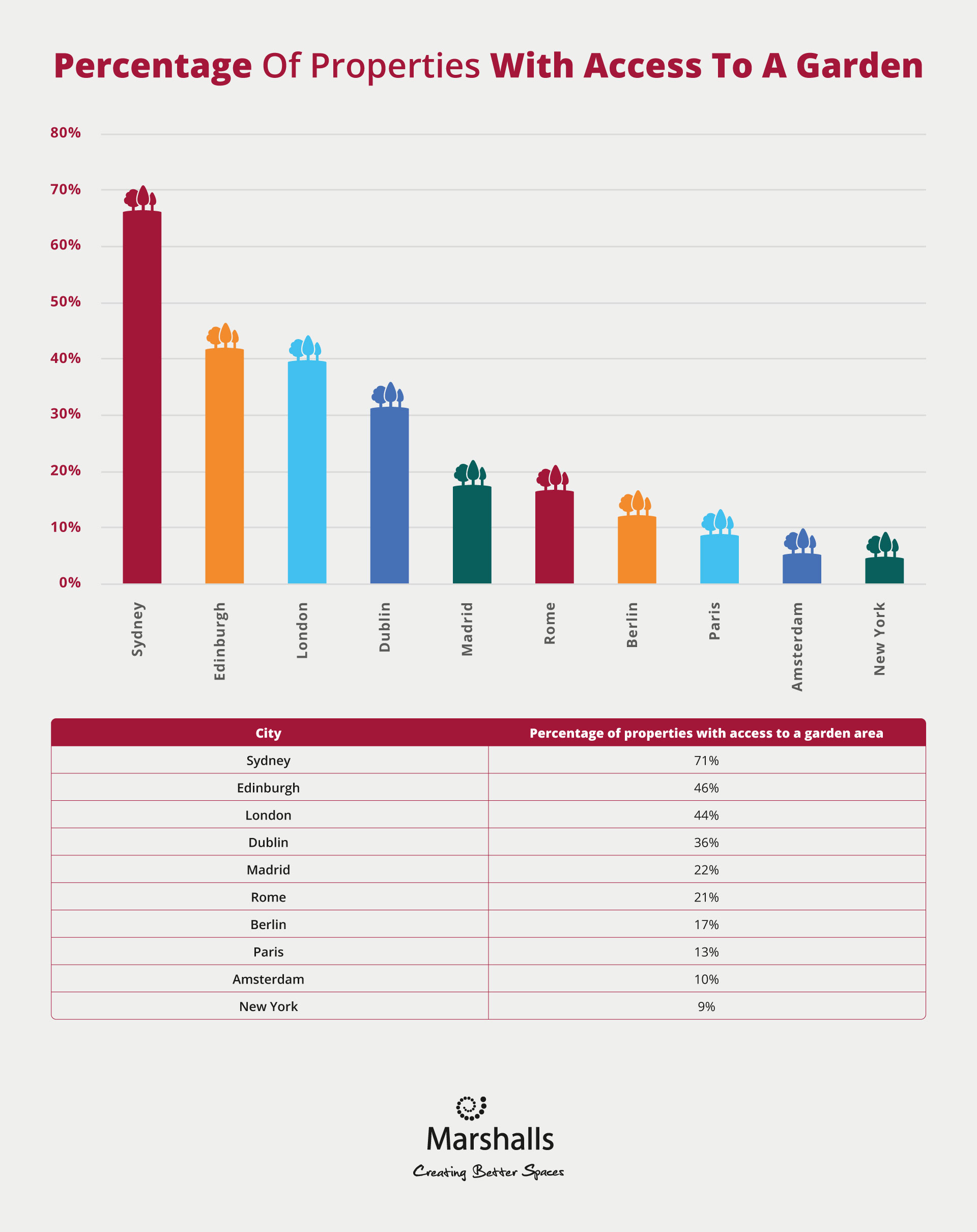 It would appear there is some link between property size and outdoor space availability, with Sydney remaining towards the top of both tables. It's also interesting to note the trends within cities. Take Edinburgh, for example, where you're much more likely to find a property with access to a garden than a balcony, while the exact opposite goes for the likes of Berlin or Amsterdam.
UK residents, meanwhile, might be surprised to find that the prevalence of both balconies and access to gardens is near the 50% mark in London – a city with a reputation for an abundance of shoebox properties.
Dennis Relojo-Howell, founder of psychology website, Psychreg, explains:
"By having easy access to outdoor space at home residents can enjoy a feeling of connectivity with nature, with a great body of research demonstrating that this kind of connectivity does not only evoke positive emotions, but can also promote good mental health and well-being.
Living in a smaller property with no access to outdoor space has the potential to cause psychological problems – such as experiencing claustrophobic moments. There is also the possibility however, that some people might find this as an opportunity for them to create a more intimate ambience with a minimalist lifestyle."
How much does outdoor space cost in a city centre?
It's common knowledge that outdoor space typically adds considerable value to a property, but our findings showed rental price increases based on the presence of a balcony or garden varied wildly from city to city.
Price of rental property per average square metre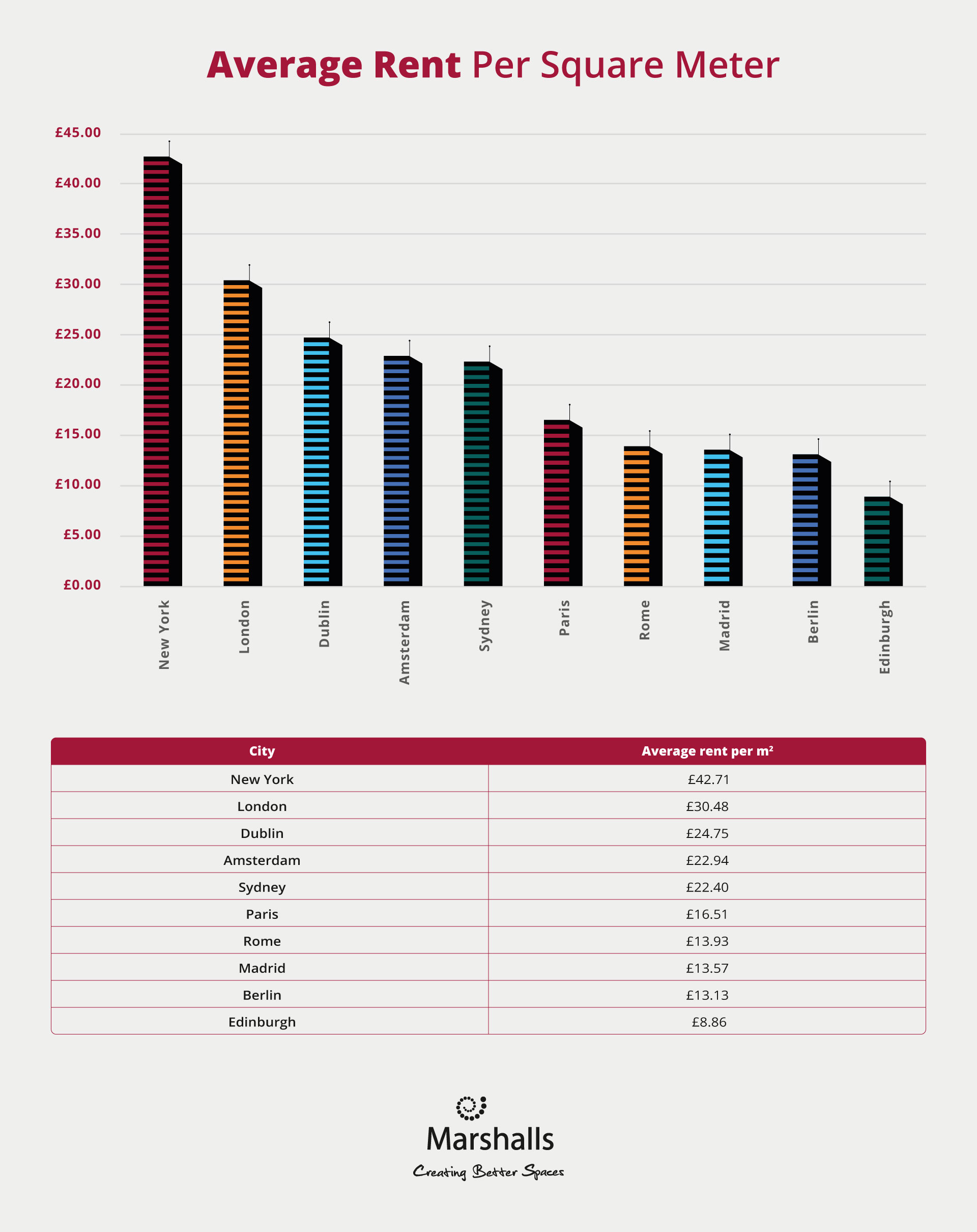 Price increase per square metre with balcony or terrace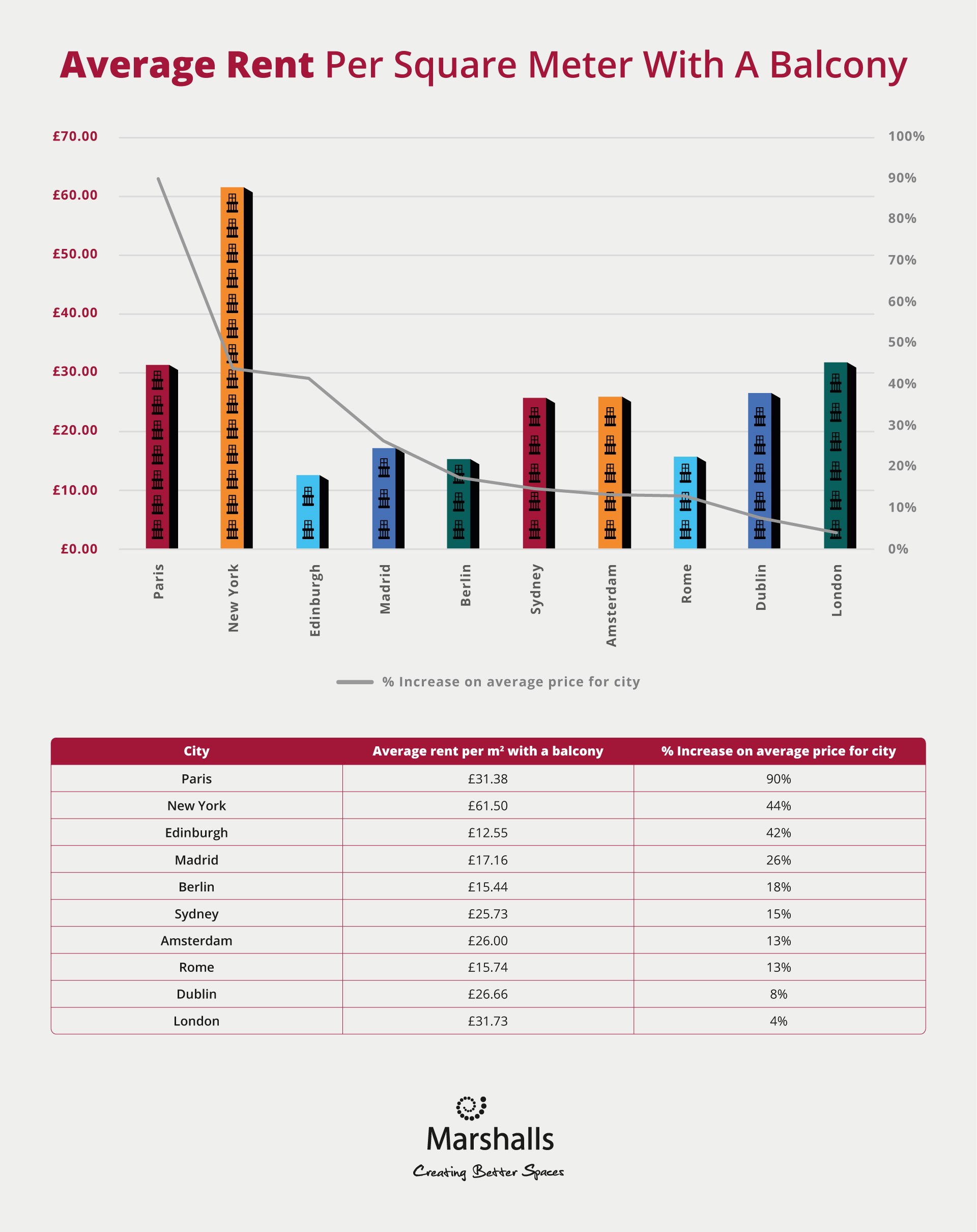 Price increase per square metre with garden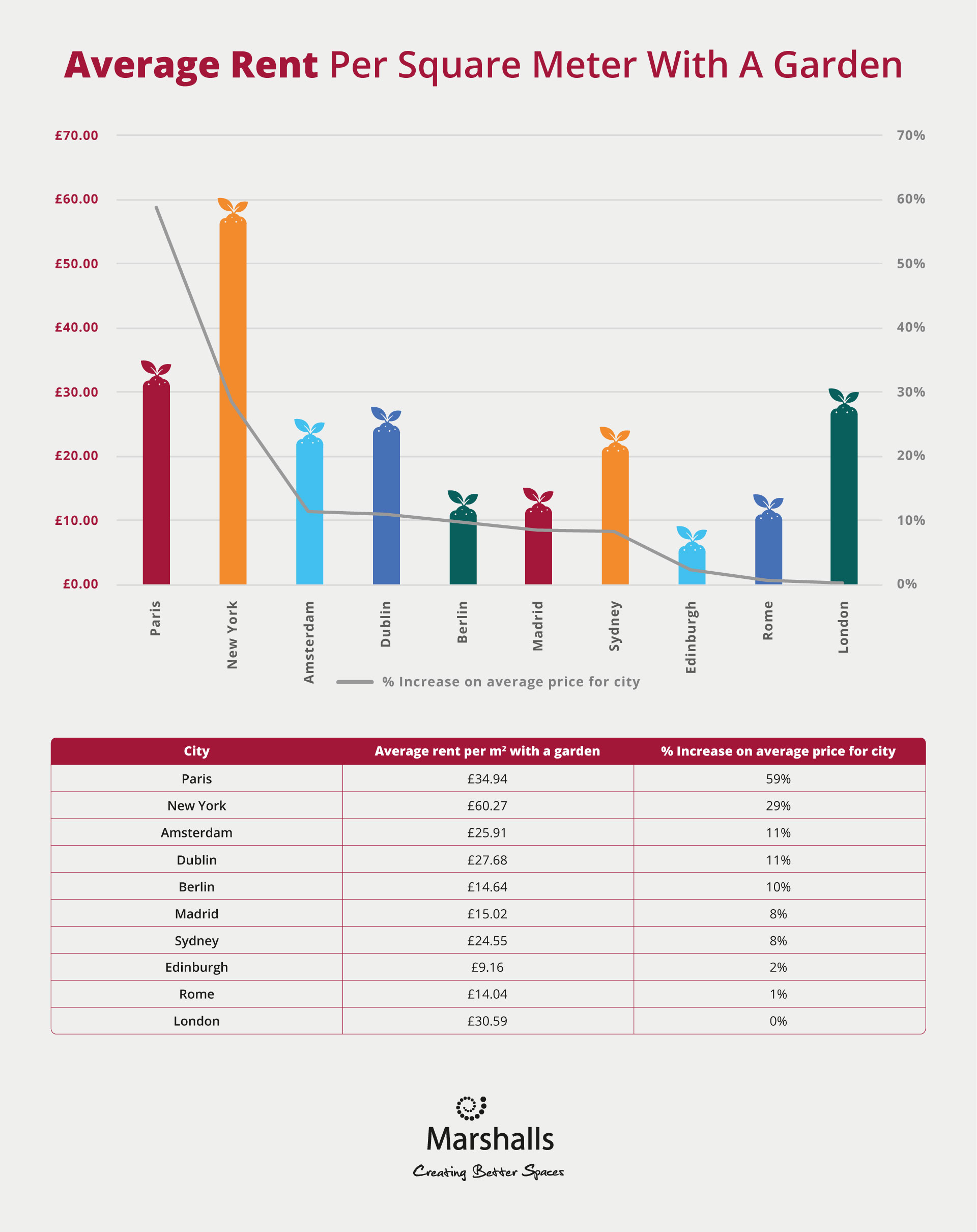 Paris and New York are the two standout locations for price increases, while again London sits in a surprising position – boasting little to no increase in price with both balcony and garden additions. Of course, starting price points mean a property with outdoor space in Paris is still likely to cost similar or less than London, but by and large it's clear to see the value in the addition of both, but particularly a balcony, in big city properties.
Adding value to your property
Whether you're looking to boost rental or sale value to your property, it's clear from the data that having an outdoor space, particularly a balcony, can offer considerable financial benefit. Marshalls specialises in both pedestal paving and fixed head adjustable paving pedestals, which are helping to create premium balcony spaces among the explosion of high-rise buildings around the UK.
For more on adding value through premium paving, contact us today.