Unique garden paving ideas
The home you've created for yourself is a unique reflection of who you are, of your tastes and your preferences. Its combination of colours, textures and styles corresponds to your individual personality – and your garden is no different.
Express yourself
There are a multitude of ways to get creative outdoors, from the flowers you plant, to the furniture you choose and the focal points you decide to create. One area that has particular impact is right beneath your feet. The paving you select can radically alter the ambiance of your garden or drive. For some, pattern is key, with repeated designs that lead the eye, and others may opt for mixed tones. Or perhaps kerb stones appeal to give your paving a neat and tidy finish. Steps can also add an extra dimension to your garden paving.
Around the world, various paving ideas have been used to beautiful effect. For example, in Barcelona, Spain, artist Antoni Gaudi designed amazing buildings but he also created some stunning mosaic work in Park Güell between 1900 and 1914. The famous Piazza del Campo is another example – this astounding medieval square in Sienna, Tuscany, is shaped like a shell, and was painstakingly created using intricate brick paving patterns.
Registering for quality
If you're looking for more inspiration for the paving of your patio or driveway, Marshalls can help. We have a library of paving laying patterns that you can look through to get the best match for you.
Contractors on our Marshalls Register have helped many people get the unique look they want, and some examples of their paving designs are below.
For example, one family took their three-year-old's favourite cartoon character, Shaun the Sheep, as inspiration for a granite and stone project. This fabulous depiction of Shaun was awarded the Marshalls Register Regional Award for the East Midlands in the category of 'Most Creative Use of Marshalls Products' 2014.
In 2013, another very different use of paving won a special award at the Marshalls Register National Finals in 2013 for 'Artistic Achievement'. The customer had asked that their paving should be used to depict the distant horizon as viewed from their home. This vista takes in the faraway silhouette of a church, and the lines of this building are reflected beautifully using the contrasting colours available in our Drivesett Tegula range. Light and shade work together in harmony, and the multi-toned paving is used to exquisite effect.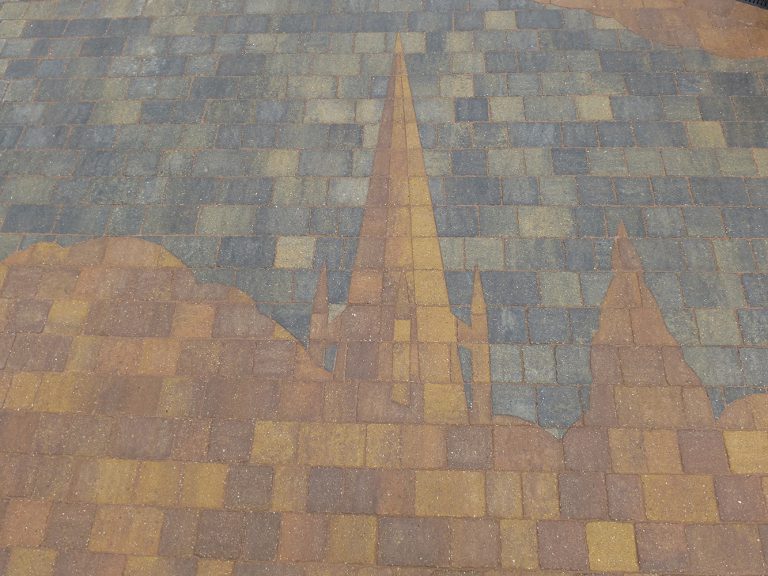 Another project worth special mention was the lighthouse feature specially designed and installed in a patio belonging to a retired sea captain. Created using granite and stone, this piece shows a simple lighthouse perched atop some rocks and contained within a compass's dial; its beam on full to steer sailors to safety.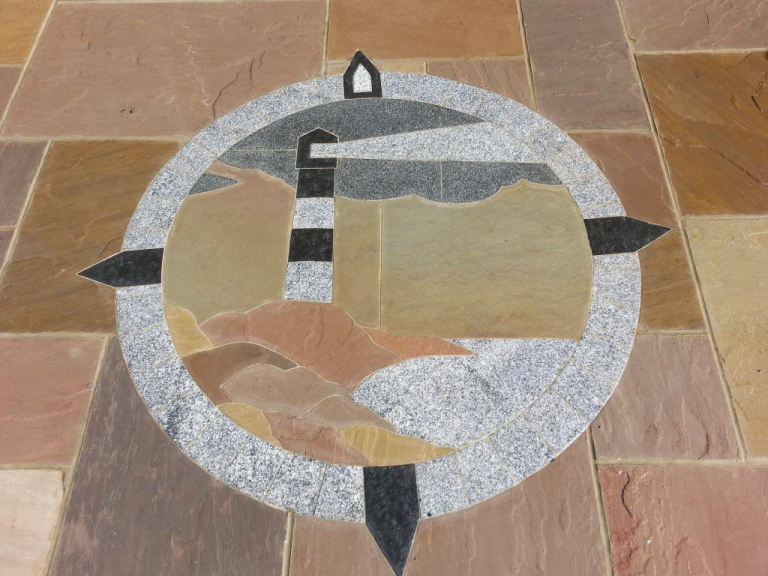 Each of these customers recognised the creative potential of self-expression through quality paving and unique garden design ideas, making their mark on their homes in a way that was unique to them. Like the artists and architects of yesteryear and the Marshalls customers of today, you too could use paving to express yourself