Would you brew up for your builder?
Cups of tea rationed to three a day, biscuits a rare treat and bathroom access a no-no – Britain's builders have it tough these days when hired for home improvements.
We commissioned an independent survey of 2,000 people who have recently hired a workman at home, which revealed that as a nation we're rather untrusting when it comes to our builders – so much so that it's affecting the way we treat them.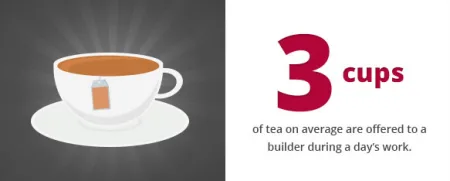 Builders' brew
Our research showed that when tradesmen are working on our homes, they are mostly left to fend for themselves. On average homeowners will offer to make three cups of tea during a full day's shift, while just under half surveyed (46%) said they would never offer a bite to eat, not even a Digestive biscuit.
Middle-aged people are the worst offenders, with more than half (51%) of 45 to 54-year-olds surveyed stating they would never bother to offer their builder food.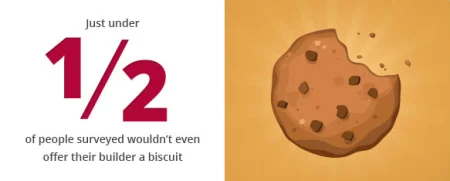 And this lack of trust would even see some dwellers going out of their way to adjust daily routines when they've got builders in, with more than a third (38%) surveyed admitting they would stay at home to keep a watchful eye on the workmen.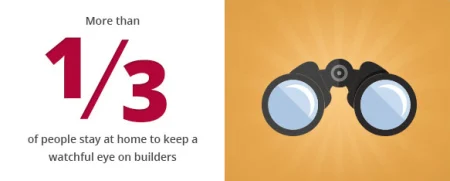 In fact, if a builder has been employed for renovations, one in seven (13%) of us wouldn't trust them enough to let them in the house to use the toilet.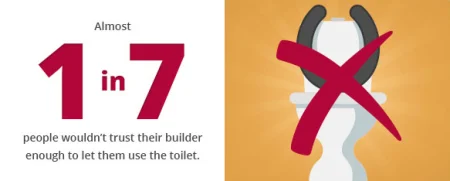 But just why are builders getting such a raw deal and being treated so unfairly? Perhaps it's because almost a quarter (22%) of people we surveyed, for one reason or another, believe they deserve the laddish reputation they are tarred with.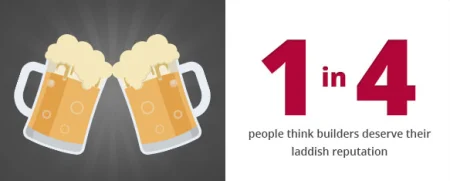 Around the country
Oxford locals were revealed to be the least trusting when it comes to their workmen, with almost one in 10 (9%) confessing they wouldn't be happy if a builder was left alone with their valuables.
It's not all bad news for tradesmen, though. If you're a builder and go about your business in York, you're working for the most trusting people in the country, and one in seven (16%) people would be happy enough to leave their builders a key so they could come and go as they please.
If your trade regularly puts you in Newcastle, you can expect to be well fed. People here are Britain's most generous, with one in seven (14%) stating they will regularly offer food to their builder. And if you're working in Wrexham, you will definitely be allowed to use the toilet, with everyone surveyed saying they would allow it.
And the over-55s are the most likely to go about their day as normal when they've got the builders in, with one in five (20%) in the age bracket saying they would feel completely comfortable in their home with the workers there.
Building trust
Through the Marshalls Register of accredited landscape contractors and driveway installers, we recommend highly qualified and reputable builders to our customers to leave them with the peace of mind of a job well done and at a reasonable price. All members of the Register are vetted and we're confident they're the best in the business – so that you can be too.
Do you think Britain's builders are treated unfairly? And are you one of the guilty ones who wouldn't offer your builder a cup of tea and a biscuit? Let us know below…