Fairstone Granite Eclipse®
For items in stock, order now for delivery from Friday 28th May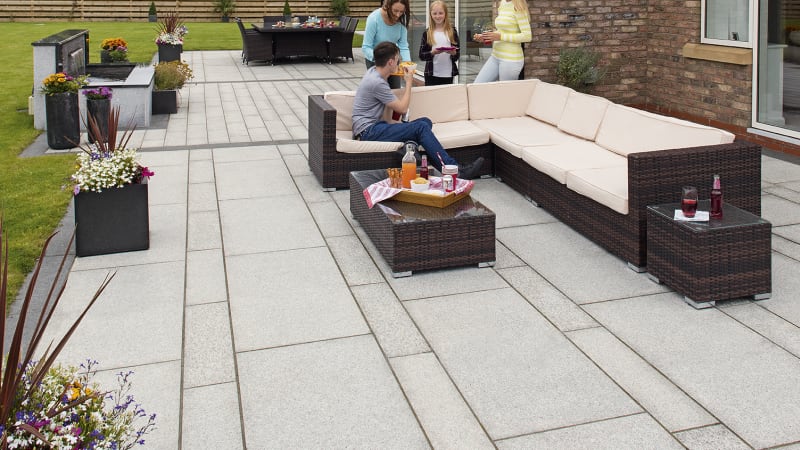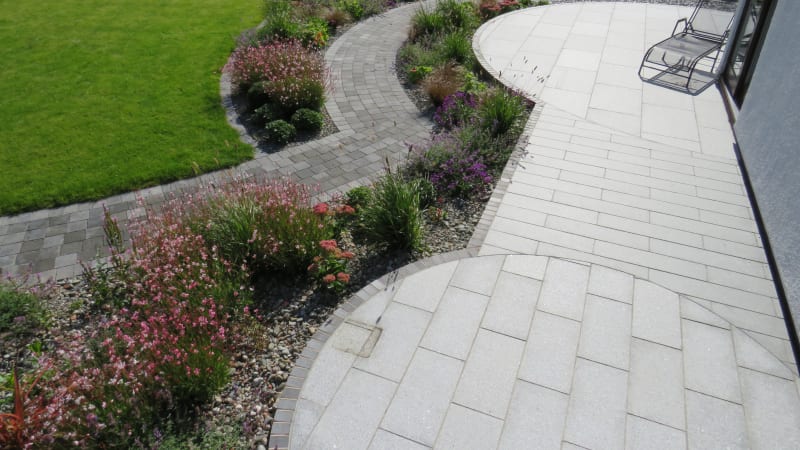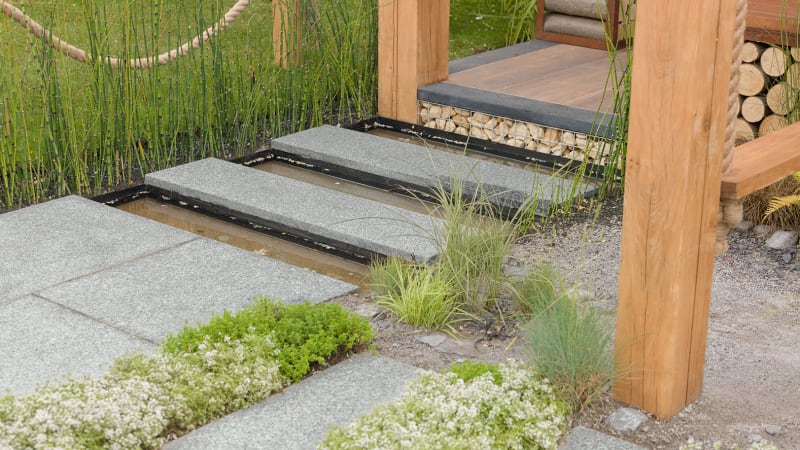 Product Description
Use granite eclipse paving to create an extremely durable and modern patio space to enjoy with family and friends. A brushed surface and lightly flamed finish intensifies already vibrant colours whilst also providing excellent slip resistance even when wet.

Create contrast and unique patterns by mixing the light and dark shades from this range. Complementary granite setts can be utilised as a border as a perfect finish to your project.

For those gardens with varying levels, we offer a range of granite steps to create a seamless transition and when combined with Marshalls Drystack veneer it creates a stunning finish.

For a less intensive jointing process when installing, brush in jointing compound is highly recommended. For installation, see our Eclipse Granite paving installation guide.
Achieve a consistent look with this fine surfaced granite
Flamed texture provides added slip resistance in wet weather
Fine grained granite texture reduces discolouration to keep your patio looking pristine
Hand selected colour to ensure a natural blend across every project
Enjoy peace of mind with this ethically sourced fairstone granite paving
Calibrated for ease of installation and a consistent finish
Create bespoke, contemporary designs with the wide range of sizes and colours
Specifications
Product Name
Colours Available
Finish
Pack Type
Length (mm)
Width (mm)
Thickness (mm)
Pack Size (m2)
No Items/Pack
Jointing Compound Included
Jointing Included
Granite Eclipse® Paving 1209 x 603 x 30mm

Light (EL)

Dark (ED)

Graphite (GR)

Flamed
Single Size
1209
603
30
11.66
16
No
Granite Eclipse 17.9sqm Project Pack
Light (EL)
Dark (ED)
Graphite (GR)                                
Flamed
Mixed Size
603
603
300
603
300
300
25
25
25
18.12
No
Granite Eclipse® Paving 603 x 300 x 25mm

Light (EL)

Dark (ED)

Graphite (GR)

Flamed
Single Size
603
300
25
18.09
100
No
Granite Eclipse® Paving 603 x 603 x 25mm

Light (EL)

Dark (ED)

Graphite (GR)

Flamed
Single Size
603
603
25
18.18
50
No
Granite Eclipse® Paving 803 x 203 x 25mm

Light (EL)

Dark (ED)

Graphite (GR)

Flamed
Single Size
803
203
25
4.89
30
No
Granite Eclipse® Paving 906 x 603 x 25mm

Light (EL)

Dark (ED)

Graphite (GR)

Flamed
Single Size
906
603
25
13.66
25
No
Granite Eclipse® Sample
Fine Picked
Single Size
100
1
Sizes and coverage are those attained when laid with a 6mm joint.
Larger sizes should be installed by professionals with correct lifting equipment The natural origin of stone means variation in colour, texture and natural markings is inevitable. Whilst Marshalls strives to ensure the integrity of each natural stone range through expert hand selection, some variation may occur.
Order Samples
Please select the samples you require below (maximum 3). Samples are free of charge. Please allow 3-10 working days for delivery.
Fairstone Granite Eclipse®
Marshalls Fairstone
Ethical assurance against the use of child labour

Marshalls Stone Standard
Complete quality assurance the stone you buy exceeds the British standard

Granite Eclipse® 1200 x 603 x 30 Graphite
20 March 2021
Fabulous product. Stunning.
Mark Wardle
Find an Installer
Use your full postcode to find the nearest Marshalls Register accredited paving & driveway installer.