5 creative garden edging ideas
SIX CREATIVE GARDEN EDGING IDEAS
The right garden edging can add the perfect finishing touch to your outdoor space. Creative edging combines beautifully with garden pathways and complements existing fixtures like furniture and ornaments, resulting in a stunning, coordinated garden design.
Here are six garden edging ideas that cover all garden types, including contemporary, rustic, and traditional, so you can find the ideal style for your garden.
When you're renovating your outdoor area, why not add some sleeper-style borders to complete your garden edge? Sturdy and solid, old yet new, they're enjoying a surge in popularity.
Sleepers provide a clear-cut border for your lawn and clearly define the different areas of your garden. They look fantastic contrasted against a riot of brightly coloured flowers and shrubbery come spring and summer, and neaten up the lines of your garden in the winter months.
Woodstone Sleepers are perfect if you're looking to achieve a rustic, laid back finish with a respectful nod to Britain's great industrial heritage – without having to source and treat originals.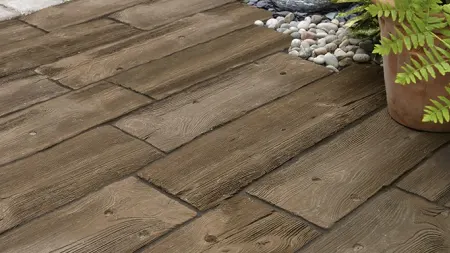 Bricks are incredibly versatile and work perfectly as garden border edging. They are available in a variety of colours, shapes and sizes, and can fit into any outdoor space, whether it be modern or traditional.
The key to creating a brick garden edge design that works for your space is lay out and placement.
Straight lines work if you're looking to define clear boundaries between different areas of your garden, protecting grass and flower beds.
You can opt for a modest border of crumbling red brick lined with wildflowers for a rustic look, or a meticulously laid herringbone-style design or pretty basket weave pattern to achieve a more defined style with an interesting twist.
With stone, there's so much choice available for your garden edging designs. Granite, limestone, sandstone - you have a wealth of colours and hues to choose from.
A great design idea is to coordinate your stone edging with the planting in your garden. Subtle earthy tones like those of our natural stone effect Autumn or Buff-coloured Hewstone Edgings blend in while creating clean lines for a truly contemporary appearance. If the minimalist style isn't your thing, then there are so many different styles and patterns of garden edging, you'll be spoilt for choice – including contour and patterned borders.
For something more striking, slate-coloured edging can set your garden apart. Sawn Versuro in Argent Light gives a beautiful contrast against garden greenery, and is made of ethically sourced sandstone, making it a great edging idea for any garden.
For a traditional style, terracotta-coloured garden edging is unmatched. Often having a vintage or Victorian feel to them, edging like this can be adapted to a variety of spaces and give a distinct rustic feel, while placing them next to green space or planted areas creates a timeless appearance.
Raised beds can make a strong style statement with your garden edges – as well as making your flower beds easily accessible.
A low-walled can add definition to a garden, defining and adding interest to different areas of your garden.
To make a solid statement, try Croft Stone Walling. Easy and fast to install, the end result looks country cottage cosy, and is the ideal backdrop for all sorts of plants and flowers.