5 steps to planning your front garden
Creating a well-maintained front garden and driveway are great ways to add value to your home. But lots of people struggle with front garden designs.. Scroll right to the bottom of this page to see our front garden design and keep reading for ideas to get you started.
Where do you start with planning a front garden or driveway? Here are our 5 steps for making the most of the outdoor space to the front of your home:

1. Take inspiration from your own house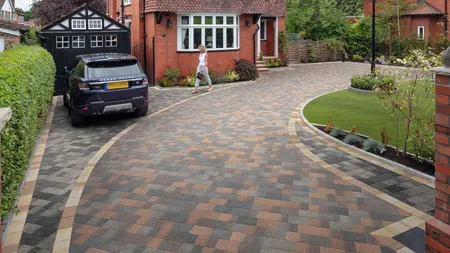 It's the first thing that people see when they arrive so when it comes to deciding on a front garden design, then look no further than the house itself for inspiration. If you don't already know, then find out what period your house is from and extend that style outdoors too. Modern homes suit contemporary paving, often in grey tones with clean lines, and for driveways, our Driveline Metro can be a great choice. In contrast, designing a front garden and drive for a period property means you need to be sympathetic to the era when looking at style and colour. Drivesett Coppice (shown below) comes in 3 different colour blends, making it a very popular choice for traditional projects. If your home is in a Conservation Area you'll need to take additional factors into consideration when planning a garden or driveway, but a quality landscaper will guide you through it and help you choose the right materials.
2. Consider your privacy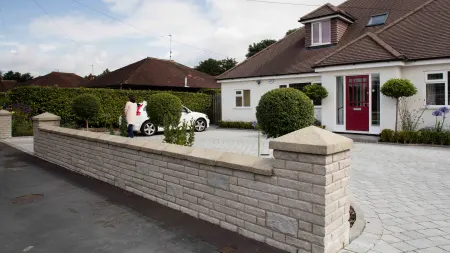 If your home is close to a path or road, you may want to think of a design that brings you more privacy. Walling, hedges and trees are great options to make you feel less exposed, although do consider security as well. Driveway gates can add kerb appeal and increase security; decide how you want them to open based on the layout of your space - a swinging gate is not ideal on a sloped drive and a sliding gate won't work if you have curved boundary walls.
3. Think about front garden maintenance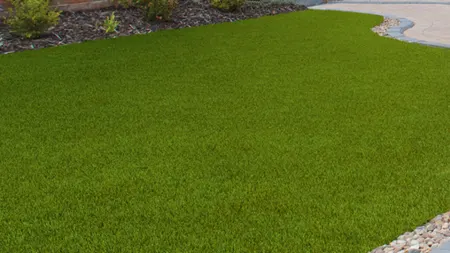 Whilst a front garden and driveway help a home to look great, it's the back garden where you're likely to spend most of your time, so think about how much time you really want to spend maintaining the front. A lot of people prefer to keep large lawns to the rear of their homes, opting for low maintenance paving at the front. Artificial grass is also becoming more popular for front gardens, it looks picture perfect all year round and there's no lawn mower required. For a low maintenance planting scheme create a naturalistic planting bed using perennials, and consider encouraging wild flowers for biodiversity. When it comes to plants for the front garden, go for easy care options and try to plant something that flowers in every season so you'll come home to a splash of colour whatever the time of year. If you're looking for a low maintenance driveway paving, Sawn Granite Setts are a good option. With a lightly flamed surface texture, they are have excellent non-slip properties.

4. Don't forget front garden and driveway drainage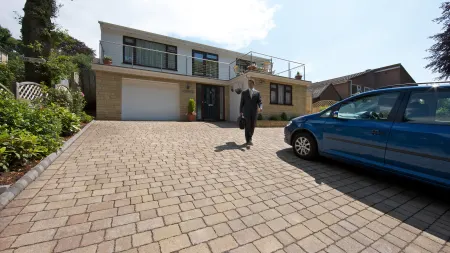 If you're planning a new driveway or to patio a front garden you need to be aware of the rules around planning permission in relation to drainage. Put simply, as long as you use a permeable surface, such as our innovative Priora paving, or direct the rainwater to a newly built drain or soakaway, then you won't need planning permission. Discuss options with your landscaper to make sure you're in line with the rules. And don't forget that even if you have drainage, you may still need planning permission if you need to add a dropped kerb.
5. Find a quality garden and driveway installer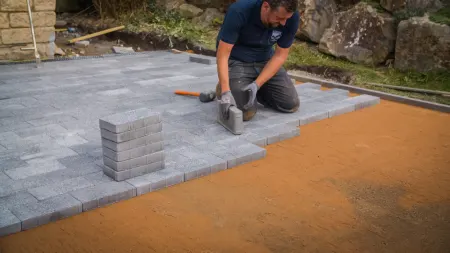 Find an installer who understands your vision and is used to working with the products you favour.
Marshalls Register has over 1,200 installers from across the country who we have vetted and accredited – they can help you with front garden designs and recommend what will work best. By using a Register Member you have the option to purchase a Hard Landscape Guarantee, which gives you 10 years of peace of mind on our products, and 5 years on their installation.