Creating a wildlife friendly garden
A biodiverse garden is full of plants and wildlife, , thriving and benefiting the environment. No matter the size of your garden, there are garden design ideas to help you play an essential role in supporting biodiversity.
We asked our garden design experts to put together the perfect wildlife friendly garden design; from planting to paving to special features to attract insects. Scroll down to see our biodiverse garden design idea, and find out more about the features we recommend.
Planting for a wildlife friendly garden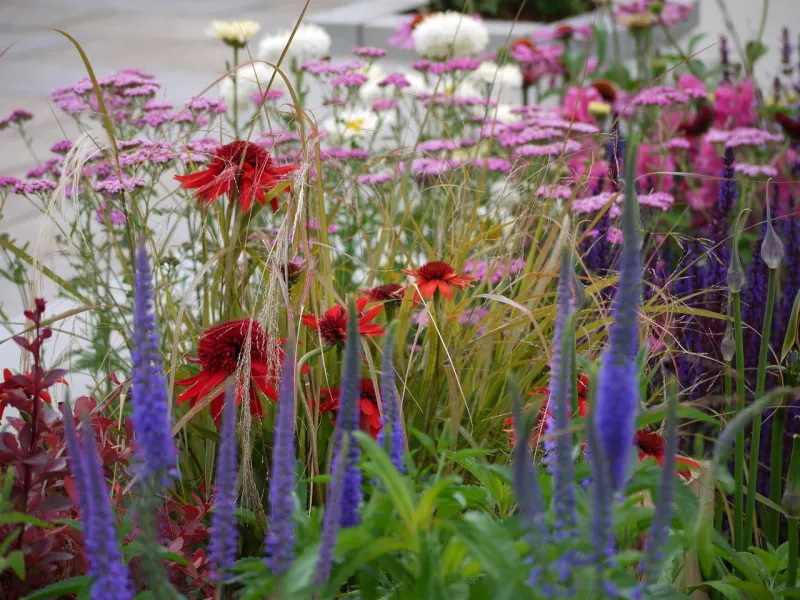 When it comes to wildlife friendly gardens, you want to create spaces for insects and animals to feel safe and have access to food. Trees and hedgerows provide nesting and roosting opportunities for birds. Try to provide a corridor around the garden or better still link into existing greenery in the wider area. Hedgerows are used as navigational guides by birds, some bat species, and as safe pathways by ground mammals.
A green or living wall not only provides many environmental benefits but adds a splash of colour to your garden. A living wall is a great small garden design idea when it comes to adding biodiversity. Ivy, Climbing Hydrangea and Virginia creeper are good examples of self-supporting climbing plants. Ivy is an excellent nectar source for pollinators late in the year and its berries support birds in the spring. It also provides good habitat for insects and arachnids.
Using 'simple' flowers, such as coneflower and Asters, rather than complicated ones like many petalled Peonies and tea roses, allows pollinators easy access to the nectar. If you're looking at making the most of your garden through the colder months, use ornamental grasses, Jerusalem sage and coneflower together with larger sedum species for their seed heads as these can look spectacular covered with frost on the cold winter mornings. This type of planting requires little maintenance, just a cut back in February, and provides winter cover for insects and seeds for birds.
When it comes to your lawn, short mown cultivated lawn turf is a monoculture, supporting little in the way of biodiversity. Counteract this by including areas of wild flowers to support a range of insects and birds. Try to use a seed mix wherever possible - the rolls of wild-flower turf, whilst giving an 'instant' effect can be supplied on nylon mesh as a base, so check with the seller before buying.
Limit the use of pesticides in a biodiverse garden
The overuse of pesticides has a harmful effect not only your garden space, but the environment too. Although they're used to tackle garden pests, diseases and weed problems, a natural way of solving this issue is having a bird feeder as this will take care of some of these problems. Planting a variety of different vegetables, fruits, plants or flowers will help prevent soil diseases too.
A more environmentally friendly way to deal with garden pests is to use home remedies such as salt spray, egg shells, orange citrus oil or garlic spray. These biodegradable options are effective against garden pests will protect your crops so they can flourish even more.
Create areas for wildlife in your garden
Bird feeders are an obvious way of creating a wildlife friendly garden. They provide educational benefits for all ages, as you can see the various birds stop by your garden and change season by season. If you're a keen gardener, attracting birds to the garden helps keep down garden pests such as aphids and caterpillars.
Adding a pond or water feature is a great way of attracting birds and other wildlife to your garden. Ponds provide habitat for a diverse range of plants and will also attract aquatic wildlife; creating an inviting environment for newts, frogs and dragon and damsel flies. Create a boggy area around one side of the pond and plant up with king cups, yellow flag iris and flowering rushes to create a more diverse habitat.
An insect hotel isn't as glamorous as it sounds, but helps with the ecological balance within your garden and teaches children about mini beasts. Insect houses provide habitat for insects which are beneficial in the control of pests, giving a boost to biodiversity in the garden.
If you're looking to attract bees into your garden, it is worth knowing that the majority of British solitary bees nest in the ground. Provide a south facing area of sand or soil bank for them to nest in, in an area which will be undisturbed. Using a natural stone paving, such as Marshalls Towngate, and sand within the joints, you may see small mounded holes created by tawny mining bees.
Before including bat and bird boxes in your garden, begin by doing some investigating. Have a look on the Department for Environment, Food and Rural Affairs 'magic map' and check your local authority biodiversity plan to see what is in your area and whether it is possible to provide a habitat, nesting and roosting opportunities for these species.
It's also important to pay attention to your lights in your garden. Providing habitat for bats could be negated by the position of lights where they forage. Try to create 'dark corridors' for bats and other nocturnal species.
Additional features to consider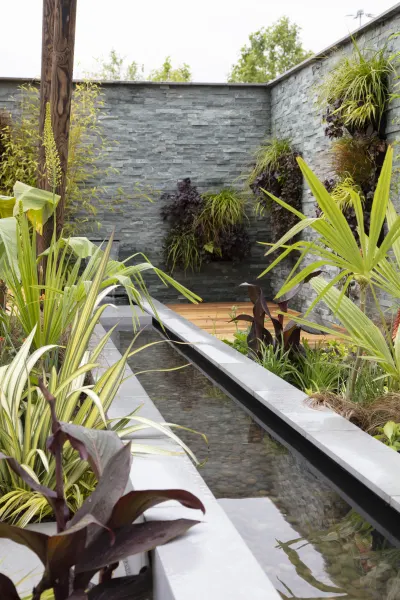 A living green wall using Marshalls Stoneface Drystack Veneer Walling, created by Toby Pritchard for BBC Gardeners World Live 2019
Next steps for planning your biodiverse garden
If our ideas have helped you decide whether a biodiverse garden is something you're wanting to create, then we would recommend getting in touch with a couple installers to see what is possible in your outdoor space. We have a network of over 1000 independent professional installers – find the closest ones in your area and compare quotations.