Driveway ideas on a budget
A quality driveway enhances your home's curb appeal. In fact, some studies suggest you could add between 5-10 percent to its value with a stunning driveway.
After all, first impressions count – and your driveway will often be the first thing anyone sees when arriving at or passing by your home. With the right driveway design, you can impress and amaze your guests before they've even reached the front door.
It's possible to give your driveway a significant uplift even on a tight budget. Find 6 ways to update your driveway on a budget below.
1. Install practical paving channels to cope with the wet weather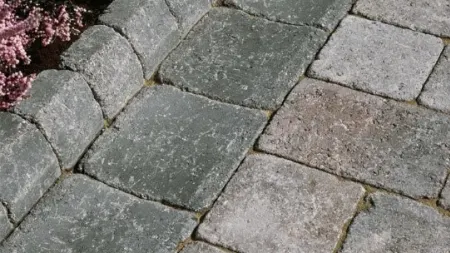 We all know how much it rains in the UK. In the wettest months of the year, it's important to keep your paving clear of surface water to prevent ingress and damage.
You can do this in a proactive way by adding paving channels along the edges. These channels divert excess water towards a defined waterway on your property – usually a drainage point.
If you're looking for something that's both practically and aesthetically pleasing, Drivesett Block Paving Channels tick both boxes. Available in a classic tumbled look, Drivesett Channels improve the appearance of your driveway by adding neat edges – while keeping your driveway free of surface water.
2. Seal your driveway paving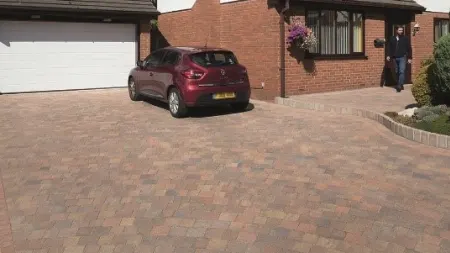 Block paving is a highly durable driveway material – and an affordable alternative to setts or cobbles. Not only is it likely to last for many years, it'll retain its appearance despite any wear and tear.
You can ensure it lasts even longer by sealing your block paving using a manufacturer-recommended sealant. It's a straightforward job – and a worthwhile one, as it will prevent excess weed growth and provide greater protection against the elements.
Follow these 5 easy steps to sealing block paving:
Scrub your driveway clean – leaving a two-week gap to completely dry
Refill the paving joints with jointing sand
Brush away the excess
Apply the first coat of joint sealant and leave to dry for one to two hours
Apply a second coat and leave to dry
For more information, check out our comprehensive guide to sealing block paving.
3. Bring a touch of nature to your driveway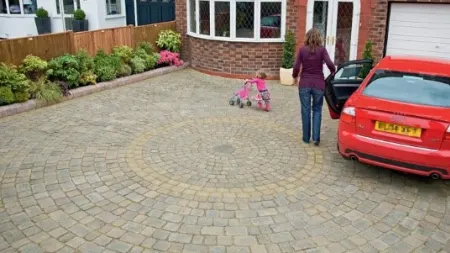 Gorgeous driveway paving is always a great investment – but planting can be more cost-efficient in the short term. Adding a sprinkling of nature to complement your paving can deliver some amazing results if you're looking for an affordable renovation option.
If you have space at the sides of your driveway, why not add in narrow flowerbeds to line the edges? You can plant small flowers of your choice to add an additional decoration and a flourish of colour.
Even adding flowers in plant pots, placed at the top, or sides, of your driveway can have a similar affect – adding to the overall aesthetic. Depending on how much room you have, you could place them on their own platform by installing Woodstone Sleepers that adds stylish demarcation.
4. Consider installing hard-wearing paving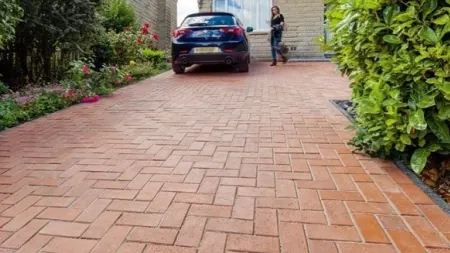 If you don't want to spend money renovating your driveway regularly, it's a good idea to install one type of paving that will stand the test of time.
Drivesys classic paving is an all-round solution that impresses with its aesthetic and durability. Made from replica clay, it's easy to install and offers the design option of having a uniform colour style – or a stylish patterned effect when mixed with another colour.
It's an affordable option for homeowners looking for a classic, traditional design for their driveway without breaking the bank.
5. Maintain your driveway properly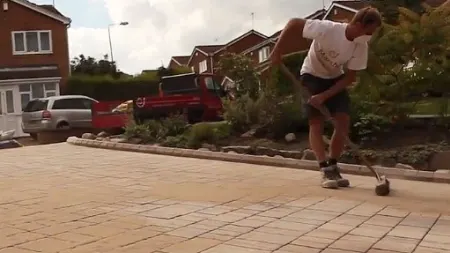 Last but not least, the most cost-effective way to achieve a great-looking driveway is often to regularly keep it in shape. Here are three sure-fire way to do this.
1. Filling the joints.
If your driveway is made from block paving, it's vital to keep topping up the joints between the blocks so they stay sturdy. Jointing sand will do the trick. When you're refilling, first clean the surface and leave it to dry. Then, scatter the sand across and – using a bristle broom – brush the sand into the joints. Sweep away any excess sand and you'll have completely filled paving joints that can handle the demands of a busy driveway – even in the wettest seasons. Keeping the joints free of moss and weeds is also a good practice to get into.
2. Removing weeds.
With a little elbow grease, remove the weeds by hand to tear out their roots. It's a simple tip that can restore any driveway to its former glory – ultimately saving you money in the long term.
3 Cleaning.
Cleaning your driveway can remove the need for repairing and replacing paving. During the winter months, clean your paving every few weeks. Keep it clear of excess leaves during this time to prevent a build-up of dirt and debris. You can do this by using either a pressure washer (but take care not to use too much power) or by scrubbing it by hand using soapy water and a stiff bristle brush. For more information, check out our comprehensive guide to cleaning block paving.
These are just some ideas and tips on how to improve your driveway on a tight budget. If you're searching for more suggestions, take a look at our array of driveway products that can revitalise your existing paving and help you create your new, dream driveway.