9 great garden path ideas
Garden paths are an all-too-often overlooked feature of our properties. While their main purpose is to plot your journey from A to B, the right path will help your outdoor space shine. Spend a little time considering which garden path designs could work for you, and you'll be reaping the rewards for years to come. This article includes some great garden path ideas to revitalise your outdoor space, scroll down for inspiration.
Whether you want your garden path to provide a clear walkway between home and garden, or you'd like it to wind around your flower beds, the best garden designs can ensure your outdoor space works more effectively as well as ramping up the charm factor.
Garden Path Design Ideas
Your garden pathway should strike a balance between function and style. We've pulled together the nine of the best garden path ideas – from simple, decorative tips for a low budget garden design to bigger renovations that will keep your garden looking great for years to come.
Curved garden path ideas
Garden designs using straight lines and angles
Using stepping stones for a garden path
Garden paths using natural stone paving
Using concrete paving in garden path designs
Garden path edging ideas
Garden path lighting ideas
Using different paving for garden paths
Garden path laying pattern ideas
1. Curved garden path ideas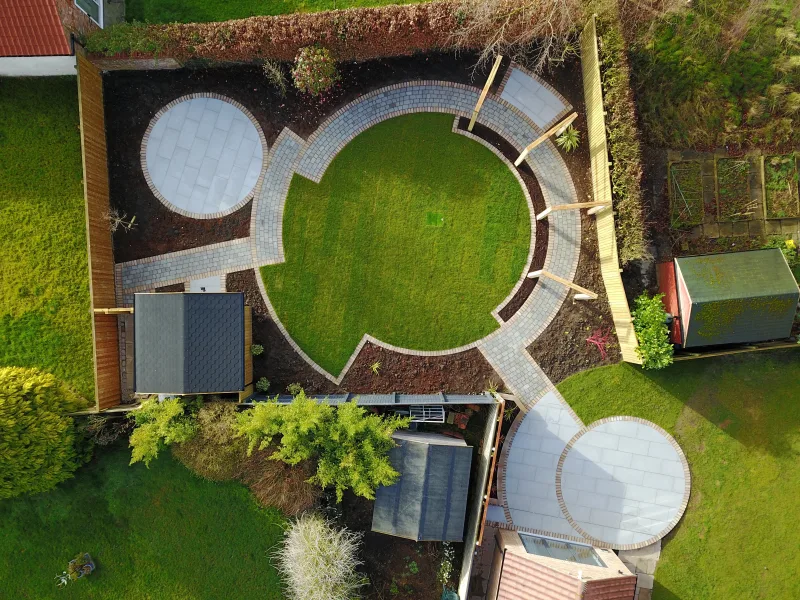 Installed by Waterdale Landscapes
Although the lifespan of your garden path depends partly on the materials you use, the shape of it has the ability to inject the whole area with a dose of character.
If you appreciate creative quirks more than straight, clean lines, a curved garden path idea will likely suit you. Build on an informal garden design by creating organic shapes and large, sweeping curves for maximum effect.
Path designs that incorporate curves not only look more interesting, they also make the overall space feel bigger than it actually is. Make the most of these shapely walkways by growing a variety of plants along the path edges – it'll invite your guests on a journey to see what lies around the bend.
2. Garden designs using straight lines and angles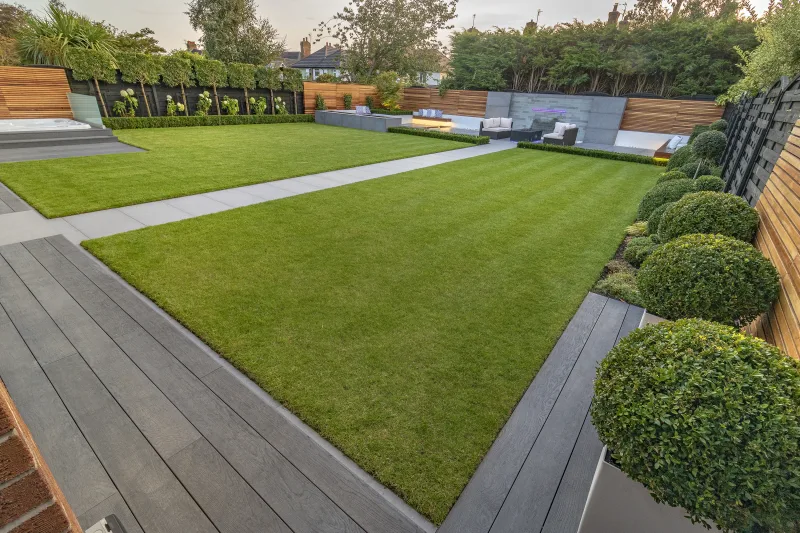 Installed by Brockstone Landscape Construction
If you're looking for garden path ideas to transform a lacklustre space into a cutting-edge garden design, use geometry to incorporate different shapes to create interest, define boundaries and add focus.
A garden path design based around straight lines can add drama and elegance, as well as providing much-needed function.
From basic, simple two-dimensional forms to complex symmetry and decoration, the use of shape and linear designs in garden paths take conventional rules and adapt them to create interest and movement. Modern, three-dimensional design incorporates raised beds, differing heights and positioning of boulders or sleepers to create a clean, fuss-free look.
3. Using stepping stones for a garden path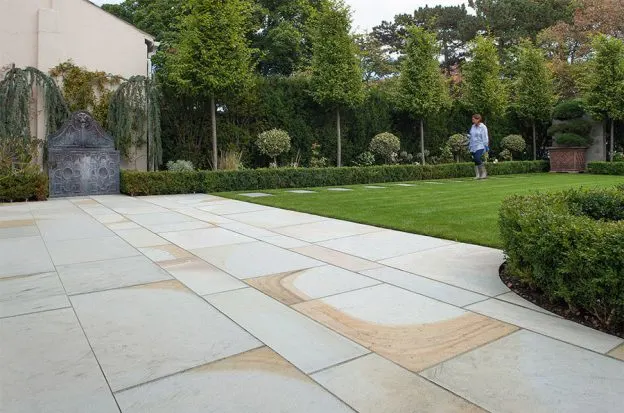 Stepping stones are a great way to add interest and practicality to your garden. Reminiscent of bygone childhood memories and imaginings of secret gardens, they're also a fun garden path idea to bring personality to your paths.
Depending on how much space you have available, you can create intersecting garden pathways that play with colour and pattern to stunning effect, enticing your guests to take a journey around the space.
However, you don't always need masses of space – stepping stones are one of the best garden path ideas for small gardens, too. Even just putting two or three stepping stones down could create a look you'll love.
Choose a stone that adds a striking look – like Scoutmoor sandstone with its blue and grey veining – and play around with possible placement options before coming to a final decision.
4. Garden paths using natural stone paving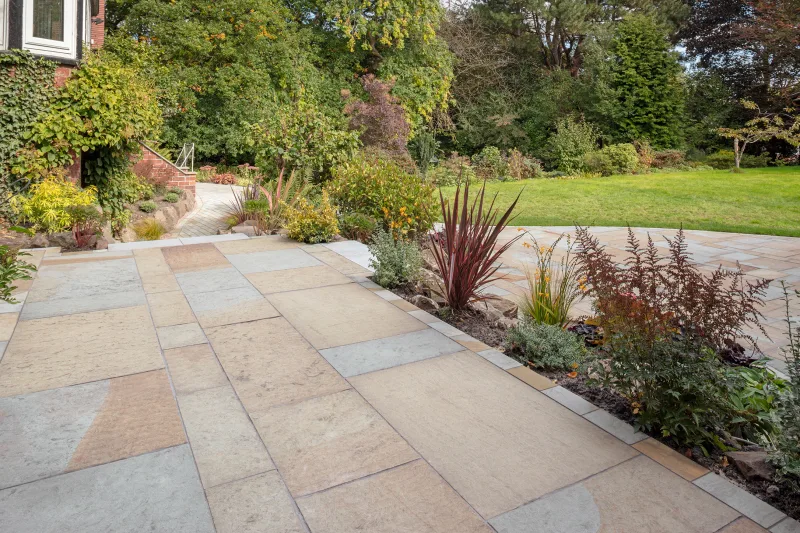 Looking to keep it natural by using stone in your garden pathways designs? The possibilities are endless. Stone paving can look fantastic – from classic to contemporary – because it varies so much in shape, colour and texture.
Natural paving, such as Scoutmoor sandstone paving shown above, used as garden pathway slabs can beautifully accent or complement existing features of your garden.
5. Using concrete paving in garden path designs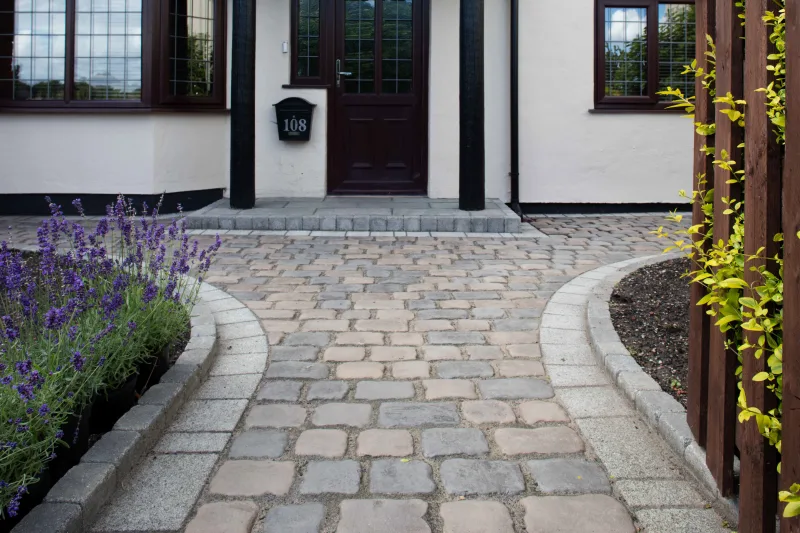 Versatile concrete paving can help create pared-back, understated and elegant garden path designs – or equally, eye-catchingly dazzling walkways. A more traditional garden path idea might be to embed concrete slabs in grass, or pave the way through the bursting colours of your garden – as Drivesys Cobbles do so successfully in the above photo.
A traditional material used in a contemporary style can be a brilliant garden design idea with a difference, so for an ultra-modern look, consider positioning the pavers above the grass, sand or pebbles as part of an elevated walkway.
6. Garden path edging ideas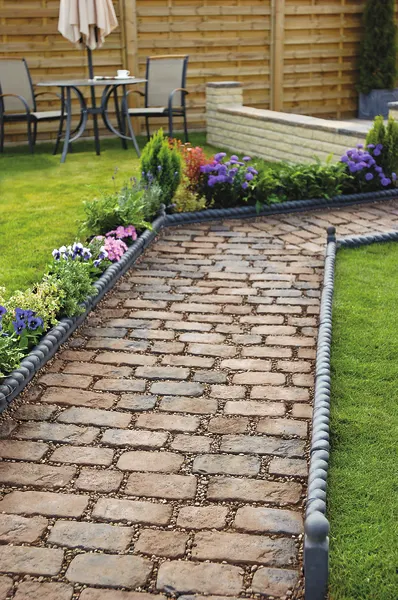 A garden path is made all the more interesting if there's something to stop and look at along the way. While plants and flowers may do the job, it's a good idea to consider the smaller details, too.
Whether it's shapely boulders that catch the eye, a quirky bench that gives you a rest stop, or beautiful antique rope garden path edging as seen here – these little flourishes can deliver a gorgeous finishing touch.
7. Garden path lighting ideas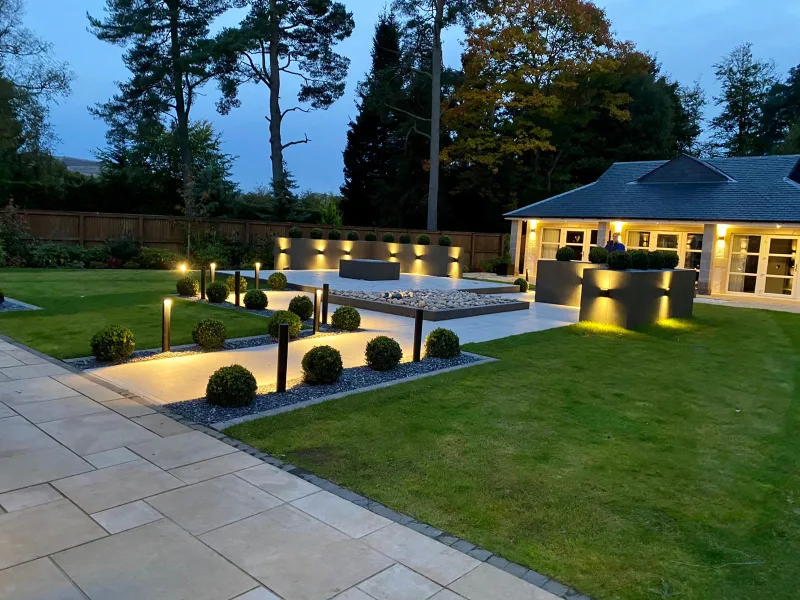 Installed by Briarlea Landscapes and Driveways
Lighting is one of the most important considerations in any garden path design. The tone of your garden will determine the type of lighting that will suit it – be it subtle, dramatic or functional. Either way, garden path lighting can really lift the atmosphere of your space and create a warm, inviting ambience.
Discreet LED lights can subtly illuminate your garden without being overbearing – what's more, they are a good energy-efficient choice. Alternatively, you could choose to up-light trees, steps or other features of your garden using spotlights – but bear in mind the perspective from which you will be viewing what you're lighting, and ensure it does it justice.
8. Using different paving for garden paths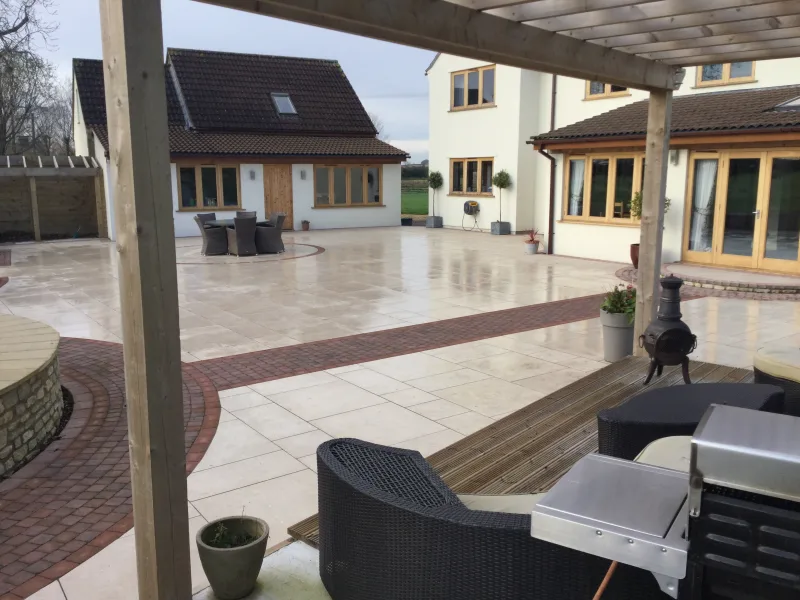 Installed by SJP Paving
A popular garden design idea is to use different textures and colours of paving for garden pathways. This can be a great way to highlight your garden path and draw people through the outdoor space. Depending on your style, use contrasting or complementary paving colours for your pathway, and if you fancy a more striking finish then look to use a different paving material, as in this design above which uses Drivesett Tegula for the pathway, alongside Symphony Porcelain paving for the main patio.

9. Garden path laying pattern ideas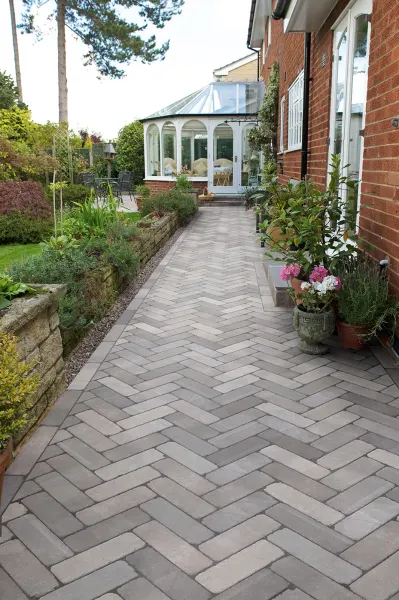 Another garden path idea to make your walkway stand out is to experiment with a different laying pattern. Just like with internal flooring, a stylish laying pattern can create an impressive finish and there are options to suit both modern and traditional garden designs. This photo shows a herringbone laying pattern, using our Alvanley Sandstone Paving. You can find recommended laying patterns for all of Marshalls paving ranges on this website, so take a look to see what catches your eye.
Next steps in garden path design
There could be lots of reasons why you're considering garden path ideas and updating your garden space this year. Maybe it's for entertaining – perhaps you just want to make the most of the area. Either way, there's plenty you can do to add interest and atmosphere.
Bursting with inspiration but still not sure which materials to go for or how to go about placing them? Head over to our garden paving section now for more ideas.