How much does a new patio cost?
A new patio is an investment in your home, and a great way to create a more attractive and useable outdoor space. In this article, we look at the average cost of a patio, with a variety of options to suit your property as well as some helpful tips from some of the UK's best installers.
Decisions to make before starting a new patio project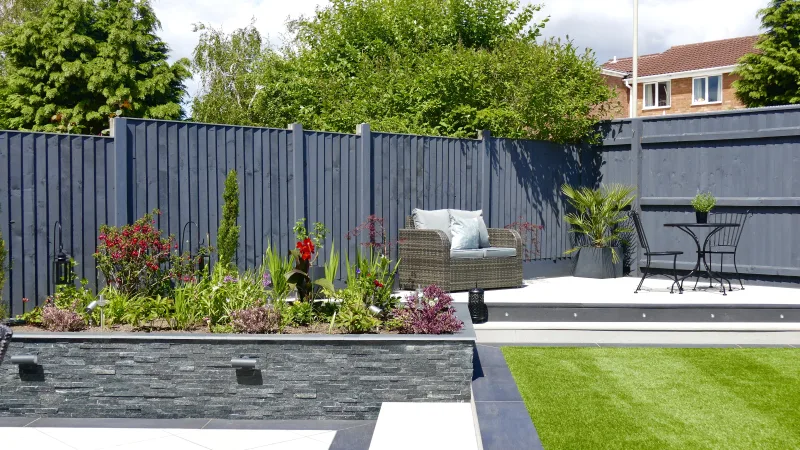 Before you start off revamping, extending or creating a brand new patio, there are few considerations to make that will affect the overall cost of your budget.
DIY or ask a professional?

A simple replacement of an existing small patio with similar slabs is something that many people are keen to take on as a DIY project. But for anything larger we would always recommend using a professional with experience of laying paving and excavating the ground. It may cost more initially, but can save you in the long run in repairs and maintenance. A professional will also be able to give their input on layout and materials, to make sure you're getting quality products, finished to a high standard. When it comes to our products, we only offer our Marshalls Hard Landscaping Guarantee through Marshalls Registered installers, because we know they're the best people to create gardens which stand the test of time.

What driveway materials will you use?

At Marshalls, we have a huge range of paving options and have been open since the late 1890s, so we know a thing or two about paving. As we're focusing on patio paving in this article, we'll be taking a look at concrete, porcelain and natural stone paving.

Concrete paving is a durable and cost-effective material for any hard landscaping job. If you're looking to make a statement, ethically sourced natural stone paving comes in various colours and sizes to create a classic finish. If a contemporary style is more suited to your property, porcelain paving could be for you and provides a low maintenance and easy to clean option. When it comes to picking the perfect patio paving for you, a good starting point is to order samples so you can get a good idea of the textures and colours in person. For more help with decisions, read our guide to help you choose the right paving.
How much does the average patio cost?
One of the biggest misconceptions when it comes to laying a new patio or driveway, is that the materials are the most expensive part, when in fact 80% of the cost is made up of the sub-base and ground preparation. This means that if you want to go for premium quality paving, it won't significantly increase the overall project cost. To get an accurate idea of how much your patio will cost, you will need to arrange for a professional to come out and take a look. We'd recommend getting at least two quotes to compare.
It's important to do your research and not opt for the cheapest paving available as this could cause complications with your garden in the future. The average patio size is between 40-50m2, so with this in mind, let's take a look at the cost of a number of patio paving options.
Porcelain paving

Porcelain is a popular choice for patios, it absorbs less moisture than other paving types and as a result it is easier to keep clean. If you're looking for a modern style, our bestselling SYMPHONY ® Classic requires minimal maintenance and is suitable for use as internal or external porcelain paving tile. Available in a range of contemporary colours, this will give any garden a unique appearance, you're looking at £2,251 to cover a patio of 40m2.

Concrete paving

Concrete paving is incredibly durable, which means your patio will be long-lasting and present great value for money. Based on our Heritage paving (shown above) a 40m2 concrete patio would be around £2,055 excluding installation.

Natural stone paving

Natural stone paving brings a timeless feel to your garden, and there are many options open to you. Using Marshalls ethically sourced Towngate paving, a 40m2 space will cost around £1,992 to cover. Unlike more premium products, the loosely colour selection of Towngate will give you a more random yet charming colour variation.
Once you know the size of area that you want to pave, you can use our website to roughly calculate how much your favourite materials will cost you. Each product has a price per square metre and you can see how much surface area each pack will cover.
Extra costs to consider
The prices we've discussed are for a fairly standard patio cost. However, there might be a various amenities that you'll need to consider.
Drainage is one of the less glamorous aspects of a new patio, however it's still an important one as you don't want to damage the foundations of your home. A professional will be able to offer advice from laying a sub-base and the gradient of the patio to the possible installation of drainage channels.
Hidden pipes and cables underneath your existing garden can add additional costs to your patio. They should be buried at sufficient depth in relation to the patio, however, a professional contractor will be able to offer advice when planning the installation. Any additional removals such as trees, walls and flowerbeds will affect the overall price so it's something to consider at the start.
Patio tips from professional installers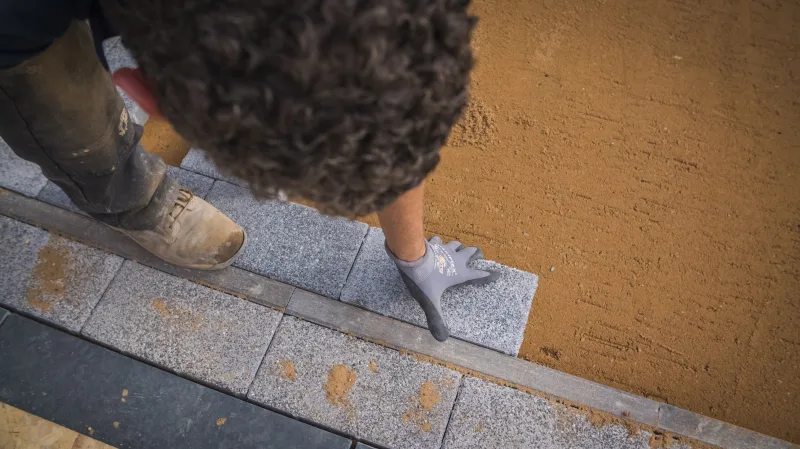 We asked our registered installers to share the tips and advice they give to their customers when it comes to planning a new patio. Here's what they said:
"Always measure what you want to put on there first, with chairs pulled out from under table, not left under it before agreeing finished size." Mark Knight, West Bridgford Landscaping Ltd
"Consider the surrounding areas; is the patio overhung and in a shaded spot or is it a bright sunny spot if it's sunny then you may want to add some shade for the hotter months. If you can get some of the patio in a sunny spot, or if most of it is shaded you can take your pick where to sit and enjoy the weather." James Kennedy, The Reigate Paving Company
"A patio doesn't have to be straight outside the back door. Always look where the sun is for the longest and always advise that the table and chairs have to go on and if you have to get round it, it's too small it doesn't work." Richard Box, English Landscapes
"First check where the water will ran off to." Andre Smiff, Adept Paving & Landscaping