The benefits of porcelain paving for your garden
Porcelain paving is an increasingly popular choice for patios for a number of reasons, but is it the right choice for your garden? Below we list the main benefits of buying porcelain paving, along with the answers to the top 5 questions we often get asked.
Porcelain paving – your questions answered
1. Is porcelain paving slippery?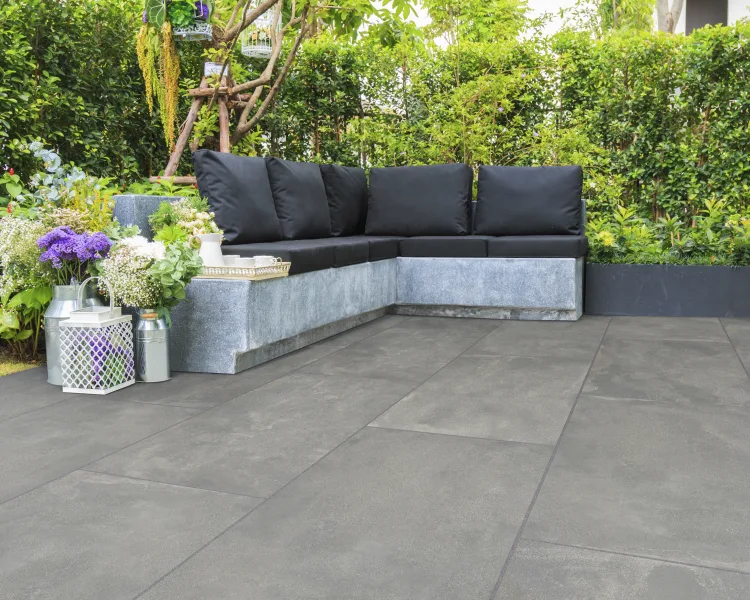 Ardara paving in Grey
Because it looks so smooth, porcelain paving can often look slippery, but rest assured, it is a safe option for your next patio project. You can check the slipperiness of all tiles using the 'slip skid rating', which is measured in "R" values. Slip skid rating is measured from R9 through to R13, where R9 is for dry-only areas compared to R13 for areas which are consistently exposed to wet environments, such as swimming pools. Every product in the Marshalls porcelain range is certified as R11, making it perfect for outdoor use where surfaces are prone to becoming occasionally wet due to the weather.
2. Does porcelain paving last a long time?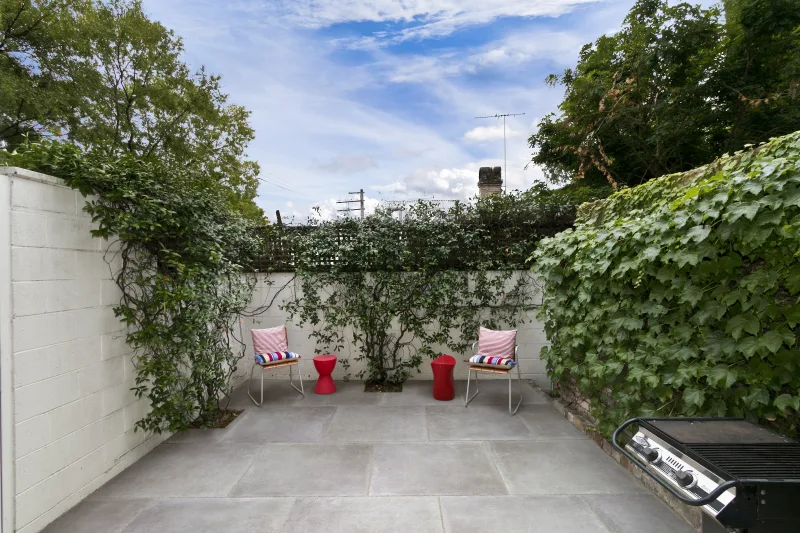 Symphony Plus Urban in Putty
Porcelain is made from refined clay and naturally occurring materials, which are exposed to significant pressure and fired at high temperatures in a kiln. This process, known as the "vitrification process" creates an extremely strong and hard-wearing material, which absorbs very little water in its lifetime. When conditions become wet or drop below freezing, the tile does not absorb water, so harsh weather has little impact to the quality of your tile, meaning you never have to worry about it cracking over time. This makes porcelain a great option, if you're looking for your paving to last for many years.
3. How easy is it to keep porcelain paving clean?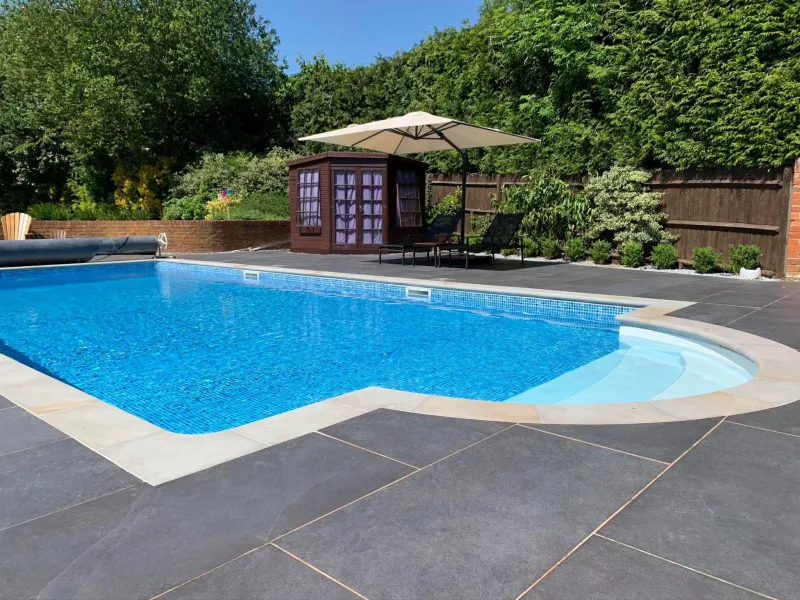 Symphony Classic in Blauw
Whilst some people enjoy spending time on garden maintenance, we know that's not the case for everyone; and this is where porcelain is a great option. Porcelain is a low maintenance paving solution and one of the easiest paving types to keep clean. Due to the manufacturing process, porcelain tiles absorb very little water, meaning they are resistant to stains, frost and, to an extent, prevent moss and algae growth. To keep the newly-installed look of your patio, simply clean with hot soapy water, as you would your kitchen floor. Of course, like any paving option to enhance the lifetime of your patio you should aim to keep the area clear of any loose debris, such as compost, leaves, or grass cuttings. Plus, should you have any plant pots or garden furniture on your patio area, we'd always suggest extra care to clean around these areas regularly, to keep your tiles looking in perfect condition.
4. Is porcelain paving expensive?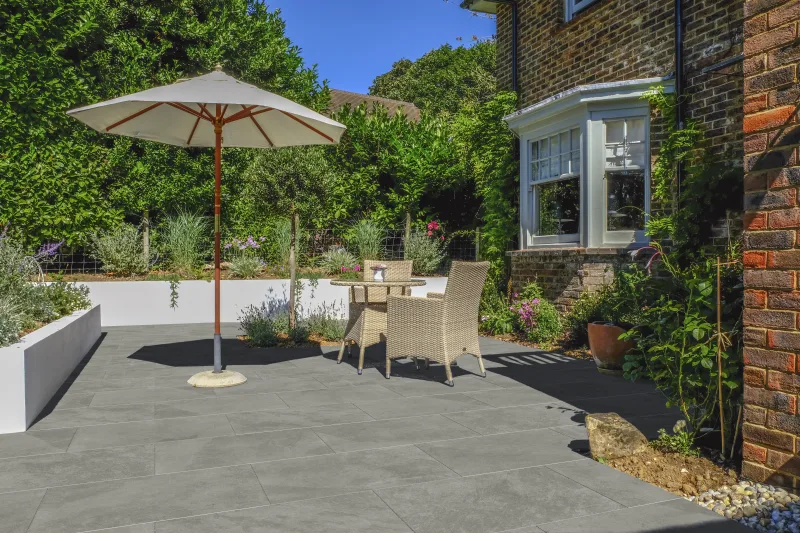 Arrento in Silver
Porcelain is often considered a premium product, so can sometimes initially be thought of as expensive when compared to other options. It is true, there are a number of top of the range porcelain options, but at Marshalls we have products to suit all budgets, depending on the style and size of your patio. Whilst cost is clearly a deciding factor, it is also important to consider other benefits beyond this. For example, the composition of porcelain tiles means they are extremely durable and hard-wearing, so you can expect a porcelain patio to last a long time, giving you great value for money. As you'll know from the questions above, you'll spend less time cleaning it in that time too.
5.Is porcelain a good choice for modern garden designs?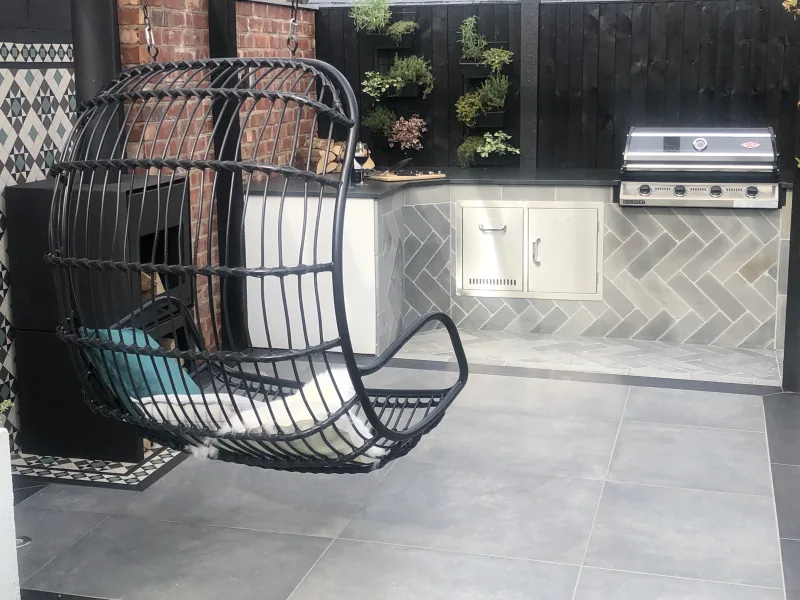 Symphony Urban in Steel and Alvanley Pavers in Silver Blend
Modern gardens tend to reflect design trends and the latest finishes. The way that porcelain is manufactured allows for a wide range of colours and finishes, giving more opportunity to offer on-trend colours and styles. You will find that the trend for grey paving is reflected in Marshalls porcelain ranges, as well as options for patterned porcelain and more unique finishes too. Modern garden patios tend to also have smooth clean lines and minimal joints, these are also features you can expect to get from a porcelain product.
As a new patio is an investment in your home, it's important to do the research. Since the 1890s, Marshalls have merged creativity and imagination, designing elegant and practical products to enhance individual homes in towns and cities across the country. From our accredited installers, you can expect to get a high quality service, supported by our customer service and technical teams, to answer any of your questions. We hope this article has helped you to make a decision about your project, browse our full range by clicking the banner below.