Five ways to make the most of your garden
Whilst we've adjusted to spending more time at home, it could be a while before regular life outside the front door returns. If you've got a good sized garden or outdoor space, there's plenty of opportunity to use the space to relax and socialise with friends and family. Here are five ways to use your garden creatively and some garden design ideas if you're planning bigger changes.
1. Eating out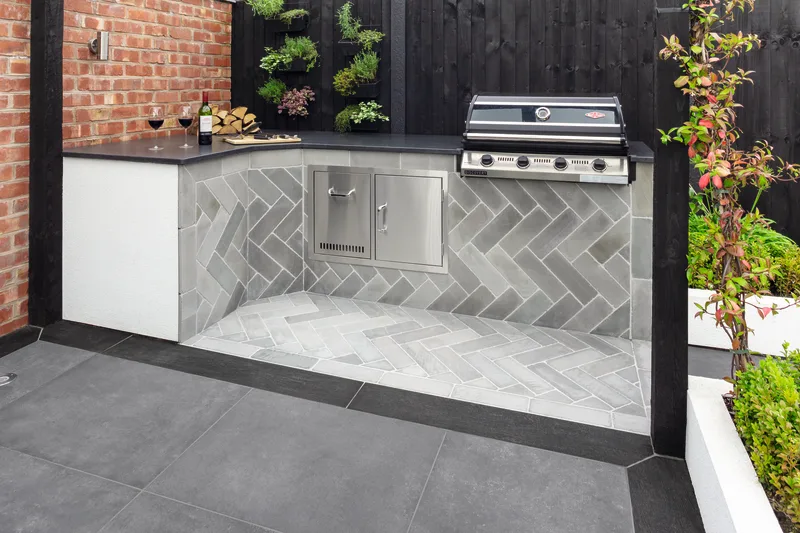 Alvanley Pavers in Silver Blend
Restaurant visits might be less frequent but that doesn't mean you have to eat in the same place every night. Bring variety to your day by eating outdoors, it's easier to eat a meal with friends and family outside too. The key is not to wait for a hot day, grab blankets and outdoor candles to make it cosy and make quick updates to patio furniture with outdoor cushions or a new parasol. You could even find recipes online of your favourite holiday dishes and recreate them at home.
Garden Design Idea - outdoor kitchen: If you enjoy eating outdoors, consider investing in an outdoor kitchen; pizza ovens, built in barbeques and fridge units can all be created on your patio. We've seen a number of great outdoor kitchens built using our Stoneface Drystack Veneer Walling and Alvanley Pavers too (see photo above). Make it a space you use regularly by adding a canopy or covered area to provide protection against the weather.
2. Open air film nights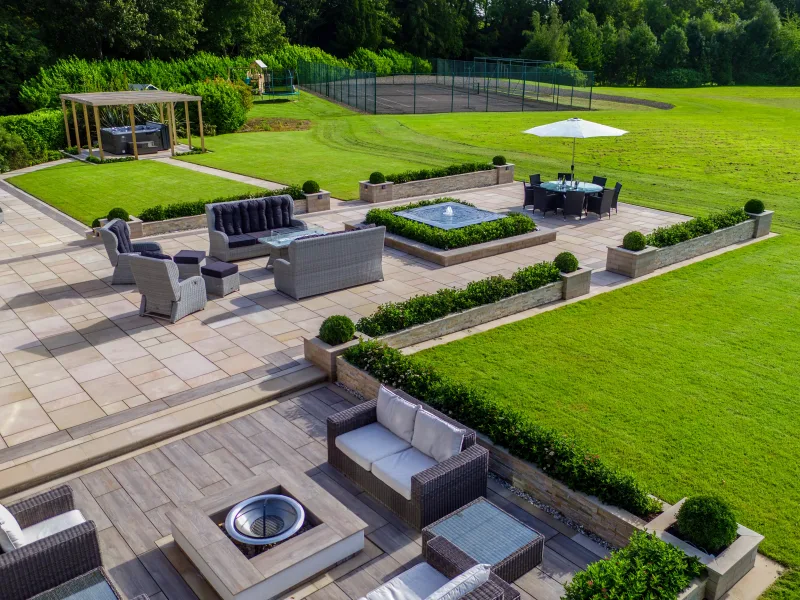 Fairstone Sawn Versuro® and Symphony Planks
There's something special about watching a film on the big screen so why not take your favourite classics to the garden? Outdoor projectors start at around £100 online, gather up blankets and tubs of popcorn to create a cosy film night away from the usual sofa.
Garden Design Idea - fire pits: More people are asking for fire pits in their garden designs than ever before, and they're a great way to make your outdoor space useable all year round. A sunken fire pit is a great addition to a new patio design, or have a custom built fire pit added onto your existing patio. Make sure you consider the space you will need to leave around it, and weigh up whether wood or gas would best suit your needs.
3. Garden drinks with friends
Symphony Classic in Blue and Symphony Plank in Birch
If your social life revolves around drinks with friends, there's plenty you can do to keep the tradition going at home. Add a luxurious canopy over the patio furniture, bright cushions and throws to create a stylish space to invite friends to. Use outdoor candles and waterproof garden lanterns and fairy lights to add atmosphere as the sun goes down.

Garden Design Idea - built-in garden seating: By including bespoke garden seating in your new garden design you have the opportunity to create a garden zone that ties in perfectly with paving and planters. As you can see from the photo above, seating that's built in the same materials as the paving looks stylish and modern and you could even consider a canpoy or pegola above to give you shade and shelter in all weathers. When it comes to the location, always consider which part of the garden gets the evening sun.
4. A holiday in the garden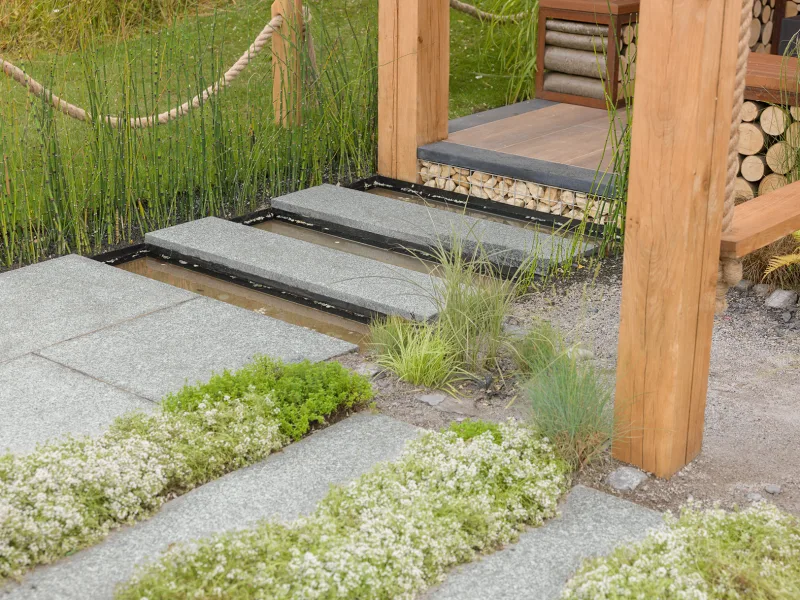 Granite Eclipse in Light
We might not have the weather of Italy or the beaches of the Caribbean but add a hammock, new sun loungers or even a hot tub to your garden and you'll feel more relaxed in no time. Outdoor lighting is also a great way to add ambience to a garden, line the paths with low level solar powered lights or string outdoor fairy lights amongst the trees or trellises.
Garden design idea: water features: Water features are a great addition to a relaxing outdoor space, have one built into a wall or planter, or even within the steps like the photo above.
5. A creative garden work space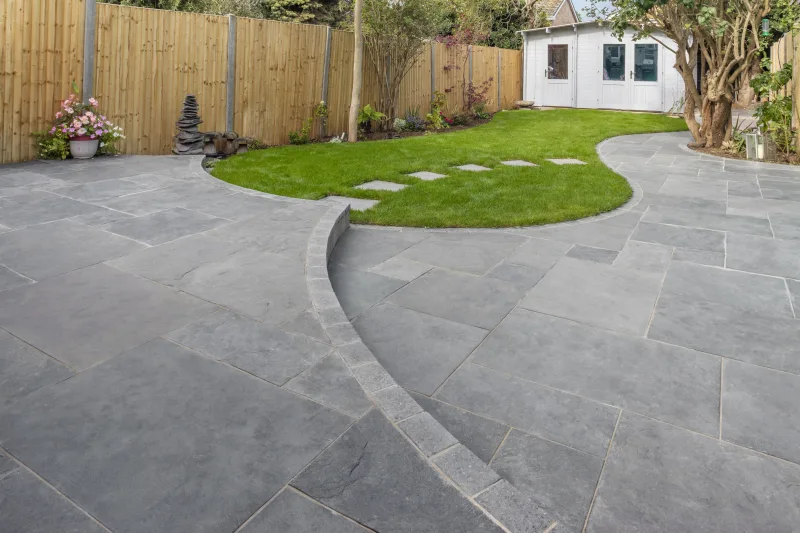 Sylvern
Working from home has become the norm for a lot more people, and it looks set to stay for many even once the pandemic is over. The best garden designs create zones in an outdoor space, so why not create a special corner to inspire you during the working day? Being around nature can help inspire creativity, and the fresh air and vitamin D is beneficial too. Move a bench to a shady spot or add an umbrella over a table, then bring in some colour with outdoor cushions and colourful plants in pots, maybe even an outdoor candle.

Garden Design Idea - an office pod: Over the past year garages, summer houses and even sheds have become offices and, if you'll be working from home regularly in the future, now could be the time to consider a more permanent outdoor office. Not only does an outdoor workspace give you some distance between the office and home, but you can have a 9 to 5 garden view to enjoy during screen breaks.
Whether you make small garden changes or invest in a new design, we hope you're able to find new ways to benefit from having a lovely garden.