Top 10 patio design ideas
A good patio design can transform your outdoor living space – not just in terms of making it more visually appealing but also by adding practical touches that ensure it works for your lifestyle. Get it right, and it will be like adding another room to the house.
The best garden patio ideas for your home will depend on the size and shape of the space you have available, but there are an infinite number of ways to create a beautiful outdoor area that you will want to spend time in.
The first thing to do is to think about what you actually want from your patio, then look at what type of designs will incorporate the aesthetic and practical elements you need to achieve your goals. Whether you have the grandest of gardens or the smallest of spaces, it's possible to bring eye-catching concepts to your garden that will enhance both your home and your lifestyle.
Here are 10 of our favourite inspiring patio designs to get you started.
1. Use patterned patio designs to catch the eye
Looking to indulge your creative flair? There are so many ways you can apply it outdoors – whether it's through attractive planting, stylish furniture or making the most of your patio layout. However, in the best garden patio designs, all three of these areas should work in harmony, starting with your patio slab designs.
If you're looking to create a distinctive look, then check out our range of materials for different paver patio ideas. Doing your homework will allow you to get a sense of all the different materials, styles and patterns you can utilise to set a beautiful and eye-catching foundation for your outdoor space.
Explore different shapes and tones of patio stones to find a look that aligns with your garden furniture and planters. Take our Fairstone Riven Harena Paving Circles, for example, which will help create a stylish and sociable seating area with a picturesque, circular layout. Across our range, we have all sorts of patterns to suit every garden concept.
While the key to patio design is often in the pattern, don't forget kerb stones to give your paving a neat and tidy finish.
2. Personalise your patio design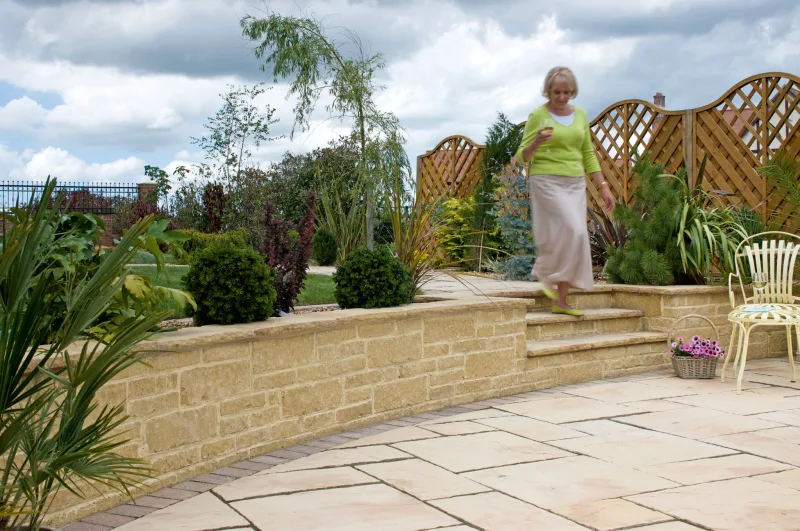 One of the fundamental features of both interior and exterior design is making your home a reflection of who you are. The colours, textures and styles you use in your home decor echo your unique personality – and your patio design ideas should be no different. Don't be afraid to add a bit of you to your garden, no matter how weird or wonderful it is.
Our Drivesett Tegula Walling, Drivesett Deco and Drivesett Circle paving are the perfect combination to produce a stylish and eye-catching sloping circular garden that breaks up the uniformity of traditional paving with an authentically timeworn, multi-coloured design. Throughout our collection, you'll find an array of coloured, textured and shaped materials for unique patio ideas.
Personalising your space by adding quirky touches will reflect your personality and make the space feel even more in tune with your way of living.
3. Use bold stone patio ideas to stand out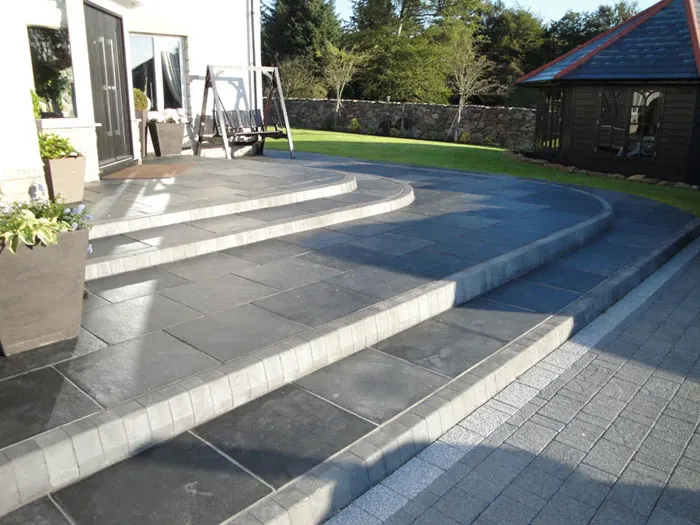 Sometimes it makes sense to be bold and attempt something remarkable – particularly when you have a large area to work with. You can create stunning garden patio designs by incorporating strong colours into a space. Make expert use of our Fairstone Limestone Aluri Riven garden paving, a natural stone available in a deep charcoal colour or a distinguished rustic ochre multi colourway, to produce a striking garden look.
Of course, it's important not to go too bold. If you're using a prominent colour as the base of your patio build, you don't want to go overboard with other areas of your design. Be clean and consistent with your patio edging ideas and the furniture and planting you use to complement the space. Consider your lighting options carefully as well as, with the right ambience, you can achieve a wonderfully intimate setting once the sun has set.
4. Create a natural patio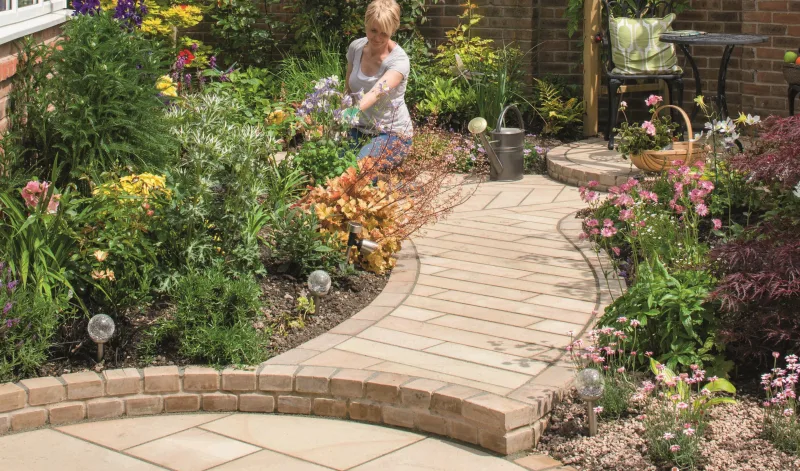 Natural materials feature regularly in amazing patio ideas UK-wide. If you love the look and feel of organic layouts, natural stone paving could be the perfect choice for your patio. Marshalls natural stone paving comes in a range of different styles and sizes, including limestone, slate, granite and ethically sourced Indian sandstone.
The buttery colours running through our Fairstone Sawn Versuro Linear paving are a great example of how natural stone paving can be used to define key sections, such as seating areas. Whatever style of natural stone paving you choose, it's guaranteed to bring a warm and welcoming feel to any kind of garden design, while delivering a premium look.
5. Introduce levels to your patio with steps

Why not take your patio, quite literally, to another level? Incorporating steps into raised patio designs has always offered both aesthetic and practical benefits. Not only are they a great way to add character and flair to an outdoor space, but they also provide practical demarcation between areas and an impressive passage from your home to the outside. They can also provide protection to other parts of you garden, such as grassy areas, to ensure they continue to look their best.
Looking for patio steps ideas and inspiration? Try our Fairstone Sawn Versuro steps, perfect for adding a touch of handcrafted elegance to your property. Available in Golden Sand, Antique Silver, Caramel Cream and Autumn Bronze, their clean and natural design is combined with a practical non-slip finish. For a more striking and contemporary look, try our Casarta slate garden steps, crafted from high-quality, dark Brazilian slate. Regardless of which style you prefer, steps will allow you to create a new dynamic to your patio.
6. Consider circular patio ideas

Depending on the style of your garden and the space you've got to play with, a rounded patio can deliver a stunning focal point. A circular layout creates the opportunity for a natural centrepiece, be it a barbecue area or vintage firepit, which you can surround with furniture and planters accordingly. Think a curved rattan sofa, perhaps, or a central rounded garden table to blend seamlessly into the garden aesthetic.
Our Indian Sandstone Circles offer a great value, natural stone circular feature which will give your garden design that wow factor to make it stand out from the crowd. Circular designs can combine wonderfully with straight lines as well – for example, you can use our Fairstone Setts to provide a beautiful contrast framing.
7. Create ambience with patio lighting
Lighting can really transform your outdoor space – but as with any garden fixture or accessory, there's no one-size-fits-all approach. A lot of patio wall ideas feature quality lighting arrangements which are perfect for creating an intimate and atmospheric setting when the sun goes down, or for adding a sense of drama by emphasising the shadows and natural shapes of your garden design.
Lighting up steps and paths is both practical and pretty, with spotlights allowing you to focus light wherever you want it to create the desired effect. Take this assorted Fairstone Riven paving layout, with the circular centrepiece featuring perimeter floor lighting. Choose low-energy LEDs as a resourceful but durable choice, or even incorporate solar-powered torches to ramp up your space's after-dark appeal.
8. Use wood as a central patio design feature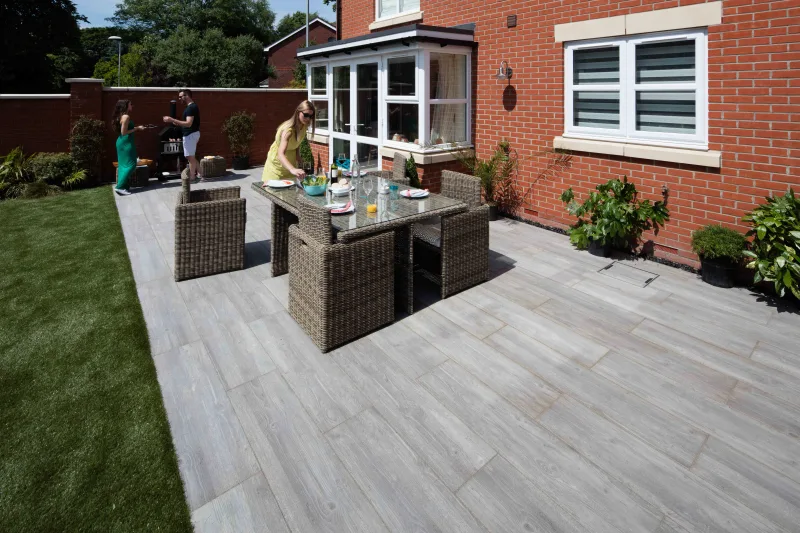 Utilising a wooden look as a central feature of your design brings an eye-catchingly natural, earthy feel to your patio. It's versatile, too, and will enrich any area of a garden, from an outdoor dining space to pathways. However, as far as paver patio ideas go, genuine wood flooring is not a durable solution, with timber highly vulnerable to warping, rotting and degradation.
Enter our Symphony Vitrified Plank Paving, available in the likes of Birch, Cherry and Char. Vitrified plank paving recreates all the aesthetic benefits of wood without the durability issues. Perfect for creating beautiful designs, and giving an ultra-contemporary edge to economical, hard-wearing stone, the Symphony range offers a low maintenance solution for those looking to install a wood-feature patio.
If you're short on space, plank paving can also make areas seem larger – an optical illusion produced by the long and thin strips. Offering excellent anti-slip performance, this new range of faux-wood patio slab ideas is making the wooden look as practical as it is attractive to look at.
9. Remember less is more: small patio ideas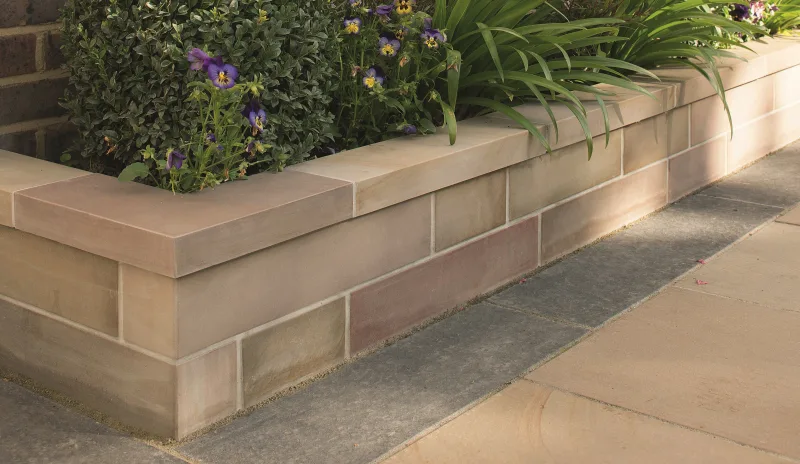 You don't have to live in a castle to bring a stunning garden design to your home. Small patio garden ideas needn't be small in stature so, even if your property is small, there are ways to make your petite patch of green space fit for a king. Our dark Fairstone Casarta Slate combines well with darker decking to create a linear feel in a clean, modern outdoor area, regardless of the area you're working with. Using a mix of paving block sizes help create an extra sense of space, as well an interesting design concept.
With small backyard patio ideas, it's important you optimise every corner of your garden. Simple but stylish, our Fairstone Walling gives you the opportunity to vary height throughout the garden design and create sections within your patio – from here you can look to create a stunning central focal point or incorporate furniture to diversify your layout.
Focus on selecting the right style and size of items to suit your layout, from smaller planters to adaptable corner furniture, and you can make the most of the space you have.
.
10. Form a hybrid patio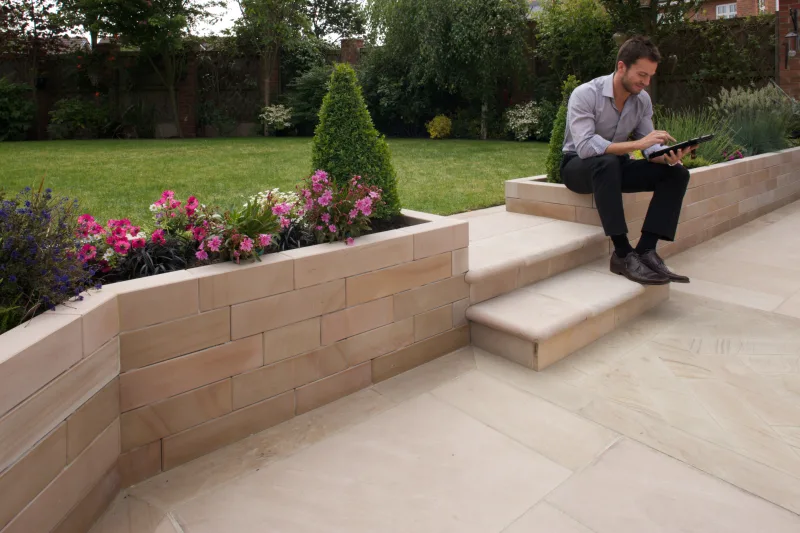 If you're finding it hard to choose between all these options, don't worry – you may not have to. Combining a couple or more of the different design concepts listed above can give you the best of all worlds and produce a garden patio that's a personalised patchwork of every pattern and material you love. Indeed, most patio designs will incorporate at least a couple of fundamental styles, from multi-level patterning to natural and bold contrast paving.
Perhaps you fancy a brickwork perimeter to surround your concrete paving slabs, but you also want a rounded design that makes your barbecue area a focal point? On top of that, how about a mosaic-style patio floor? Thanks to our wide range of our premium Fairstone products, you can achieve all of these patio ideas within one design, while always maintaining a high-quality and practical build.
And don't forget…
Planting can make a huge difference to your outdoor appeal and should form part of your patio planning. Consider the vivid colours offered by caladiums, heuchera and hyacinth bean vine in your patio planter ideas to help break up your palette and give you refreshing flora throughout the year.
Investing in a beautiful patio design can give your garden long-lasting quality. You'll get back the building time in all the lower maintenance you'll benefit from in the long run, not to mention the countless hours you will spend enjoying it.
If you're looking for some pattern-based patio ideas, you can find handy downloadable guides to our most popular garden patio paving patterns here:
Download our guide to the most popular garden patio paving patterns and see for yourself how a small patio doesn't have to mean a small sense of character.