6 driveway designs for larger spaces
A well-designed driveway creates a great first impression, makes life more convenient and adds value to your house.
If you are looking for driveway design ideas, particularly for larger spaces, take inspiration from these award-winners who all won a Marshalls award for a large driveway transformation. All were created by a Marshalls Registered installer, giving added piece of mind and the opportunity of a 10 year hard landscaping guarantee.
A traditional driveway design to complement a stone-built home
A simple and classic driveway design for this traditional home. Natural stone setts, using Indian sandstone, create a timeless finish that looks great against the walls and brick of the house. By using complimentary colours and paving throughout the space, the driveway design re-connected the outbuildings with the house too. Using natural stone setts from Marshalls gives the owners confidence that they have been ethically sourced in a fair and responsible way.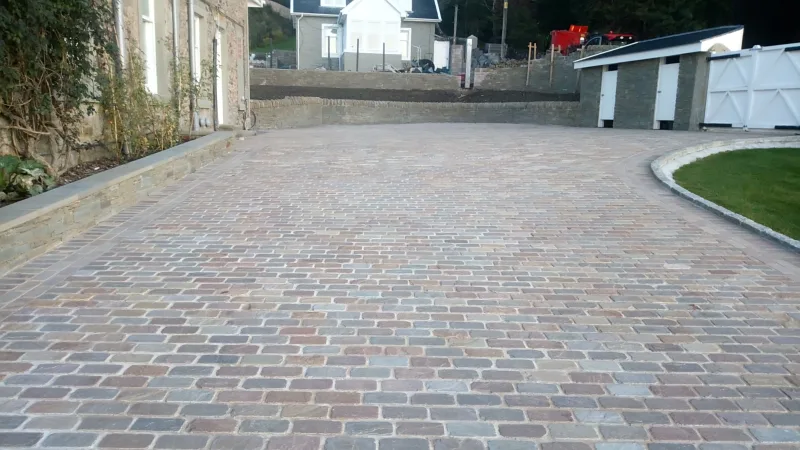 Created by A & G Driveways in Paisley, using a mixture of Fairstone Natural stone Split and Sawn setts in autumn bronze and silver birch.
A large circular driveway design using grey paving
Grey is a popular colour for garden and driveway paving and looks great against most brick colours. This driveway design uses a mixture of grey tones to create an eye-catching circle pattern, the installation also included raising the height of the driveway to reduce the risk of flooding on the main road beside it. All of our products used in this design were made in Britain, which gives the customer the satisfaction of knowing their driveway has a low carbon footprint and has supported British manufacturing.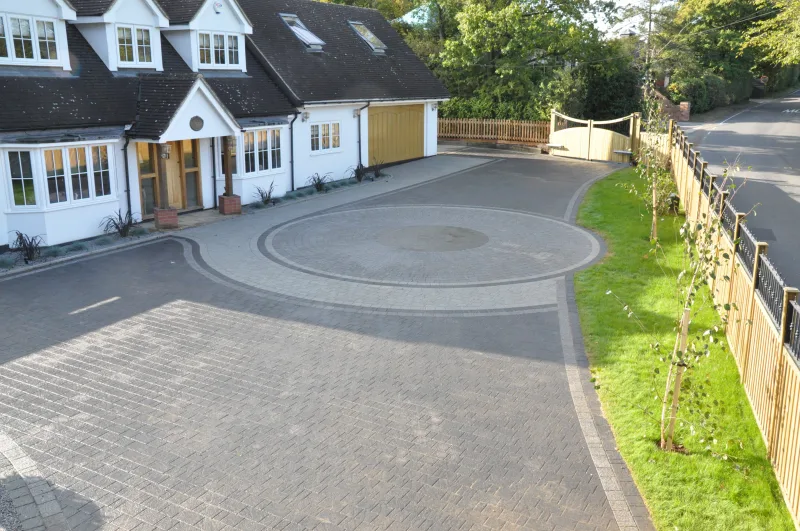 Created by Evergreen Services in Maldon, using Drivesett Argent in Graphite, Light and Dark, with a Drivesett Tegula Circle.
A low maintenance driveway design using traditional style cobbles
A low maintenance driveway is a common request when people are looking at front garden design ideas or planning a driveway. Whilst spending time looking after a garden is a joy for many, few want to spend as much time on a driveway. This driveway design fits that brief perfectly – not only do the cobbles look great but they are also installed in a way that means there is less weed growth in the joints. If a low maintenance driveway is important to you, make sure you mention this to your installer so they can recommend suitable designs and products.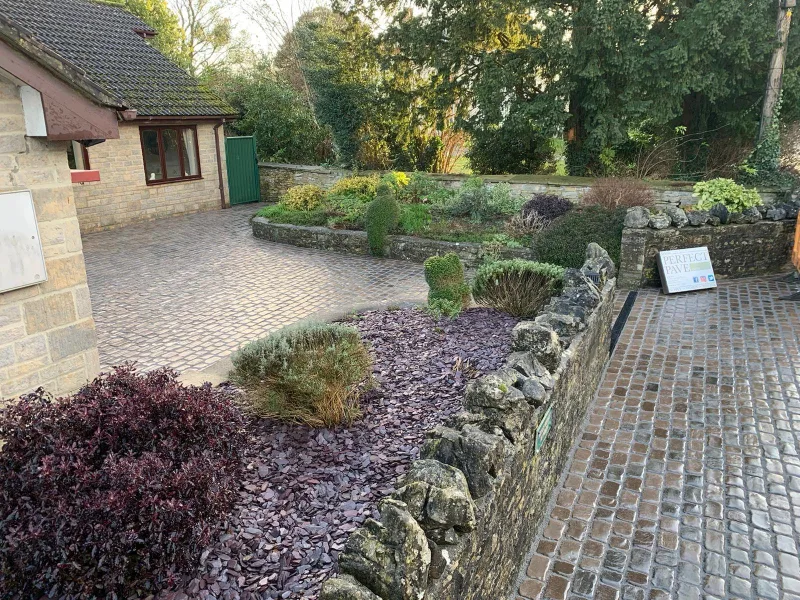 Created by Perfect Pave Ltd in Cheddar in Somerset, using Drivesys cobble in canvas and iron grey.
An impressive large driveway design to match an impressive home
A grand home deserves a grand driveway. The style and colours you choose for your driveway design should reflect the property itself – traditional homes often suit natural stone and materials designed to replicate it, modern homes often look great with grey paving and contemporary patterns. For this impressive home, a cobbled driveway was the perfect choice – using a mixture of colours and engineered to be low maintenance too.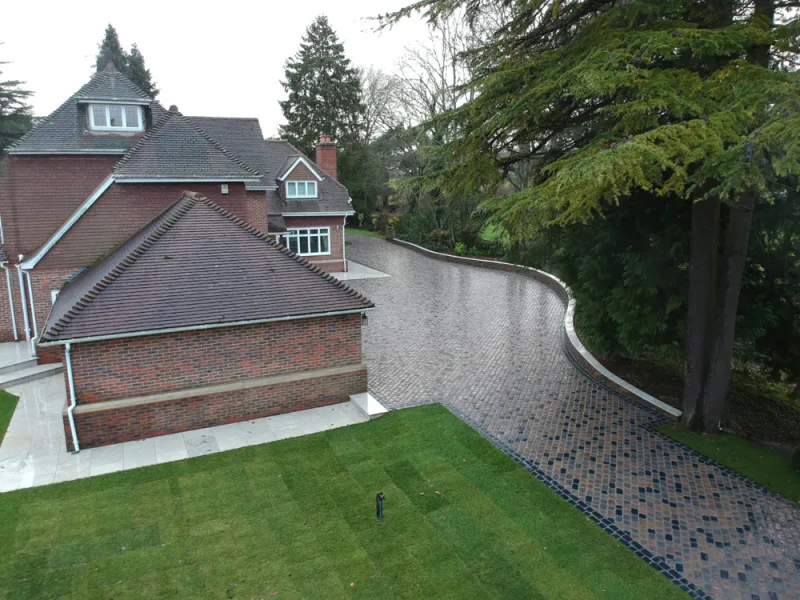 Created by M Withall Landscapes based in Carlshalton, Surrey, using Drivesys cobble in canvas, iron grey and basalt and Stoneface Drystack Veneer Walling in Copper Slate.
A modern driveway and front garden with artificial grass for new build homes
Outdoor space can be a blank canvas with new build homes, a chance to choose a driveway design that suits modern life and perfectly matches the style of the house. These large new homes were given a suitably grand entrance using classic concrete driveway paving in grey tones; the paving was laid using a popular herringbone pattern, which gives it a stylish edge. Artificial grass is a popular front garden driveway idea as it's low maintenance and stays looking good all year round.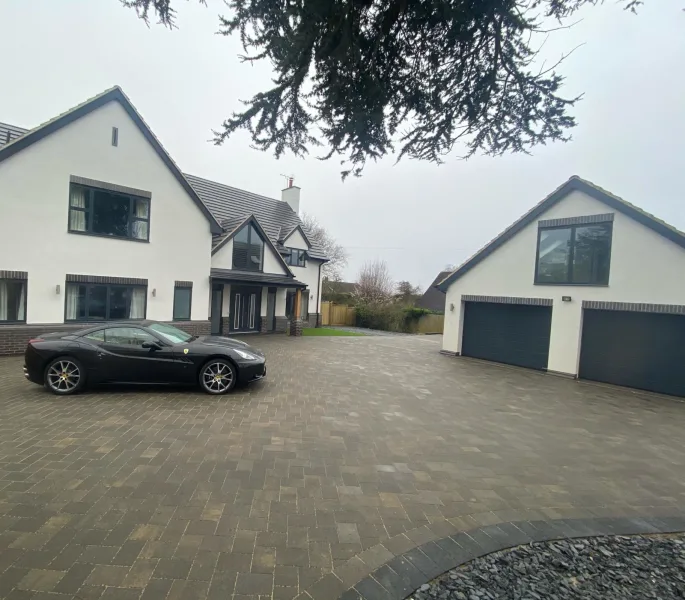 Created by Kings Paving based in Kettering, Northamptonshire, using Drivesett Savanna in Pennant Grey and Always Green Artificial Grass – Summer Lawn.
A large front garden driveway design using grey granite paving
Granite paving is a great option for modern driveway designs, this project combines light and dark grey granite which looks great against the white house. Driveway gates add a secure element and also create luxury and grandeur.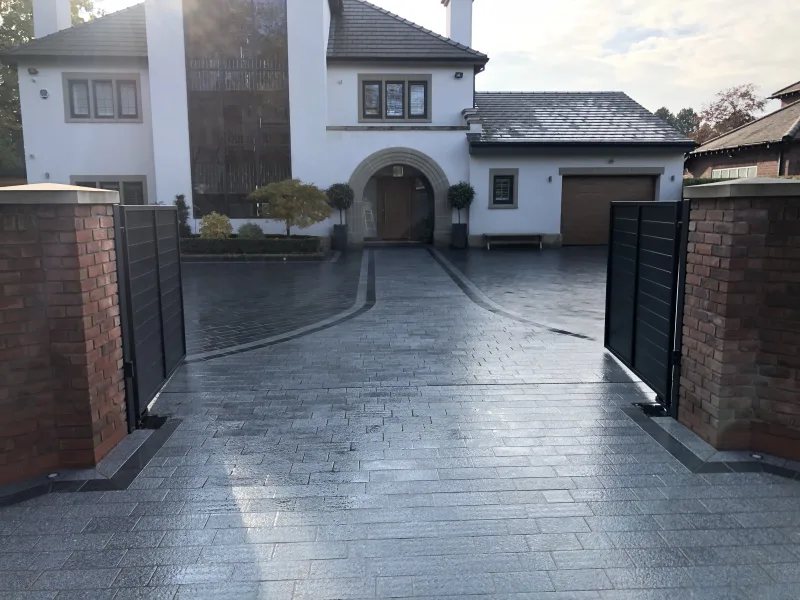 Created by Manor Prestige Landscapes, based in Bacup, Lancashire using Granite Eclipse Setts in Light and Dark.
Looking for more driveway inspiration?
We hope you have found these driveway design ideas an inspiration for your next project – as always, make sure you take your time to choose what is right for you and your family and pick materials that suit your home.
Browse our driveway paving ranges.
Read our articles to understand the rules for a new driveway and to answer the common question "how much does a new driveway cost?"