How to choose the right paving for your garden
Choosing the garden right paving is so important and there are many options out there, so it's important to do your research to make sure it looks great for years to come.
At Marshalls, we've got a huge range of paving options and over 130 years of experience, which is why we've created this handy guide to help you along the way.
We'll be covering:
What you need to consider before buying your garden paving
The best paving for patios, gardens and driveways
An overview of our paving range
Before you purchase...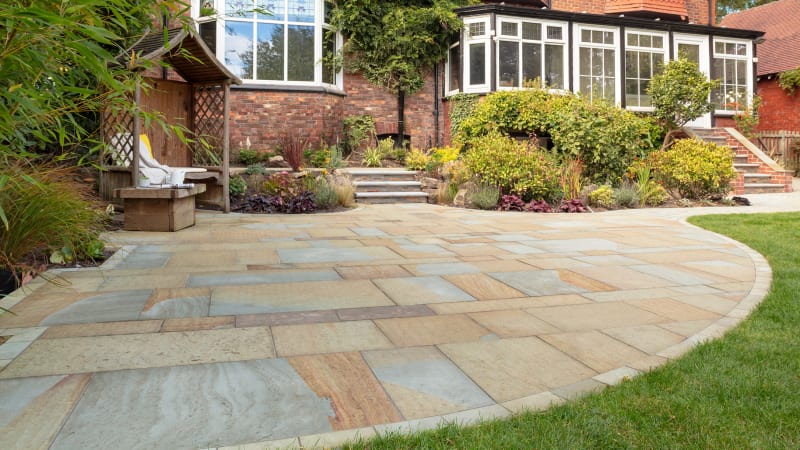 When you've decided that you want to add some new paving to your garden, you should first consider three main things:
1. What is the main purpose of your garden project?
Are you re-laying your existing patio, revamping your driveway or adding a new garden path? If you're redesigning your garden, you have a chance to start afresh and choose whatever paving suits your taste. If you're adding a driveway or path to your current layout, you'll need to make sure it is well coordinated with your existing design and colour schemes.
2. What is your budget?
An important one, especially when it comes to the size of the project. If you've got a large area, or one that is likely to be well-trafficked and need updating more often, it's worth considering the costs in the long term too, as well as the initial installation. Like with most home renovation projects, using cheap products can sometimes lead to further costs down the line. Your garden paving will be outdoors in all weathers so make sure it can withstand the harshest of winters.
3. What is the style of your home?
If yours is an ultra-modern home, then perhaps rustic cobbles might not be for you. Similarly, a traditional red brick building might look odd with sleek slate paving, so make sure to take into consideration the setting for your garden, patio and driveway paving. Be a nosey neighbour and take inspiration from the houses around you, or go online and use Pinterest or Google image searches to look for garden ideas for your particular period or style of home.
Spending time on these three things will help you when it comes to making a decision about your paving. There's a world of possibilities to discover when it comes to colours, designs and finishes, so explore some of our finest below.
Garden patio and paving ranges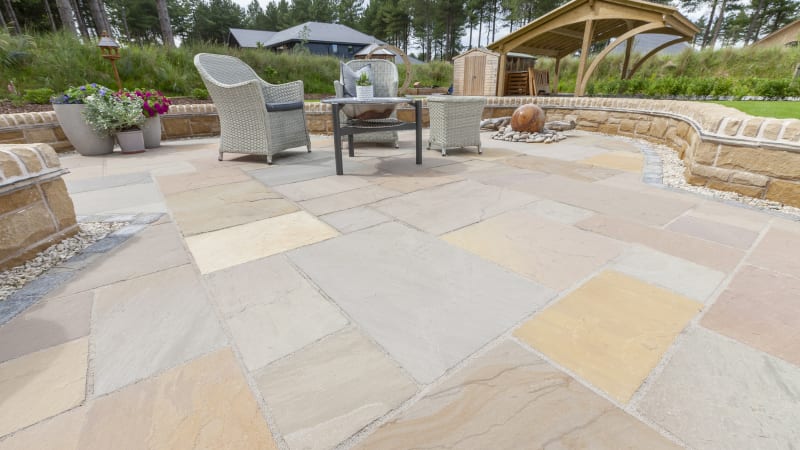 If you're considering adding a paved area to your garden, or developing a patio area, our selection offers a wide variety of garden and patio paving options. Limestone, sandstone, porcelain, slate, whatever material suits you and your home.
Indian Sandstone Paving is one of the most popular paving options for patios. All of our Indian sandstone is ethically sourced and available in three different natural colour blends, and in circle designs for that added wow factor.The quality of sandstones can vary dramatically and we would recommend reading our blog on buying good quality Indian Stone before you make a purchase.
What is the best garden paving?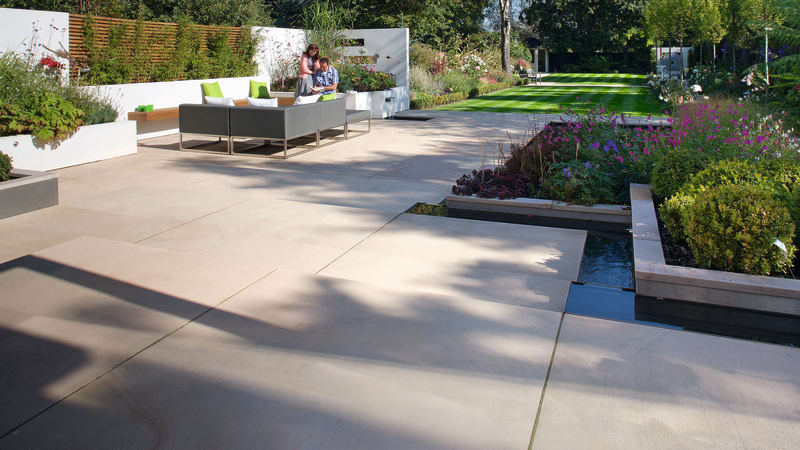 For a luxury natural stone patio, Fairstone Sawn Versuro Jumbo King Size Paving really is king. With some of the largest sized paving slabs on the market, it is cut from superior quarzitic sandstone and has a fine-grained surface that boasts excellent non-slip characteristics. It is also compatible with other products in the Marshalls Fairstone range, so you can co-ordinate and add borders, steps and walls that match your new paving.

If you're looking for a sleek, modern paved area, we have Fairstone Slate Natural Garden Paving. With a bold dark grey colour it can add a striking effect to any paved section of a garden, especially contrasted with lighter-coloured Slate Chippings.
In recent years, Porcelain Paving has really grown in popularity, and it's not hard to see. Porcelain paving absorbs little to no moisture, meaning fewer opportunities for algae to grow, which means less cleaning for you! It is also very hard wearing. Our Symphony Porcelain Paving range is extensive, featuring a range of options to suit both modern and traditional homes. If you're a fan of garden decking, you could choose to opt for porcelain plank paving, a low maintenance alternative which looks just like real wood.
Driveway Paving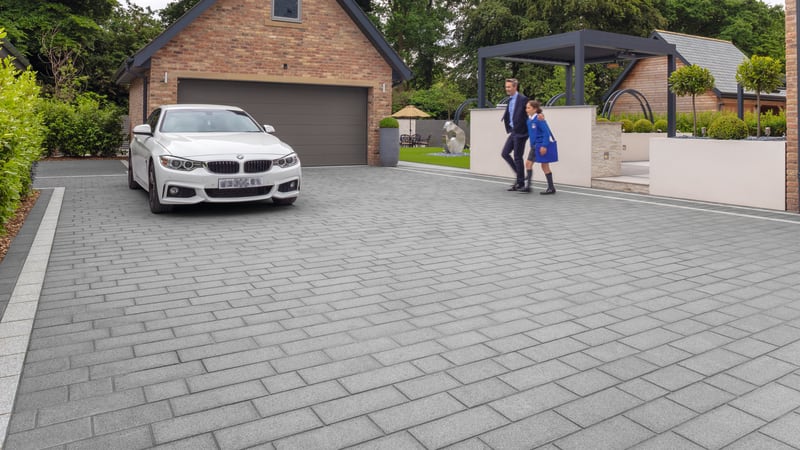 We have the largest driveway block paving range in the UK, with a host of different paving slabs and accessories available. All our products offer excellent weathering abilities and range from both natural stone to replica.
We've got products that cover all budgets too. If affordability is first and foremost on your project priority list, our Standard Concrete Block Paving will tick all the boxes.
If it's the luxurious look you're after, we also stock paving options such as the hand selected Fairstone Sawn and Tumbled Setts in two beautiful colours, and the multifunctional Drivesett Savanna Block Paving, which is ideal for both driveways and coordinating paths.
Our driveway range also offers great granite choices too. The Fairstone Sawn Granite Setts are a particularly beautiful option for contemporary designs with a lightly flamed surface meaning it has excellent non-slip properties.
What is the best paving for driveways? It's difficult to nail down one variety of paving slab as the best. But, for choice, durability and quality, Drivesett Tegula Original Block Paving is a great option.
It's the most popular domestic driveway block paving in the UK, has a reputation for its classic, luxurious appearance, and its fantastic weathering qualities too.
If you're living in a traditional property, this one is perfect for you. But, because of its premium look, Drivesett Tegula Paving feels equally at home on a modern driveway too.
Driveline 50 Block Paving is another paving highlight in the Marshalls collection. A popular choice for our UK customers, it's available in seven different colours from Charcoal to Buff, Red, and Pewter Multi, as well as offering five sizes to choose from.
This wealth of customisation options means you can create a truly unique look for your driveway.
Another of our driveway paving options we should mention is Drivesys Patented Driveway System Flamed Stone Paving. With a dark, replica stone finish, it has a modern, eye-catching finish that is guaranteed to turn heads and enhance your property driveway.
We stock a huge variety of garden paving products here at Marshalls and you can now buy online, so if you're considering adding a little extra paving to your garden, or looking to give your outdoor space a complete makeover, we have options perfect for you. Discover our huge range and see what Marshalls can offer your latest garden project.
Need a little more advice? Get in touch with our team on 0333 920 4470, or email us customeradvice@marshalls.co.uk.