Garden trends for 2020
When it comes to garden design, there are options galore. From the colour of your patio paving to the landscaping and planting schemes – there really are hundreds of ways to make your garden as unique as you are. But what are the current trends in garden design and what does 2020 hold for people looking to update their garden?
From research with homeowners and by analysing the latest garden designs we've created for our customers, we've pulled together a summary of garden design trends that we think will be big for 2020.
Popular patio paving colours
When planning your garden, it's great to have a colour scheme in mind and neutral coloured patio paving remains the most popular for new garden designs. Neutral or natural colours, such as Buff and Cream, can really help to show off colourful plants and flowers and they're easy to co-ordinate with garden furniture too. If you have a light coloured carpet or wooden floors in the rooms overlooking your garden, then neutral coloured paving is perfect to create a seamless transition from inside to out.
If you're looking for a more modern paving colour, then grey paving such as the Symphony™ Classic or Fairstone Granite Eclipse® is also very popular in garden design. With grey tones still popular for home interiors, grey paving is a great way to extend your home style into your outdoor space. The combination of grey coloured paving against the contrasting vibrant hues of the flowers, can create an inviting atmosphere to any garden.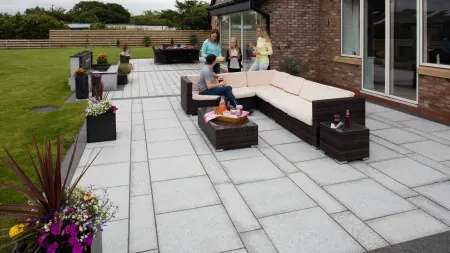 Popular garden paving types
Natural stone paving is still the most popular option when it comes to garden patios – proving that it really is a timeless classic. From granite to sandstone, Yorkstone to marble, not only are there vast differences in the types of natural stone you can choose between, but every paving slab is unique too. When you're buying natural stone, you're buying a piece of history; our Scoutmoor paving was made over 365 million years ago and you can find it at Trafalgar Square amongst other landmarks.
Whilst natural stone is still the favourite, we are seeing a growing number of people choosing porcelain paving for their gardens. Porcelain paving (sometimes called vitrified paving) is appealing to homeowners for its low maintenance properties – it absorbs little to no moisture and so staining and algae are far less likely to be a problem.
A popular trend within garden paving is using contrasting colours to really identify and delineate the separate use of spaces, and even creating 'rugs' using patterned paving. Landscaper Designer and Author John Brookes describes "that a garden isn't a separate space, but a continuation of the house" and this trend is evident with the design aesthetic some landscapers are taking.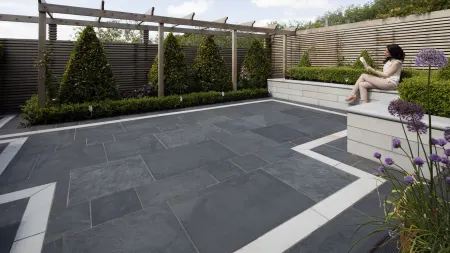 Artificial Grass
An increasing number of people have included artificial grass in their garden designs over the past year; as technology has advanced over the years, it is looking more authentic than ever and is a great option for older or less mobile homeowners. Artificial grass is also popular for play areas in family gardens (less mud!) and in areas where pets spend a lot of time.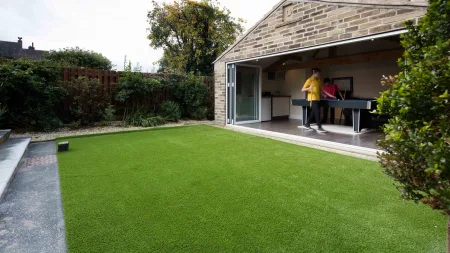 What garden features are the most sought after for 2020?
At the end of 2019 we asked our social media followers to tell us what garden features were at the top of their 2020 wishlist. Built-in garden seating came out top, followed by outdoor kitchens.
Built-in garden seating
Good garden designers thrive on creating spaces that meet their customers' needs, and as most people like to both relax and entertain in their gardens, seating is a priority.
Whilst we might be giving fastidious attention to our plants or paving, garden furniture often gets neglected due to the unpredictable British weather. With this in mind, garden designers and landscapers are finding new innovative ways to incorporate built-in seating areas into gardens, as these pictures show. If you're tired of taking in the cushions or sorting out the furniture when the rain comes, a built-in seating area is a great way of weatherproofing your garden.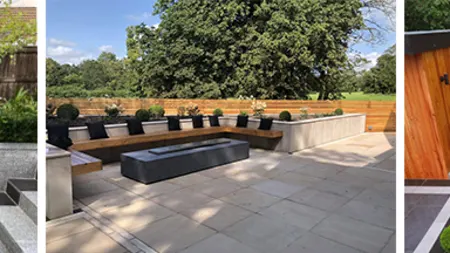 Outdoor kitchen
Outdoor kitchens are also a popular trend in garden design. If you love to entertain in your garden then adding an outdoor kitchen is a great way of transforming your summer gatherings. Barbecue grills, prep stations, outdoor bar, pizza ovens, counters are a great way of impressing your guests. As your family and friends gravitate to the outdoors, we can agree that al fresco cooking is better than staying inside, as we want to be making the most of the sunshine.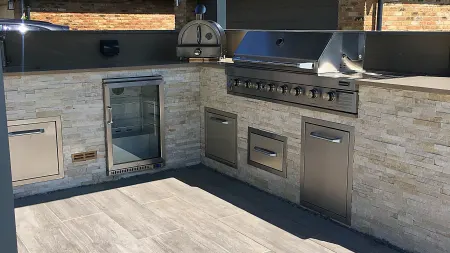 Start planning your new garden now
Winter is the perfect time to start planning a new garden and there's plenty of time to have it done for the summer. Whether you're building an outdoor kitchen or choosing the right coloured paving, a great way to start planning your garden is thinking of it as an extension of your home. If you've been inspired by these garden design trends, why not take a look at some of the projects our recommended installers have recently completed to see what other people have chosen. If you're a Pinterest fan, follow our Garden Trends board to inspire your own mood boards and pins.