Natural stone patio ideas
8 stone patio ideas
Whether you're upgrading your existing patio or installing a new one, there are a few decisions you need to make. One of these is choosing the material you're going to work with.
With increased durability and quirky visual characteristics, natural stone is a smart choice. It can create a beautifully unique patio landscape that will serve you well for years to come.
Check out 8 of our favourite natural stone patio ideas below.
1. Creating new spaces with stone steps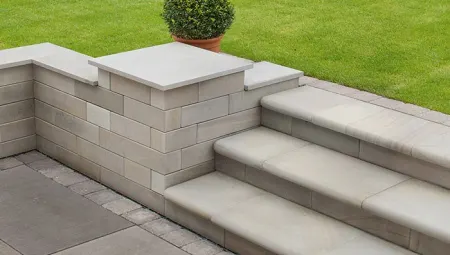 You may consider your garden steps to be a purely functional feature. But as well as connecting your patio to the rest of your outdoor space, they can play an elegant part in your garden design.
Create a sense of grandeur with the deep shelf-like shape of Fairstone Flamed Narias Garden Paving. With steps available in a flame-effect Autumn Bronze Multi colour, they're perfect for bringing a fiery vibrancy to your patio.
Suitable for both contemporary and traditional properties, these natural stone steps create a warm and welcoming atmosphere all year round.
2. Build around a centrepiece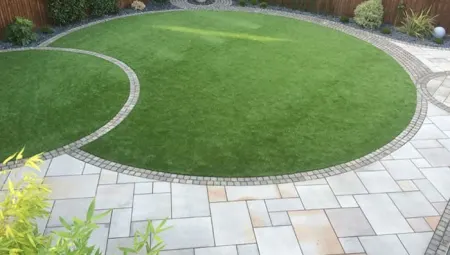 Building your patio around a centrepiece is a classic design approach. Whether it's an outdoor firepit, BBQ or dining area, lay your paving around your chosen feature to create a focal point for your garden gatherings.
Natural stone paving circles are made for this job. With a gentle blend of natural colours that can sweep around a centrepiece, Indian Sandstone Circles are an exciting choice. Place a circular paving stone in the centre and then create a two-ring circle pattern around it to replicate this eye-catching effect.
This natural sandstone is available in three different colours – buff, brown and grey multi – each with their own variation on a base colour to create a striking, authentic finish that can either match or contrast with your property.
3. Combine with other natural stone products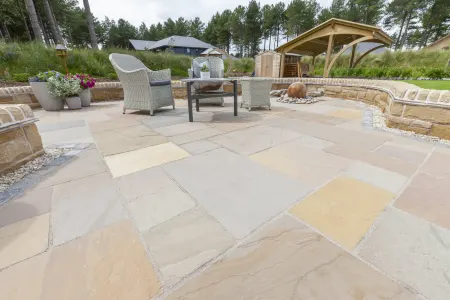 Unlike pre-constructed concrete stone, each piece of natural stone has its own individual shade, tone and texture. Combining them with other natural products serves to add even more variety to your garden design.
Building on the previous stone patio idea using sandstone circles, you could create a centrepiece section with additional Indian Sandstone Paving. Its blended finish adds an exciting burst of diversity – defining the visual identity of your outdoor space.
Both products are available in the same colours, allowing you to create an underlying theme in your garden decor. The same applies to a range of other natural stone paving in the Marshalls range.

4. Play with patterns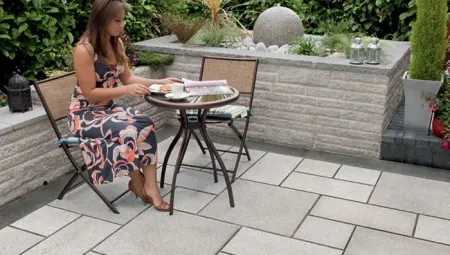 Mixing and matching different colours of your chosen natural stone is a fantastic way to add some extra excitement to your design. Sticking to the paving lanes helps you create a clean, straight-sided effect.
Start by choosing two colour variations of the same paving – then decide what pattern you want to create. You could border the edge of your patio with one colour, creating a paving lane around the sides. To finish it off, select a different colour of paving to fill out the central area.
Alternatively, you could lay paving boxes throughout your patio to break up the space. Use a darker shade for the edge of the box and then fill the space with a light, bright stone for a cool contemporary style.
Fairstone Granite Eclipse paving is ideal for this, as the contrasting shades available offer the chance to create a diverse patio design. Make a bold statement with your patio paving, with ember edges and a graphite-colour centre.
5. Get creative with a mosaic finish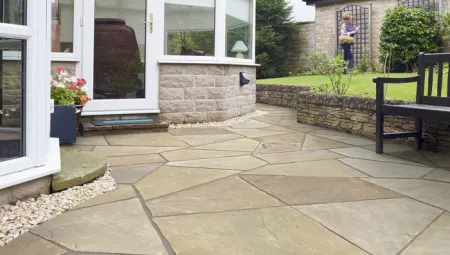 If you feel like getting creative with your design, use natural slabs in a variety of shapes and sizes like Fairstone Riven Harena Kaleidoscope paving.
Quirky and off-centre, this mosaic-style paving will help your patio stand out. And using natural stone paving will provide a rich finish that fills your back yard with a little taste of Ancient Greece.
It can form the basis of a small feature area of your patio, or be used around your home to create a more consistent theme. Best of all, if your garden is filled with lush greenery, natural stone will blend in perfectly with your existing planting.
6. Enjoy summer all year round with lighter shades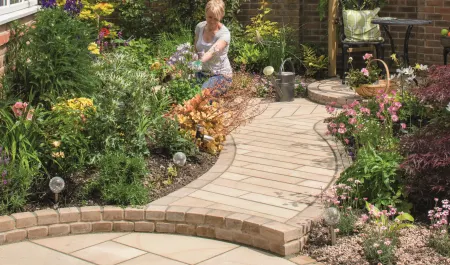 Lighter shades of paving create a garden that shines all year round, thanks to their naturally vibrant appearance. Experimenting with this style maximises the existing lightness of your garden space, making your patio appear more inviting.
Try adding Fairstone Sawn Versuro Linear paving to capture the essence of summer and create a mini-oasis in your garden. You can fringe the space with roomy soil beds and plant the seeds of a flowering border. Complement the sandy finish with vibrant colours and exotic flowers.
7. Think modern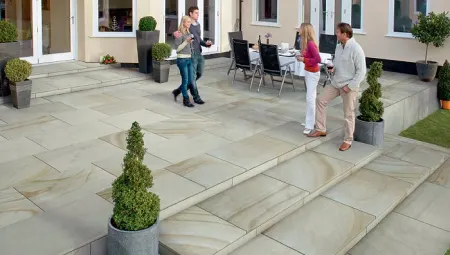 Going big with your natural stone patio design works really well for modern properties that want to stand out and make a big statement. Aside from the obvious attention-grabbing designs like bold coloured paving and contrasting shades, there are alternatives.
Fairstone Sawn Versuro King Size slabs will impress your guests with its striking design. This oversized option can transform your patio with its smooth texture and unique visuals – delivering a style both bold and minimalist in appearance.
There are several colours available, so whatever theme you're going for, you can find king size paving to complement it.
8. Or go for classic cool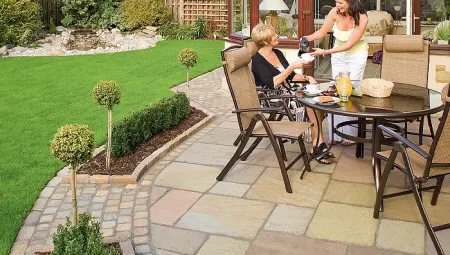 If you're looking to keep it cool and understated while retaining a classic aesthetic, look no further than subtle Fairstone Antique Alverno natural stone paving – a timeless traditional choice.
This type of paving will remind you of long summer days spent relaxing on your sun-lounger, but it lends itself also to an autumnal scene where you can watch the leaves fall before a pink sunset. With its worn texture and soft edges, it's a refined look for your patio which will never go out of style.
This style works well on contemporary properties, too. Browse the variety of unique colours available to find your statement shade – appreciating the natural stone hallmark of shade variations on each stone.
All of our natural stone paving products are ethically sourced and guarantee a superior stone quality finish. Explore our diverse range of natural paving to begin designing the stone patio of your dreams.