Small driveway design ideas
Just because your outdoor space is tight, doesn't mean your design choices are limited, this article will show you seven award-winning driveway designs to help you plan your next project. Scroll down for small driveway design ideas that are as practical as they are beautiful. All projects were created by a Marshalls Registered Installer.
A stylish block paving driveway design for a small front garden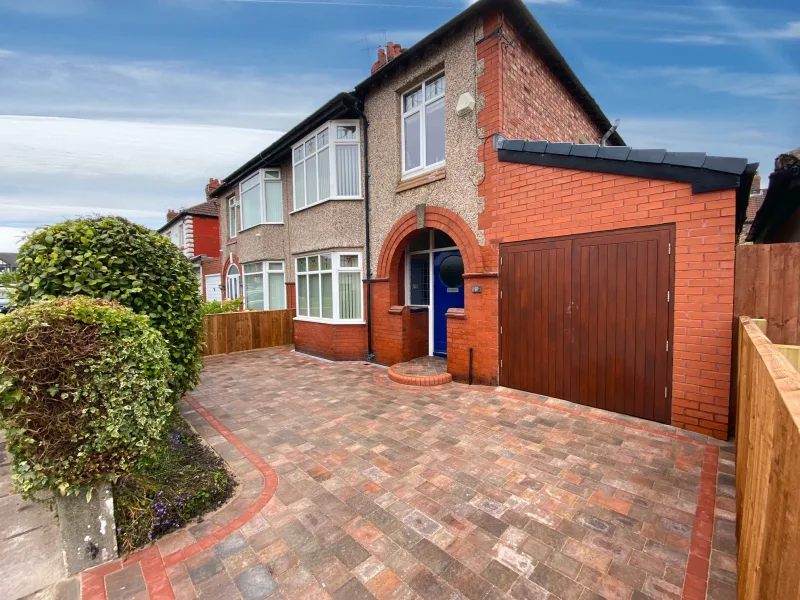 Created by Brockstone Landscape Construction, Liverpool, using Drivesett Tegula block paving in traditional and Driveline 50 in brindle
If you're looking front garden design ideas, the chances are you will be considering a driveway. A front garden drive helps you to maximise your outdoor space and can add value to your home too. This is a block paving driveway design that makes the most of the small front garden and leaves room for several cars. The colours of the block paving have been chosen to complement the house, and intricate paving details on the front step add a touch of class.
A modern small driveway design using curves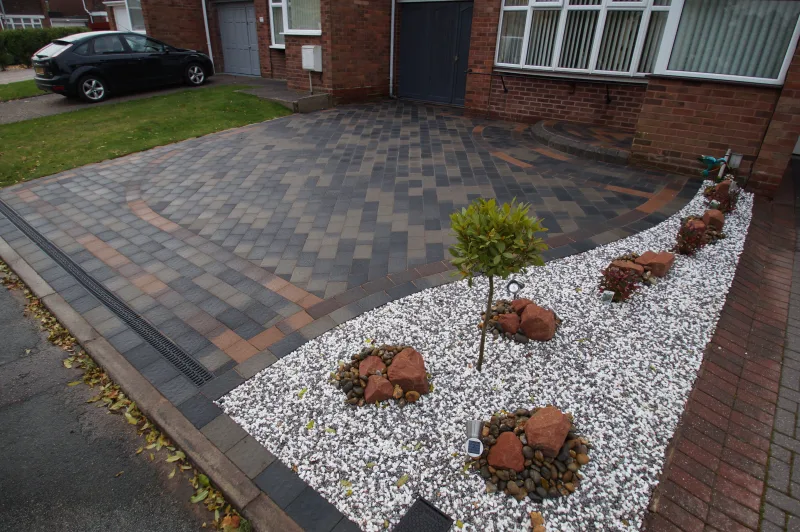 Created by Central Drives, Staffordshire, using Drivesett Coppice in Pennant and Cedar blends, plus Tegula Kerb
An easy to maintain driveway design will help create a great first impression when people visit your home. This small driveway benefits from a curved design, and runs alongside front garden planting that is set in gravel. The homeowner chose to use Coppice paving, which is a modern twist on the traditional block paving that can be found across many homes in the UK.
A stylish driveway idea for a period property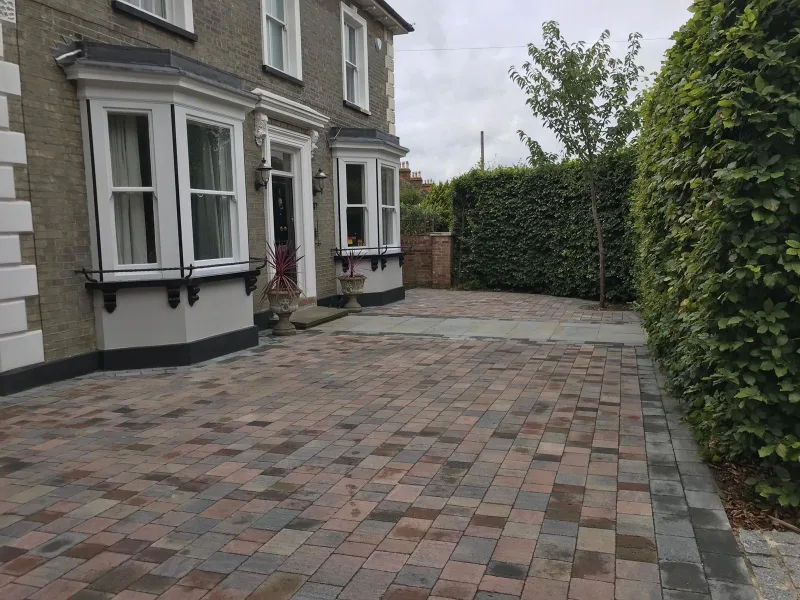 Created by Greenscape Gardens, Surbiton, using Drivesett Tegula block paving in traditional and charcoal, and Scoutmoor Yorkstone paving for the front step
If you're looking at driveway designs for a period property, it is important to make sure you choose a style which respects the period and character of the building, and uses materials that will complement and enhance its beauty. The new driveway design for this Georgian home needed to have the wow factor to match the building and it was achieved by using a blend of materials that all sat within the colour palette and brought texture to the project. This is a block paving driveway design which truly complements the house, and also features a Yorkstone step to add to the character.
A front garden driveway idea with grey paving and artificial grass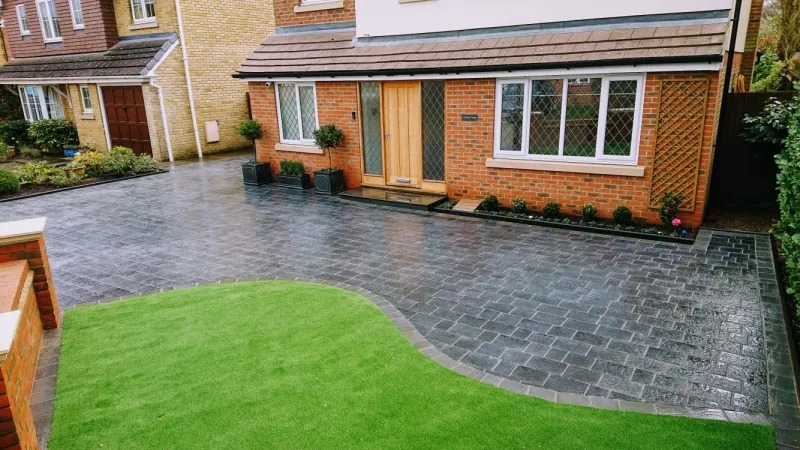 Created by Harpenden Block Paving Co Ltd, based in Harpenden, using Drivesys Flamed Stone
Small driveway design ideas don't need to be boring, a creative installer or landscaper will be able to create a design which makes the best use of your space and looks great at the front of your home. This front garden driveway design uses curves as a stylish way to bring a designer feel to the space. By using grey driveway paving against artificial grass for the front garden, the homeowners have achieved a unique driveway that is as beautiful as it is practical.
A grey block paving driveway design using a mix of colour tones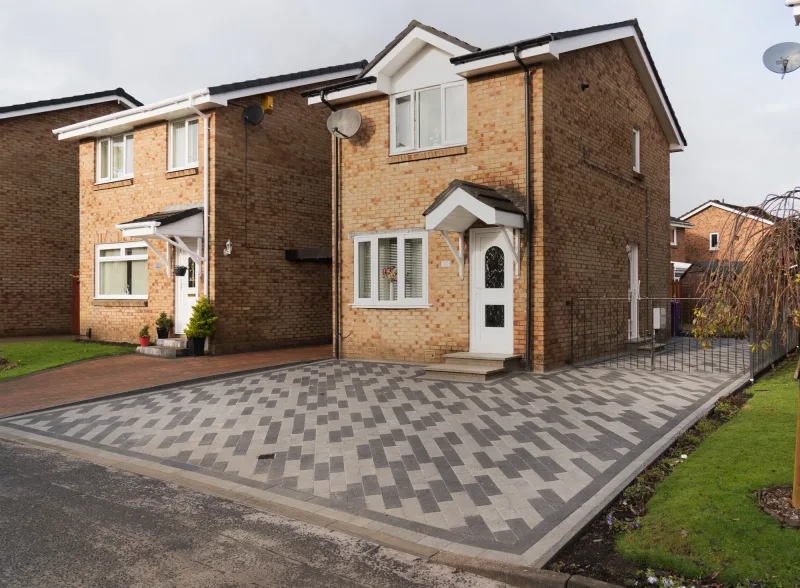 Created by IG Contracts, Stewarton, using Driveline Metro block paving with a Drivesett Argent border
When it comes to a block paving driveway, there are many choices to make, including different colours, textures and block sizes. A popular driveway design choice is to have the area laid with a mixture of paving colours, creating a stylish pattern and a focal point at the front of your house. This small driveway design uses grey tones of block paving, styled at a 45 degree angle from the road and with a border too.
A circular driveway design using grey natural stone setts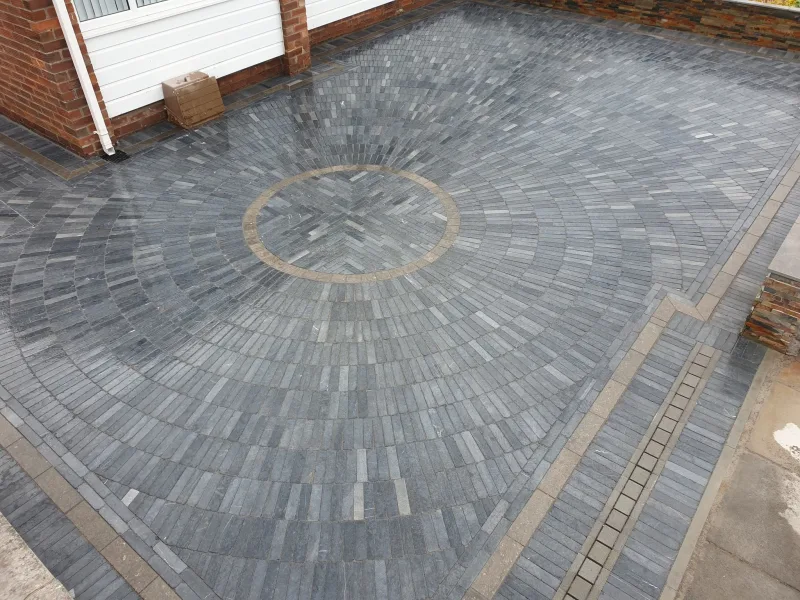 Created by JA Dodds, Choppington, using Farnley Setts and Capleton Pavers for border detail
As we've seen so far in this article, there are so many options when it comes to driveway design and it's your choice as to how far to go with it. Circles are a popular driveway design idea and can help create a unique paving pattern for a stand-out space. This driveway uses grey natural stone setts to create the circular pattern, it's worth knowing that these setts have been ethically sourced so not only do they look good but they have done good too.
Looking for more driveway inspiration?
We hope you have found these small driveway design ideas useful in the planning of your own project. As always, make sure you take your time to choose what is right for you and your family and pick materials that suit your home.
Browse our driveway paving ranges.
Read our articles to understand the rules for a new driveway and to answer the common question "how much does a new driveway cost?"