7 driveways created using British-made products
It is understandable that we're paying more attention to where our purchases come from and how they are made. Marshalls began in the 1890s as a small family owned business that was built on big principles and we have grown and developed a variety of British made products throughout the years. In this article, we will take you through seven award-winning driveway designs that feature a diverse range of our British products.
A curved driveway design using grey paving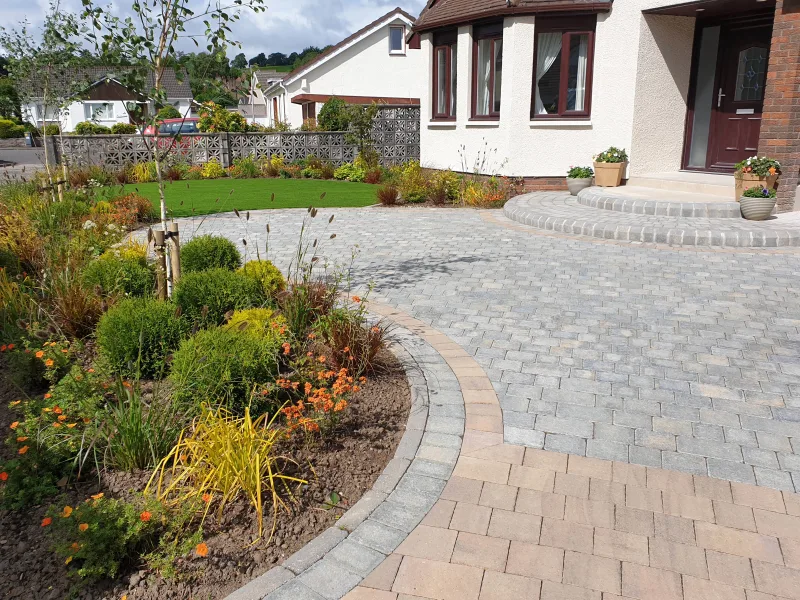 Created by 3D Garden Design in Beith Scotland, using Drivesett Tegula in Pennant Grey and Drivesett Savanna in Autumn
Adding some shape to your driveway design using a combination of materials is a great way to create different zones, to separate the driveway from the front garden or to create a pathway. If you're looking to make the most out of your outdoor space to the front of your home, think about using different colours and materials to highlight sections between your driveway and garden.
A driveway featuring a bespoke circle design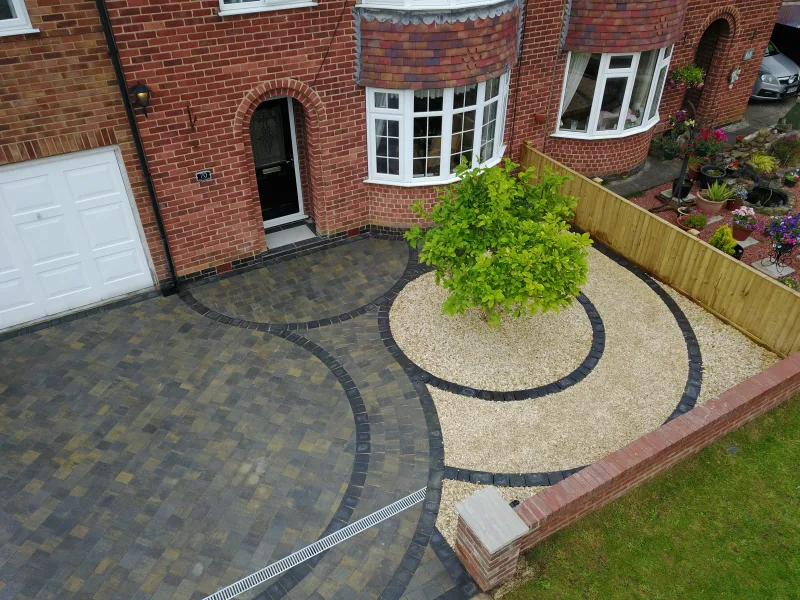 Created by Waterdale Landscapes in York, using a mixture of Drivesett Savanna in Pennant Grey and Charcoal
Grey is a popular colour for driveway paving, as it looks great against most properties and using two different shades is a great way to highlight a pathway or to create a bold distinction between areas. This complete front garden transformation was installed using our Drivesett Savanna in Pennant Grey with a Charcoal border.
A stylish driveway design with a front garden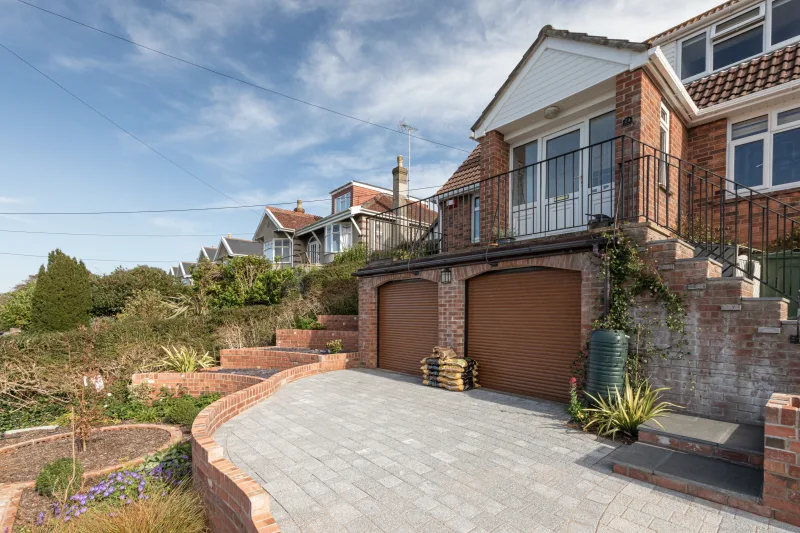 Created by Westend Landscapes in North Somerset, using a mixture of Drivesett Argent in Dark and Light
Granite is a cost effective way of achieving a premium finish, and looks great against a traditional or modern home. Exterior walling can be used to create sections at the front of your home, this driveway design uses old mill bricks, to match the look of the property.
A large open driveway with a bespoke grey and red paving design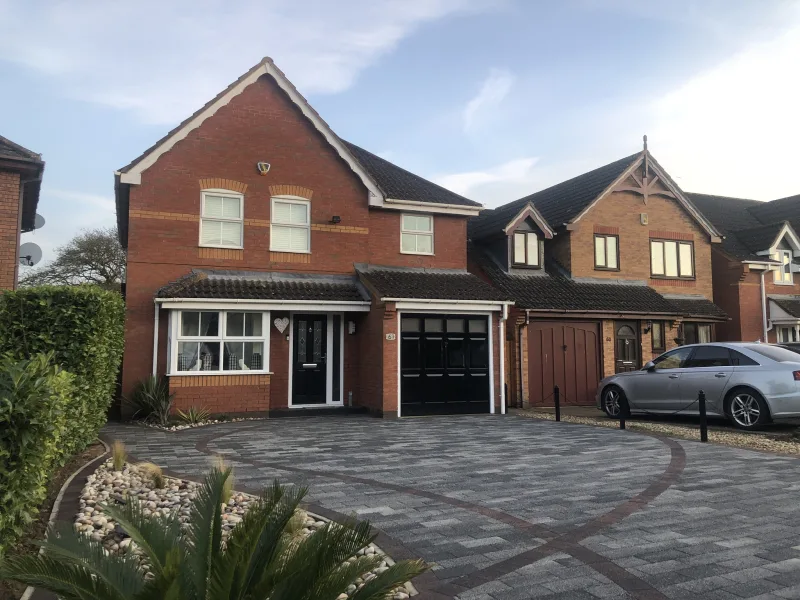 Created by KP Landscapes in Northampton, using a mixture of Driveline Nova Coarse in Pebble Grey and Brindle
A driveway design doesn't have to be boring. A good installer or landscaper will help you to see past what is currently there to create something unique. This front driveway uses a combination of colours to create a bespoke design including an outline to highlight a pathway and a border, separating the paving to the plants and pebbles.
An accessible open driveway design with bespoke steps and wheelchair ramp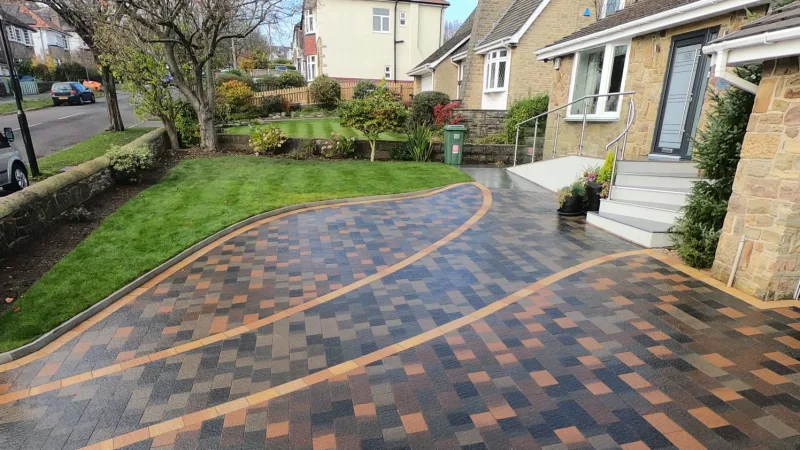 Created by Scape Easy in Sheffield, using a mixture Drivesett Coppice in Cedar, Oak and Pennant Blend
A good quality landscaper or installer will take you through your options when it comes to renovating your driveway, and give you a real insight to your project. This customer opted for a large open driveway with an accessible wheelchair ramp and steps, leading up to the property.
A multi-coloured driveway for a traditional property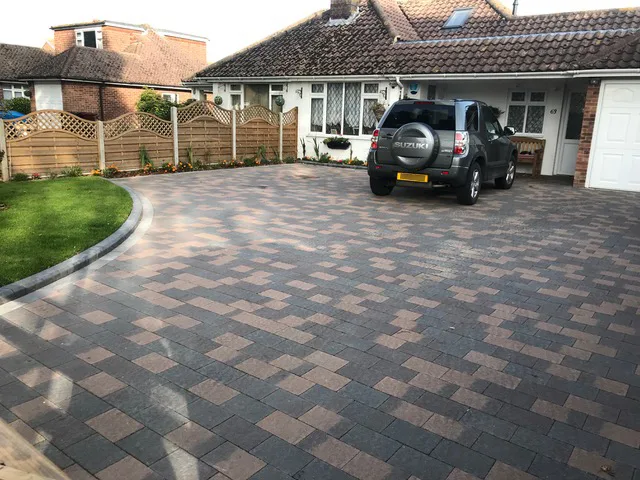 Created by Arun Driveways in West Sussex, using a mixture Drivesett Coppice in Cedar and Pennant Blend
If you're looking for driveway design ideas, a great starting point is noting the style of your home and the colours. If you're looking for something unique, using a blend of colours from the same block paving can create a distinctive look to your drive, and that's what was achieved here by the installer.
A stylish driveway for a modern home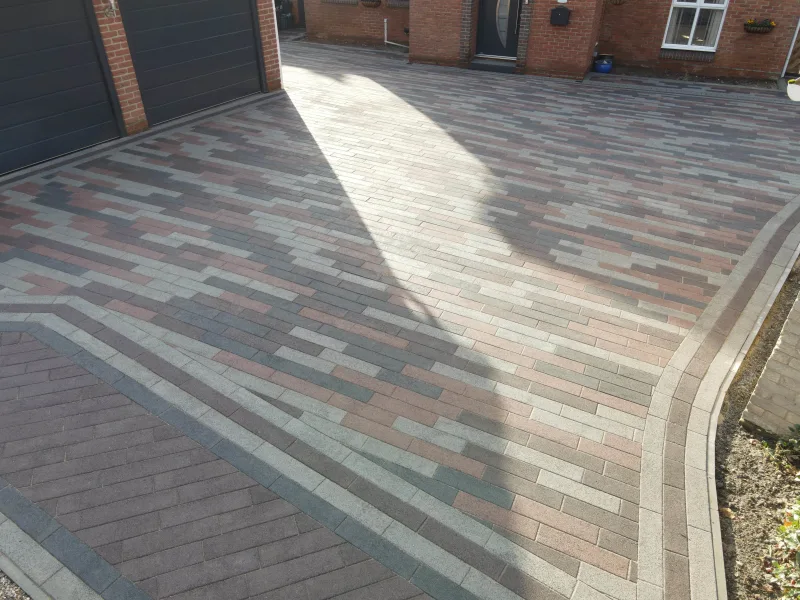 Created by Williams Paving in Chelmsford, using a mixture Driveline Metro in Dark Grey, Light Grey, Maroon and Rose
When it comes to driveway design, a common trend we see is a mixture of coloured block paving. If you're looking to make a statement, our Driveline Metro paving comes in four colours that can be blended together to give a modern touch to any driveway.
Looking for more driveway inspiration?
We hope you have found these driveway design ideas useful in the planning of your own project. Click here to browse our full driveway paving ranges.
Read our articles to understand the rules for a new driveway and to answer the common question "how much does a new driveway cost?"