New garden paving and driveway products for 2020
We've been helping people to create better outdoor spaces for over 130 years so we like to think we know a thing or two about garden designs and trends. Every year we expand our product ranges, giving our customers more of what we know they love and some new inspiration too.
From our first porcelain driveway to our new Mediterranean inspired Cropped Porphyry Setts, we're proud to announce a new range of products for 2020. Due to the popularity of our SYMPHONY® porcelain paving, we're extending the range and introducing even more products in the new SYMPHONY® Plus range. We're also introducing a unique decorative porcelain tile, which creates a stylish design for your patio. Scroll down to see what's new.
Garden Paving
Natural Stone Paving
Natural Slate
<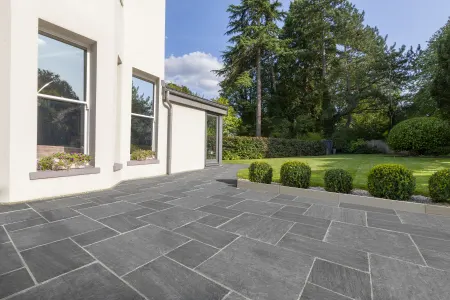 The new Natural Slate offers the same characteristics as traditional slate but with a modern blue twist. From contemporary to period properties, the rich aesthetic of the bluish grey colour will enhance any patio.
Porcelain Paving
SYMPHONY® Matte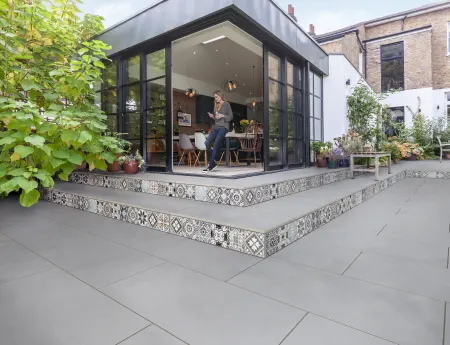 Use our new SYMPHONY® Matte to create a stylish patio design. And, following the 2020 garden trend for patterns in gardens, we've introduced a new decorative porcelain tile into the range, which can make your steps or borders stand out even more.
SYMPHONY® PLUS Classic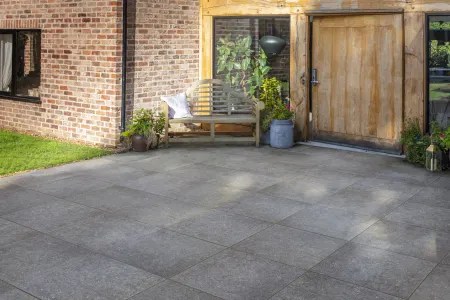 Our new SYMPHONY® PLUS Classic range features a contemporary design to suit any project. This low maintenance paving originally comes from our SYMPHONY® Classic, but a new innovative design allows it to be laid on a flexible bed. This means it's quicker to install, whilst still keep the eye-catching elegant design.
SYMPHONY® PLUS Natural The new SYMPHONY® PLUS Natural range comes in 3 grey colours, each with their own individual characteristic that represents the look of natural stone.
SYMPHONY® PLUS Urban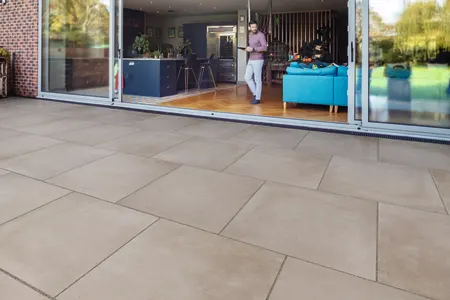 We've introduced 4 new colours to our SYMPHONY™ Urban range. This porcelain paving suits modern homes, the colours, size and distinctive design of the urban range are ideal for those wanting to create a contemporary look.
SYMPHONY® PLUS Planks If you're looking to replicate the 'wooden plank' effect in your garden, then look no further than our new SYMPHONY® PLUS Planks. The low maintenance porcelain paving has the appearance of a timber deck aesthetic but with a much longer lifespan. The porcelain is significantly more weather resistant than the standard composite wood used for decking and absorbs no moisture, which helps to prevents staining and mould.
Driveway Paving
Natural Stone driveway paving
Cropped Porphyry Setts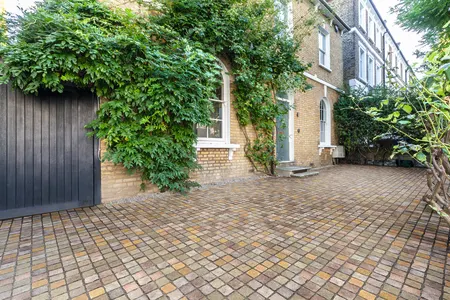 Create stunning driveways, borders and pathways with our new Cropped Porphyry Setts. Offering a truly stunning warmth variation in colour, the stone is highly resilient and durable, suitable for any driveway.
Farnley Setts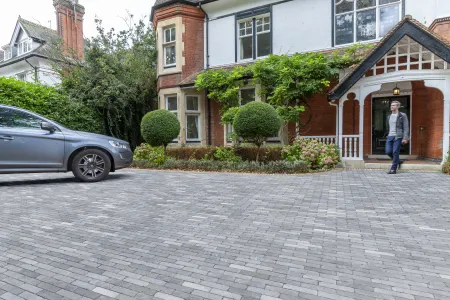 Ethically sourced natural stone has been chosen to create the new Farnley Setts, available in a range of stone types and blends. Farnley Setts are great for both modern and traditional homes, thanks to their unique design.
Porcelain driveway paving
SYMPHONY® PLUS Driveway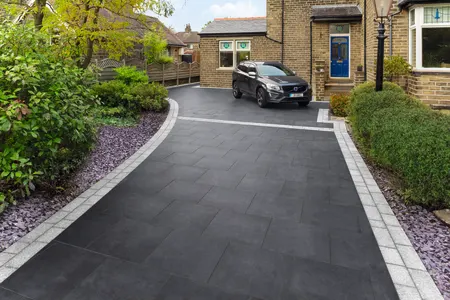 All the same fantastic advantages of standard porcelain paving, now for your driveway. Due to the popularity of our SYMPHONY® garden paving, we've extended the range and are proud to introduce our first porcelain driveway, SYMPHONY® PLUS Driveway.
Introducing our patio cleaning solution - Green-Away®
Regular maintenance on your patio and driveway will keep it in its best condition for years to come. Previously, we've given advice on how to clean block paving and how to clean your patio but now we've made it easier with the Green-Away® cleaning solution. This is ideal to remove mould, algae and lichen from your patio, driveway and pavement surfaces.
Inspired by our products? Kick-start your new garden project today
Planning a new garden and driveway can be a daunting task. If you're looking for ideas, you can visit the inspiration section on our website. Whether you're looking to create a pleasing first impression or a space for entertaining and relaxation, we have a diverse range of products.