5 ways to maximise the outdoor space at a holiday cottage
When it comes to choosing a holiday cottage or apartment in the UK, a good garden is at the top of most people's wish lists. And with 83%* of us choosing a British holiday this year and 71%* already planning one for 2021, it seems now is a great time for holiday home owners to be making improvements to their outdoor space.
How can I maximise the outdoor space of my holiday home?
The Sykes Cottages Staycation Index 2019 showed that the three most sought-after features of a holiday cottage are a garden, good Wi-Fi and off-road parking. Whilst we're not best placed to recommend a good internet provider, we can help with the other two. Below we share five ways to make the most of the outdoor space at your holiday home, to stand out from the crowd and entice more bookings at peak rates.
1. Make the garden as private as you can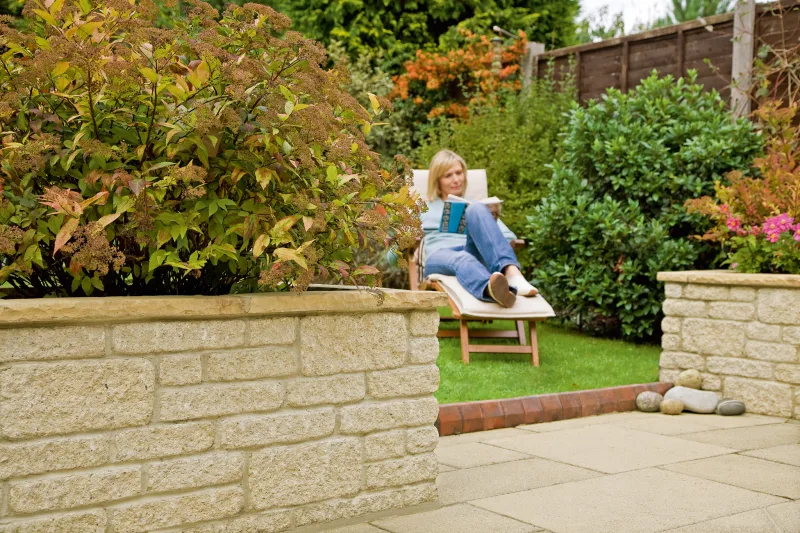 Walling such as Marshalite® Rustic can be used to create privacy in a garden.
With all that's going on in the world, people are looking for a holiday home that offers an escape from regular life and is somewhere to relax at the end of a day. There are a number of ways to make a holiday home garden more private, starting with clever planting and foliage. If you're keen to make a quick change, buy large free-standing pots and tall plants and trees. Bamboo and tall grasses work well but they can run riot if left, so bear this in mind if you don't have a regular gardener. Hedges are a good permanent feature; choose evergreen for privacy all year round and, again, think of the maintenance when choosing the style.
Moving away from plants, you could consider adding new walling to your garden, either to create a cosy nook or replace tired fences. Veneer walling, such as Stoneface® Drystack can be added to existing structures for a quick refresh and is a great option for those keen on DIY.
2. Add new garden features to stand out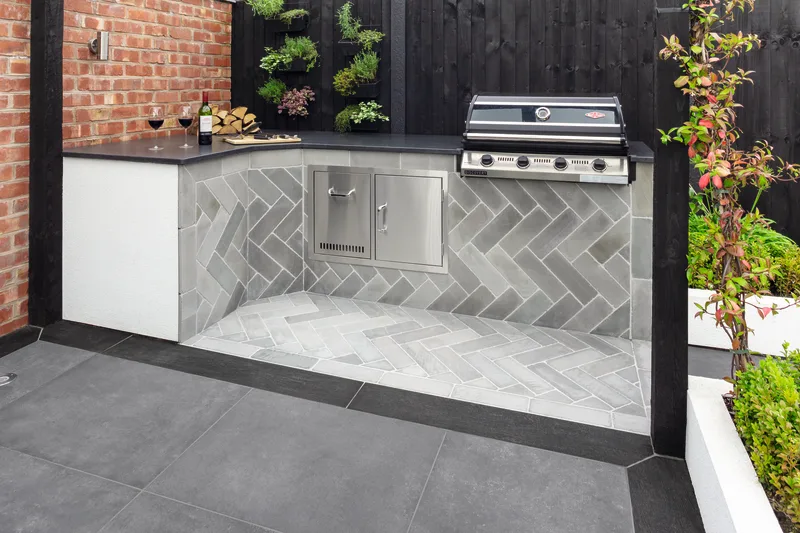 An outdoor kitchen created using Alvanley Pavers.
People like to stay somewhere that has features that they'd love to have at home and they're often willing to pay more for it. The Staycation Index showed that properties with hot tubs make 54% more revenue on average than other properties in the same region. If you're aiming for the luxury market with your holiday home, consider adding an outdoor kitchen to go beyond the average barbeque offer and perhaps even a built-in fire pit to make the garden appealing all year round.
3. Make room for more cars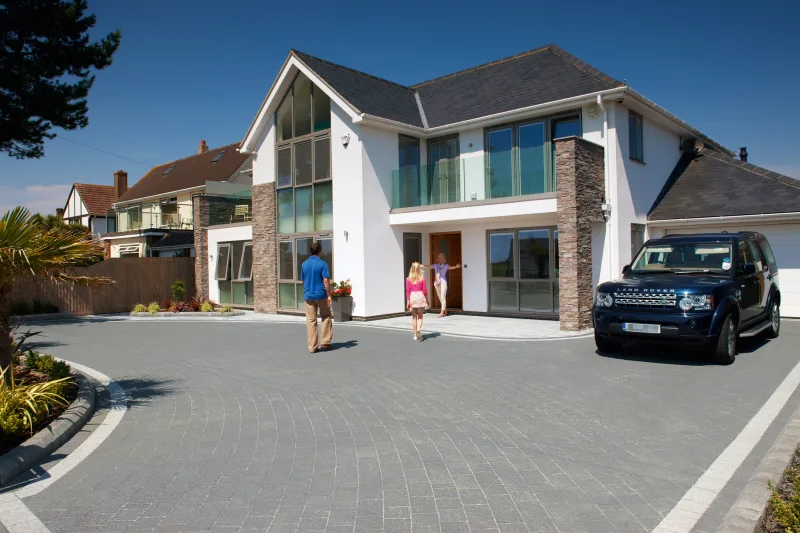 A large driveway using Drivesett Agent.
If you have a large holiday home it's likely that several families or groups will want to stay and having private parking will encourage bookings. If the property has a good back garden for guests to use, then consider transforming the front one into parking. A professional installer, such as one on the Marshalls Register, can design and create the driveway in order to maximise the space and they can also advise on driveway drainage and planning permission. Choose driveway paving that matches the period of your house; from sleek grey granite for modern properties to cobble effect paving for the more traditional.
4. Upgrade the patio or terrace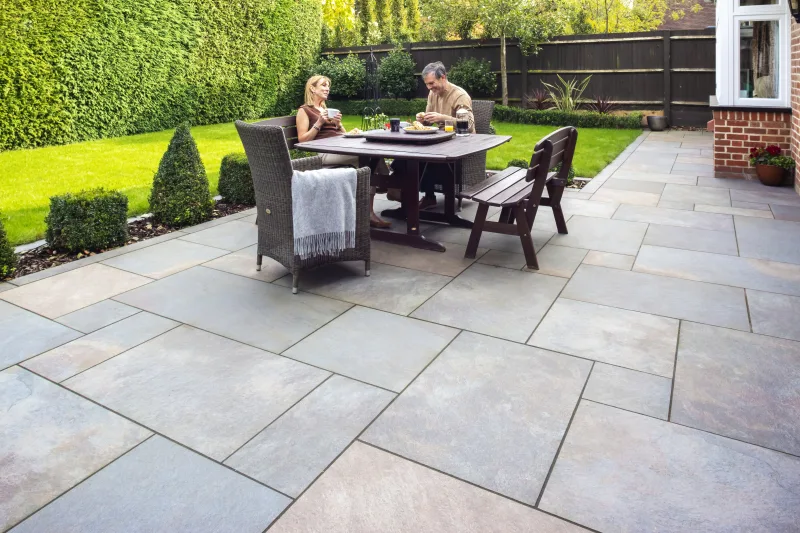 Porcelain patio using Marshalls Symphony Natural in Copper​.

Making changes to the patio in your garden will give it a great face lift. Whilst we'd always recommend using a professional to do the work if you can, if it's a simple replacement then you might find you can lay the patio yourself. Known for being low maintenance and looking good all year round, porcelain patio paving is a great choice for holiday homes. It comes in a range of finishes and colours so it can be matched to the period of the house and because it absorbs little to no moisture it is less prone to staining and algae.
If you're going for a full garden redesign, consider the position of the sun when you decide where to put the patio and garden seating. Place the dining furniture in the area that gets the sun later in the day and position a small bistro set for early morning sun and breakfast on the terrace.
5. Keep it low maintenance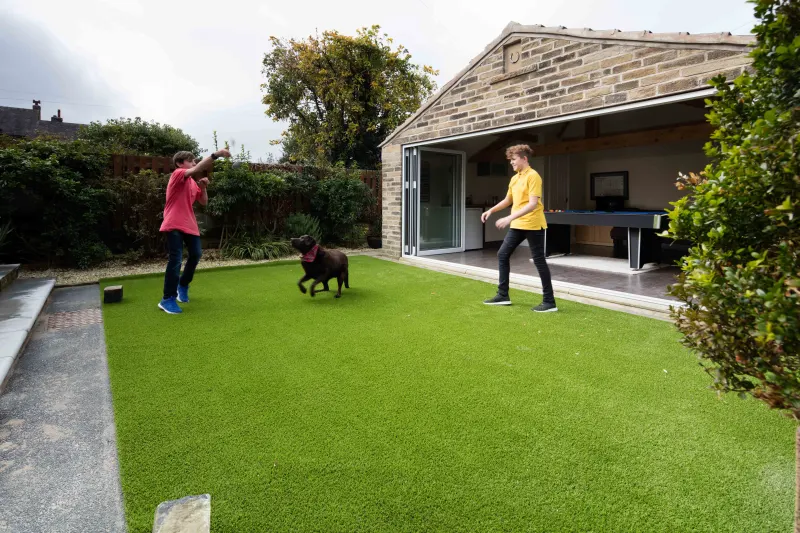 Always Green® Summer Lawn artificial grass
You want your holiday home to look as good when people arrive as it does on the photographs, so choose wisely when it comes to your outdoor space. A regular gardener is a good idea but also choose plants which are low maintenance and hedges which don't require weekly pruning. You could consider using self-watering planters or pots, or ask the housekeeper to water them whenever they visit. Artificial grass is becoming more popular with holiday home owners too, removing the need for a mower and ensuring a good looking lawn all year round. It's particularly worth considering artificial grass if a lot of your guests have young families, giving you piece of mind that the lawn will remain pristine no matter what outdoor games they play.
We've already mentioned choosing low maintenance paving, but always build patio cleaning into your property maintenance plan too. Our patio cleaning product Green-Away® is easy to use and effective, and you might find our article about how to clean a patio useful too.
There's much you can do to improve the outdoor space at a holiday home and, when done right, it can justify an increase in rental rates and stand you apart from the competition. We hope this article has given you some good ideas and pointers for what to do next.
*Take from a survey by The Cumberland Building Society in August 2020