2018 Garden ideas
GARDEN IDEAS
Summer looks like it might finally be on its way so it's the perfect time to turn our attention to the garden designs and trends of 2018. Recently, it's been about bringing the indoors outdoors to create an inviting, useable space that's an extension of your home. That means lots of comfortable seating, atmospheric lighting and even outdoor kitchens. We're going to see plenty more of this in 2018, with contrasting planting and paving and a focus on that all-important alfresco dining and living area.
Whether you are embarking on a complete overhaul of your garden or simply want to update a tired-looking space, we've taken a look at the best garden ideas that you can bring to your home this summer.
Pay attention to your lawn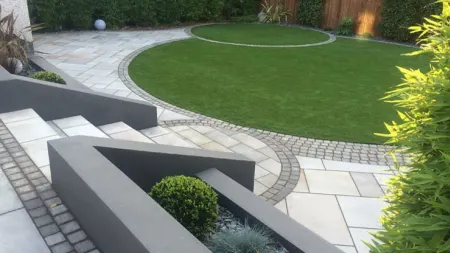 Whatever the size of the grass areas in your garden – and regardless of whether it's a main feature or not – neglect it and it'll disrupt the whole feel of your outside space. As the days become warmer and drier, the effects will be seen on your lawn so spend some time now ensuring it's in the best possible condition in time for long summer nights of outdoor entertaining. Thinking about garden design ideas for a brand new look? If you're going to lay new turf down, get inventive with its shape to create interest and character. In the modern, low-maintenance garden pictured, paving circles and curves help to soften the look of a square plot. Grass has been used here as a design element, and it sits nicely alongside contemporary paving such as the Fairstone Linear Paving and circular Fairstone Setts for an sleek, modern contrast, while still bringing in natural elements to liven up the look.
Get edgy with garden borders
Get creative with your borders and your garden will thank you for it. Before now, edging was seen as a practical addition to a garden path or flowerbed and little thought would go into this utilitarian feature. Sharp lines appear harsh and unimaginative so go for curves, texture and presence, like with the Antique Rope Top Garden Edging seen above. Create a focal point for your plants and flowers or finish your patio and paving with a bit of extra decoration. Depending on how much time you have to spend, you could get even more creative with unique borders made up of breeze blocks, steel, scrap wood or glass bottles which will contrast nicely with more rustic paving. Up cycling in this way makes for a great pre-summer project.
Fake it 'til you make it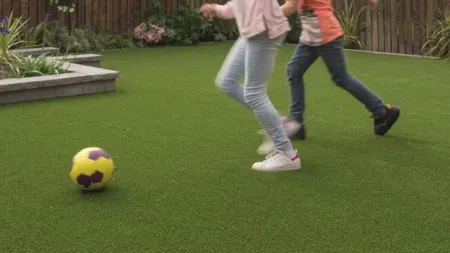 Artificial lawns are becoming more popular every year, and for good reason: they look great and require minimal maintenance. Just think of all the time you'll save by not needing to mow and water your lawn – giving you more time to relax. Artificial grass looks the part – available in multi-toned and gorgeous green shades that are just as attractive as the real thing, which can be ruined by the Great British weather at any moment. Durable, weatherproof and versatile, artificial grass can boost the appeal of any outdoor space. From soft and multi-toned to bright and porous types of artificial grass, we've got a full range here – from the natural look of Always Green Summer Lawn to the practical and family-friendly Always Green Playing Field.
Stylish seating for a warm welcome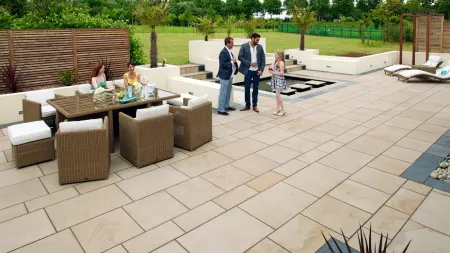 The best garden designs ensure there is a seamless transition from outdoors to indoors, without forgetting the natural elements. Think pots filled with herbs or lavender dotted around for their aromatic scents, a fire pit for warmth as dusk falls and comfortable, well-placed furniture that you can curl up in on an evening. Carefully consider the most suitable and convenient area for furniture in your outdoor living room. Do you have space adjacent to the indoor kitchen? Or, if you have an outdoor kitchen, make sure the area is spacious enough to add seating so you and your guests are comfortable. Whether you prefer an ornate table with a couple of accompanying chairs or a sprawling bed-like sofa, you need to be sure you have the space to accommodate it. Need more inspiration? Take a look at our ideas for unique garden furniture.
Invite wildlife into your garden
Create a hive of natural activity by ensuring your garden design welcomes wildlife and nature in. When creating a planting scheme, provide scope for hedgehogs and other small animals and insects to roam freely. Ensure plenty of colour in the flowers and plants you choose to add interest to your space, and a lush living wall featuring ivy or clematis will thrive in the summer. Install a pond and you'll notice the inrush of wildlife almost immediately. If you don't have lots of space, consider buying aquatic plants and filling a trough with water for a rustic feature.
Plant to complement paving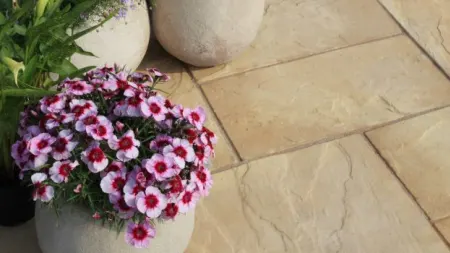 Before rushing out to buy a cart-load of plants at the garden centre, carefully plan the colours you want to see in your garden. You might already have paving down in certain areas and if that's the case, certain colours and flowers will better suit different paving. Grey slabs are extremely on trend and if they feature in your outside space, look towards evergreens or blooms that are white and varying shades of purple to really offset the subtle hues. If you've got very dark paving, pair it with bold, striking colours like red or orange. Alternatively, if your paving has more natural colouring, plant softer, more muted tones alongside – colours including pink and lavender look fabulous against cream and buff paving like Regent Textured Riven Garden Paving.
If your outdoor area is in need of updating, follow these simple garden design ideas to give it a brand new lease of life and create a space that's so inviting, you'll want to spend all summer in it. Planning a bigger garden design project? Take a look at our garden paving section for more inspiration. Or looking to revamp your patio? Check out our 2018 patio ideas.