Small garden design ideas to transform your outdoor space
With some thought, you can do a lot with your garden, even if you are limited on space. A great starting point is to think about what you want to achieve and how you're going to use your outdoor space. In this article, we'll take a look at seven award-winning small garden designs that have been meticulously thought out so the homeowner can get the most out of their space.
All of these gardens were created by a Marshalls Registered installer, giving added piece of mind and the opportunity of a 10 year hard landscaping guarantee. Scroll to the bottom of the page for links to more articles to help you plan your dream garden.
A landscaped garden with a stylish patio design and stepping stones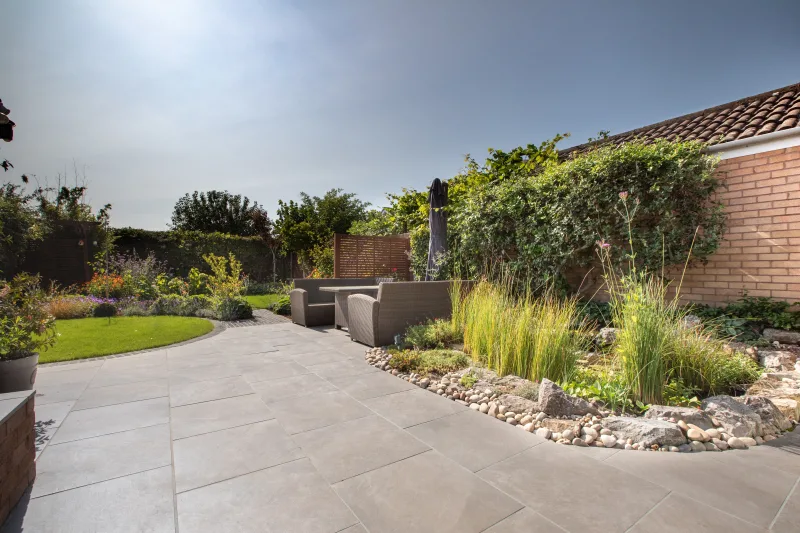 Created by Westend Landscapes, Clevedon, using Arrento porcelain paving
Grey is the most popular choice for paving as it complements most property types. Our Arrento paving was used through this patio design, creating a modern finish with the low maintenance benefits of porcelain. A popular garden design idea is to create zones, use different materials, plants or, in this case, stepping stones to differentiate between areas. If you want to create different zones in your garden, don't forget to consider how you will move around the space, and add some style to garden paths and walkways.
An accessible small patio design with a built-in seating area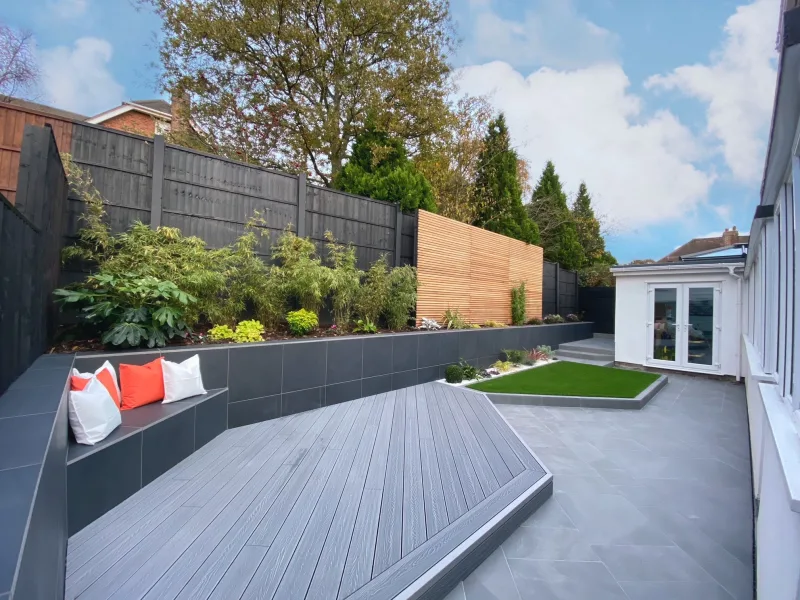 Created by Brockstone Landscape Construction, Liverpool, using Arrento porcelain paving
When it comes to a garden re-design, 80% of the cost comes from the preparation and groundwork. For this project, the installer excavated 50 tons of soil to level the entire garden, and create this modern patio for the homeowners to enjoy. If you're looking to create something truly unique, choose a combination of materials and colours for paving, seating or even wall cladding can give your garden a distinctive finish.
A multi-level modern patio with low maintenance paving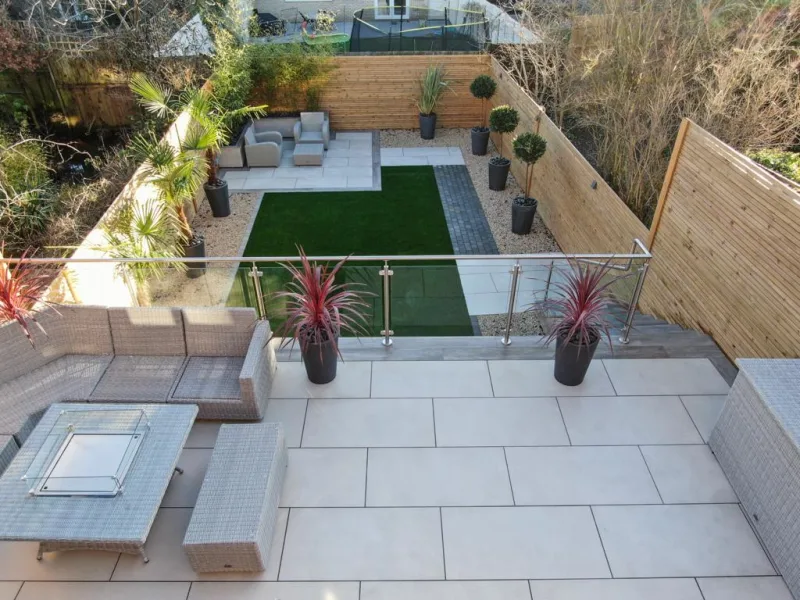 Created by All Seasons Landscapes, Stockton-on-Tees, using Marshalls Symphony Classic and Symphony Planks, Drystack Walling and Always Green Artificial Grass
Adding levels to your garden creates the illusion of more space. This homeowner chose a glass balustrade from the edge of the patio, leading down the stairs which makes the garden feel more open. Using the same porcelain paving throughout the space has helped to keep the design simple and fresh and, by teaming it with artificial grass, they have created a truly low maintenance garden.
A new build garden design idea featuring a natural stone patio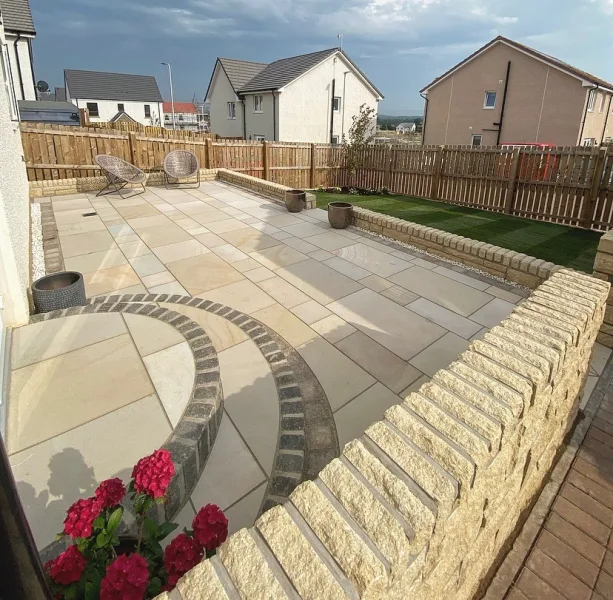 Created by P and K Landscapes, Haddington, using Towngate sandstone paving
A great way to start think about your garden design is to think about the colours of your property and which paving would complement your home. That's what the homeowners did here, using our ethically sourced sandstone paving. The cream colours of the walls and paving adds a vibrant contrast to the lawn, and looks stunning against the property.
A zoned garden design with an outdoor kitchen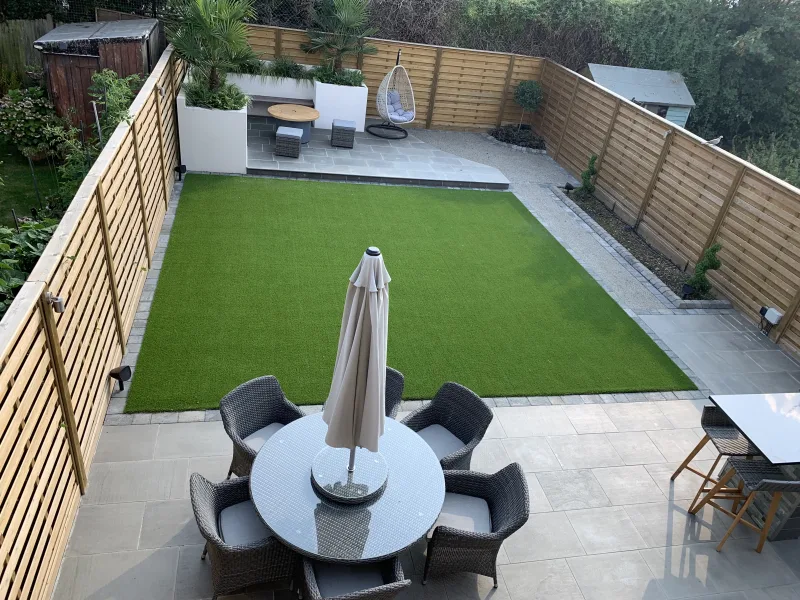 Created by Laleham Landscapes, Staines, using Fairstone Flamed Narias and Always Green Artificial Grass
An outdoor kitchen is on the wish list for many families; it's a great way of making the most out of your garden and perfect for all-year use. If you're looking to break up space within your garden, a good starting point is to think about the different materials and colours. This is what was achieved in this project, with a combination of our ethically sourced paving, Tegula Kerbs to highlight certain areas and low maintenance Always Green artificial grass.
A small patio area with bullnose steps from the house
Created by Garden TLC, Oldham, using Granite Eclipse and Capleton paving with complementary Bullnose steps
If your garden is higher than the ground floor of your house, you might wonder how best to create an outdoor space that is well-used. Garden steps are a great solution for this – leading from the door to the garden and creating an open feeling. This small garden design uses cream bullnose steps to entice people to come outdoors and head up to the new patio and artificial lawn.
A small patio design featuring a circular seating area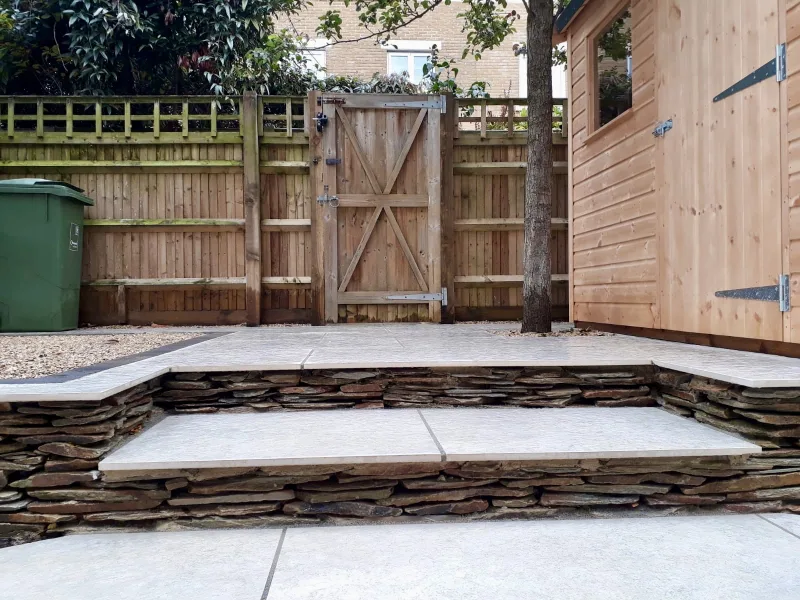 Created by Kew Green, Oxford, using Symphony Natural porcelain paving
If you enjoy spending time relaxing outdoors, your patio design needs to include an area for seating. Built-in garden seating is popular, or dedicate an area on the patio for garden furniture. This small patio design uses a large circle to place outdoor seating centre stage and in the best position for sunlight. Created in low maintenance porcelain paving for a modern look.
Looking for more small garden and patio inspiration?
We hope you have found these garden design ideas a useful inspiration for your next project – as always, make sure you take your time to choose what is right for you and your family and pick materials that suit your home.
Browse our patio paving ranges.
Read our articles to help you to choose your garden paving and to answer the common question "how much does a new patio cost?"