Why you shouldn't buy cheap paving
Your garden and driveway are an extension of your home; they reflect your personality and with care, will last for many years. When it comes to designing your outdoor space, you may get inspiration from website galleries or Instagram. But, whilst there are ways to save money on your project, cheap paving is not recommended. In this article, we'll look at why good quality paving is worth the money and how it could make a difference to your property.
Types of paving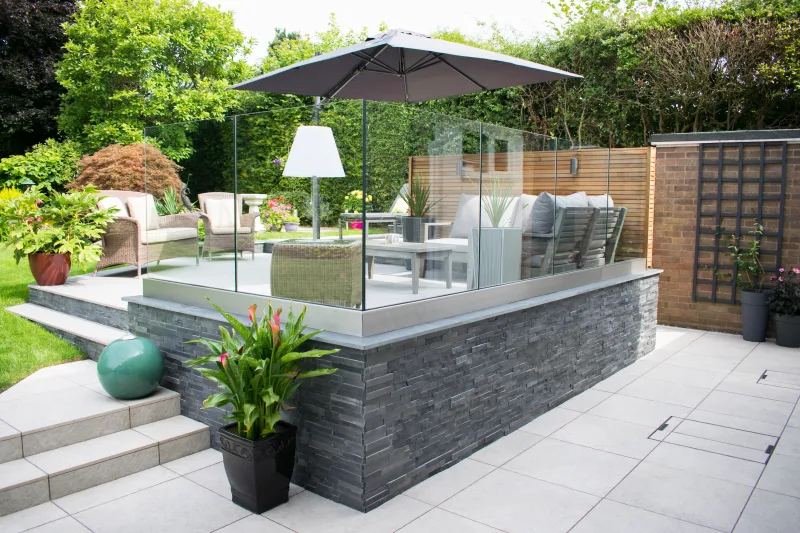 Symphony Classic in Ivory and Grey and Stoneface Drystack Veneer in Slate Dusk
As you're researching different types of paving, you may wonder where the best place to buy paving slabs is. It's worth bearing in mind that the overall cost of your project comes from the groundwork and labour, so if you use a professional installer you will find that using cheap paving won't make a dramatic difference to the overall cost.
When you first begin seeking inspiration you might start by looking at the material you would like to update your garden or driveway. Concrete paving is a durable and cost-effective material for any hard landscaping job, whereas if you're looking to make a statement, ethically sourced natural stone paving comes in various colours and sizes to create a classic finish. If you're looking for a contemporary style, porcelain paving could be for you and provides a low maintenance and easy to clean option to any garden project. As you're making an investment into your property, it's important to do research and purchase high quality paving that has been through various tests to ensure your new patio or driveway will last.
At Marshalls we've been creating better spaces since 1890 so we know a thing or two about paving. For more help with decisions, read our guide to help you choose the right paving.
Testing
When it comes to understanding the quality of paving, you need to check that it has gone through rigorous testing to know it's safe to use for your garden or driveway. This is particularly important when it comes to natural stone paving.
There are hundreds of suppliers of natural stone throughout the country and world, all looking to supply paving that, to the naked-eye, can appear very similar. It's important to ask the right questions and do the research before making a purchase, and the key things to look out for are flexural strength, water absorption and frost resistance. These three things affect the durability of the stone, its appearance over time, and the way it will respond to harsh weather. Ask the right questions and you will get to know whether those cheap paving slabs are worth the saving or not. Marshalls natural stones are repeatedly tested by an independent UKAS accredited laboratory, to ensure they're safe to use for your next outdoor project. You can read more about the meticulous testing of our paving here.
The Ethical Side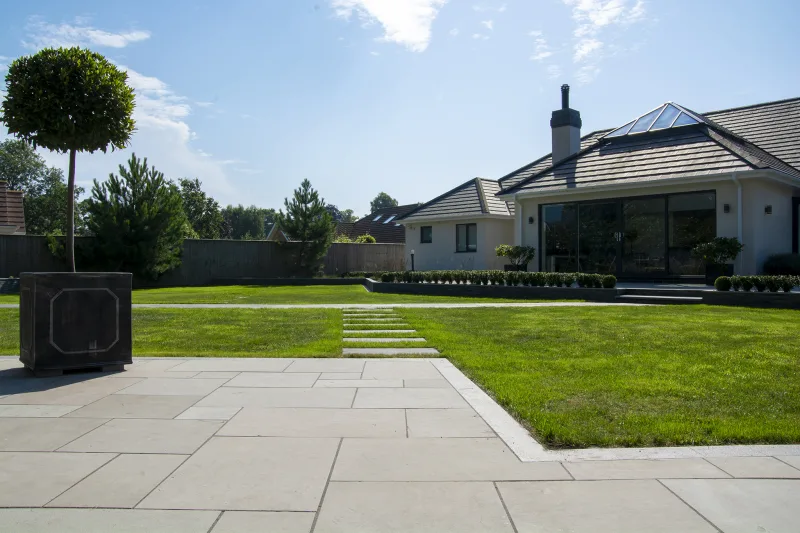 Towngate in Grey Multi
When it comes to stone, it's also important to know where it has been quarried and manufactured. Many overseas quarries continue to use child labour so it's important to know where your new patio or driveway is coming from. Marshalls natural stone paving is ethically sourced under the Fairstone brand. This means that we do all we can to ensure no child labour has been involved, and fair wages and safe working conditions are maintained throughout.
Installation
After all your inspiration, planning and investment, finding the right installer is essential. An installer will provide their advice, product knowledge and workmanship so you can achieve your dream garden or driveway. One of the most frequent questions that our Accredited Landscape Contractors get asked is "how much will it cost?" Essentially, the majority of the costs are in the installation; generally 80% of the project cost will be for the labour and groundwork. If you're looking for a premium quality paving, this won't significantly increase the overall cost. Even though installation is 80% of the cost, you should use a trustworthy contractor and should never use a cowboy builder to save you money.
Asking questions
As you're about to make an investment in your home that could boost the value of your outdoor space, it's important to know what type of paving you're after and ask the right questions. Here is a list to recap some of the main points and what to bear in mind when planning your next outdoor project.
When you're researching about different paving suppliers, you need to know about the after care service and what kind of guarantees are available. The guarantee protects your investment from product defects. When using Marshalls paving you have the option of a guarantee of up to 10 years, as long as the work has been done by an accredited installer. Terms and conditions apply, please see our website.
If you're looking at updating your driveway, make sure you know about the driveway legislation, to reduce the impact of flooding.
When you're looking at purchasing natural stone, it's important to ask about the flexural strength, water absorption and frost resistance that affect the durability of the stone. Reputable companies should have information ready on hand about the testing of their products, so don't be afraid to ask.
When it comes to finding an installer, we recommend seeking several different quotes and getting them all in writing. If you're unsure about the total costs, ask for a breakdown of the price of the installation and cost of the product. You can find more information about that here.
Since the 1890s, Marshalls have merged creativity and imagination, designing elegant and practical products to enhance individual homes in towns and cities across the UK. From our accredited installers, you can expect to get a high quality service, supported by our customer service and technical teams, to answer any of your questions.