As we strive for great lighting design in the public realm, with integral focus on sustainability and reducing our carbon footprint when it comes to energy use, have we gotten cold to the feelings that lighting installations have the power of evoking if done well?
We're of the opinion that lighting schemes are not only functional, they are responsible for suggesting moods and emotions, and encouraging certain psychological states. That said, we've taken a reflective look back at our work over the years, and the briefs for which we've had to recommend and design lighting that does justice to the iconic status already present in certain areas. Consider your next lighting project carefully and how you can tap into users' emotions with ambient glows and strategically placed illumination.
Inviting entrances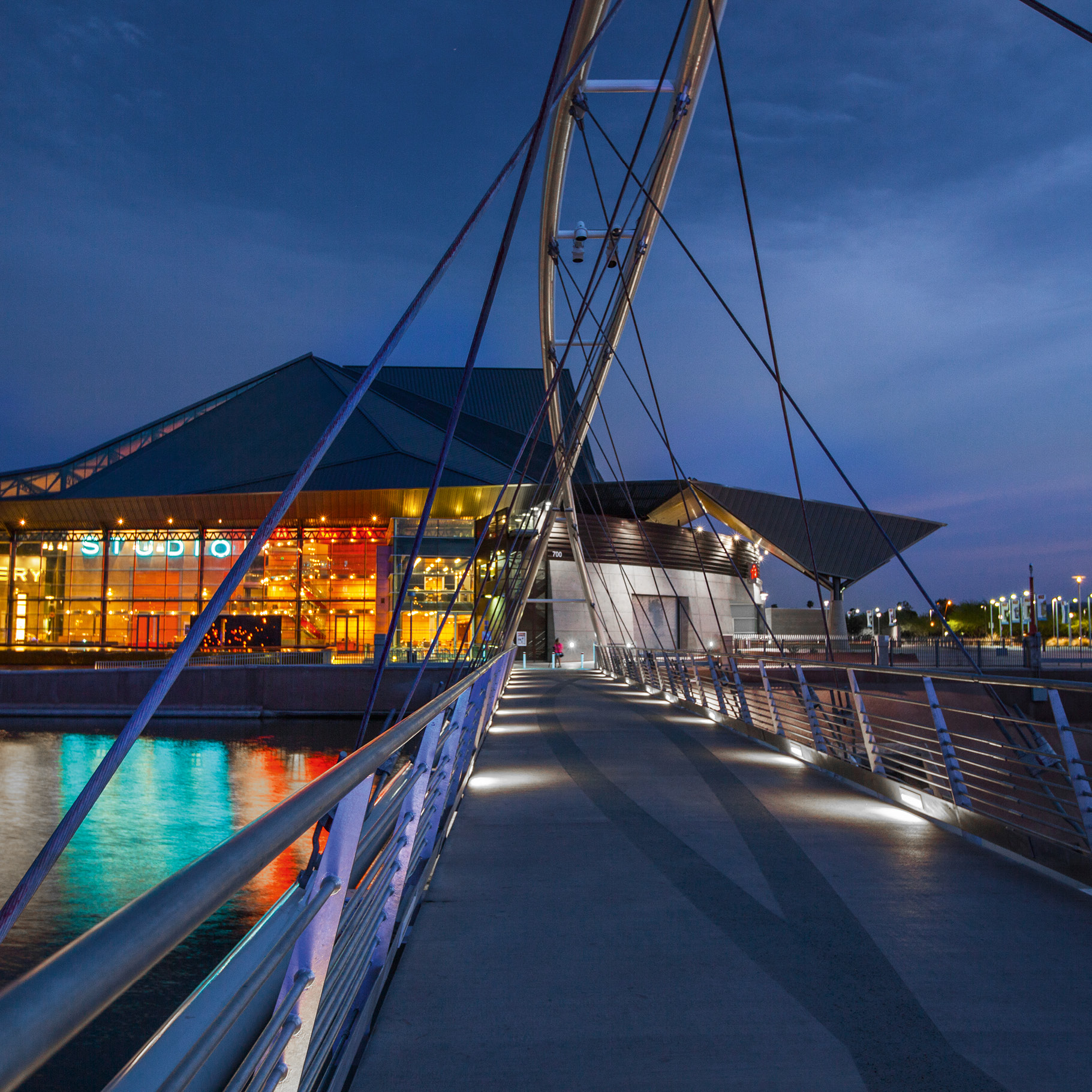 Bega Recessed Wall Luminaire
Use strategically placed luminaires to beautifully brighten walkways, wider footpaths, squares or stairs, or count on them to distribute ceiling light in canopies, subways or covered entrances. Turn cold steps into welcoming stairs by incorporating strips of light that also serve the purpose of safeguarding the public with tricky-to-navigate steps and provide a striking first impression for visitors. You should consider the practicalities as well as the visual appeal, but the right lighting on your steps can make all the difference when creating an inviting atmosphere.
Iconic lighting for iconic spaces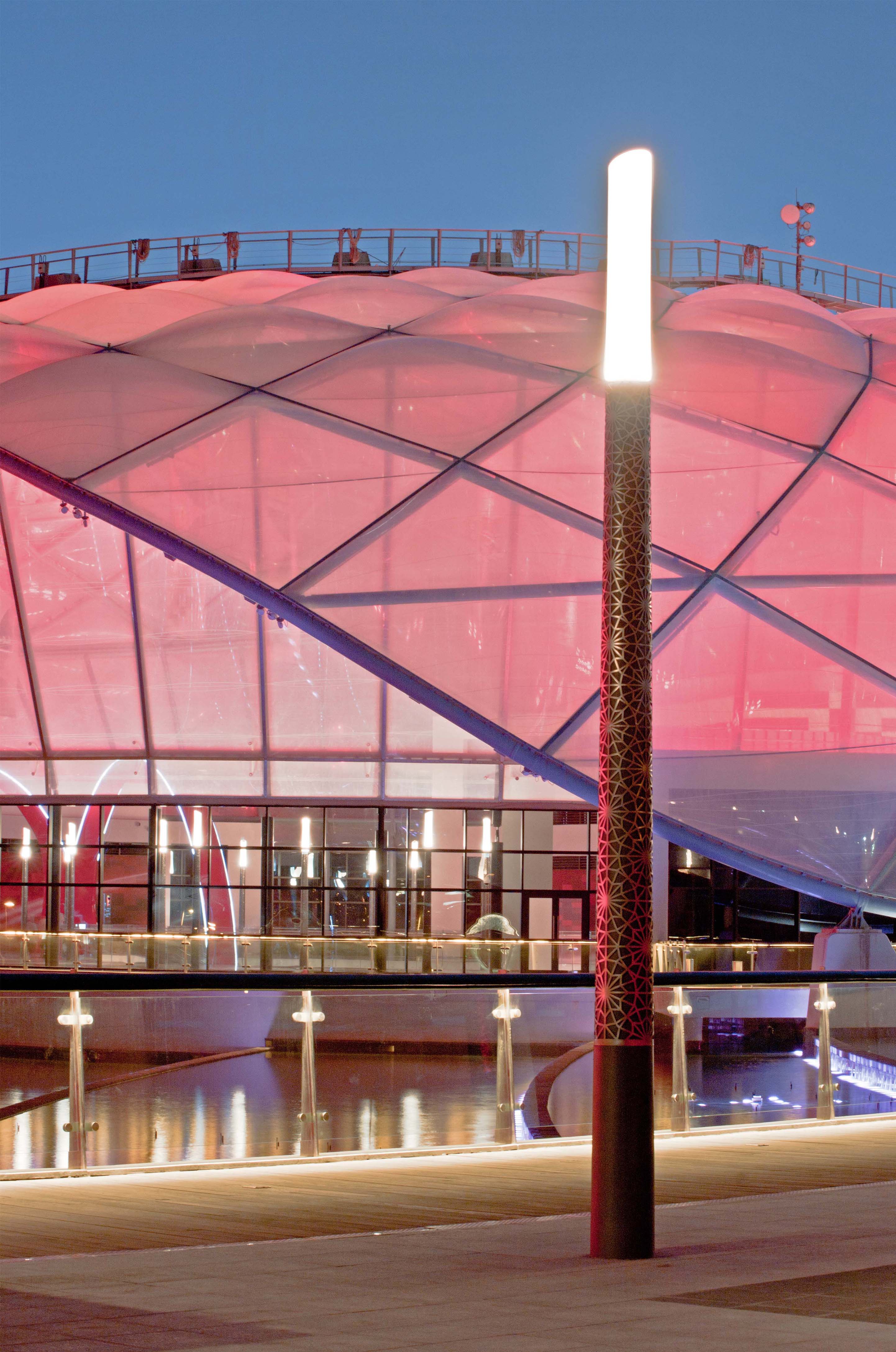 Ferrari World, Yas Island
When you need lighting that's every bit as iconic as the venue it's illuminating, bespoke is the way to go. We provided the site-specific stunning lighting for Ferrari World Abu Dhabi, located on Yas Island within the United Arab Emirates. We created perfectly symmetrical cylindro-conical lightstacks that determine how the lighting is reflected for a delicate but functional solution that subtly envelopes the walkways. The finished unique product offers an appealing aesthetic that perfectly complements its distinctive and iconic location.
Meeting individual needs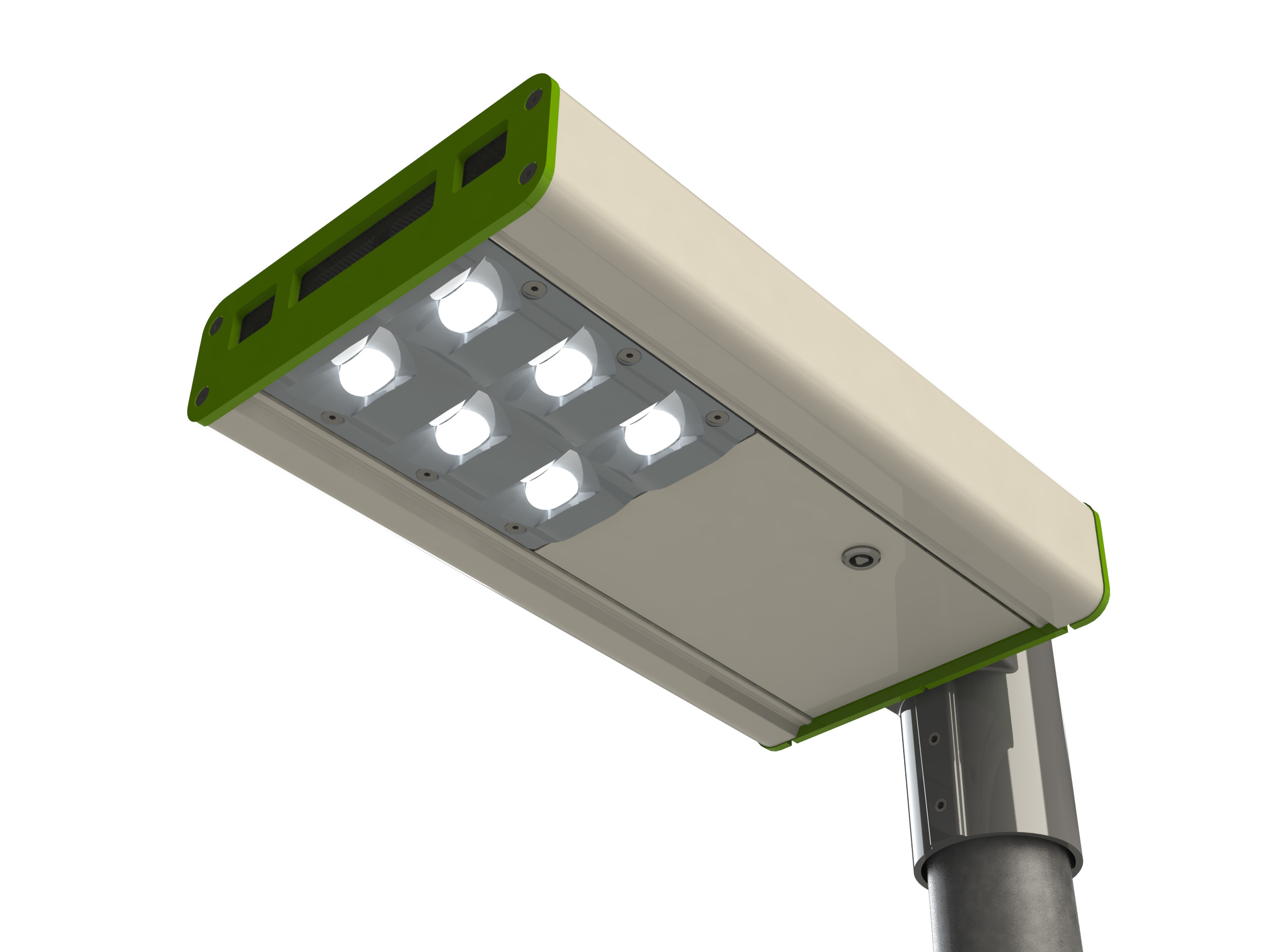 Loci Intelligent Lantern
The Loci intelligent lantern is user-specific and serves the needs of each individual passer-by. These smart lamps allow users to interact with them to get only what they need. They work by acknowledging the proximity of an intelligence tag, which is registered with the user's specific needs, and can provide brighter street lighting. Light can also be dimmed according to certain circumstances, including low traffic times and recognised unpopulated areas in the middle of the night, to cut down on light pollution and energy waste.
Modernising the dated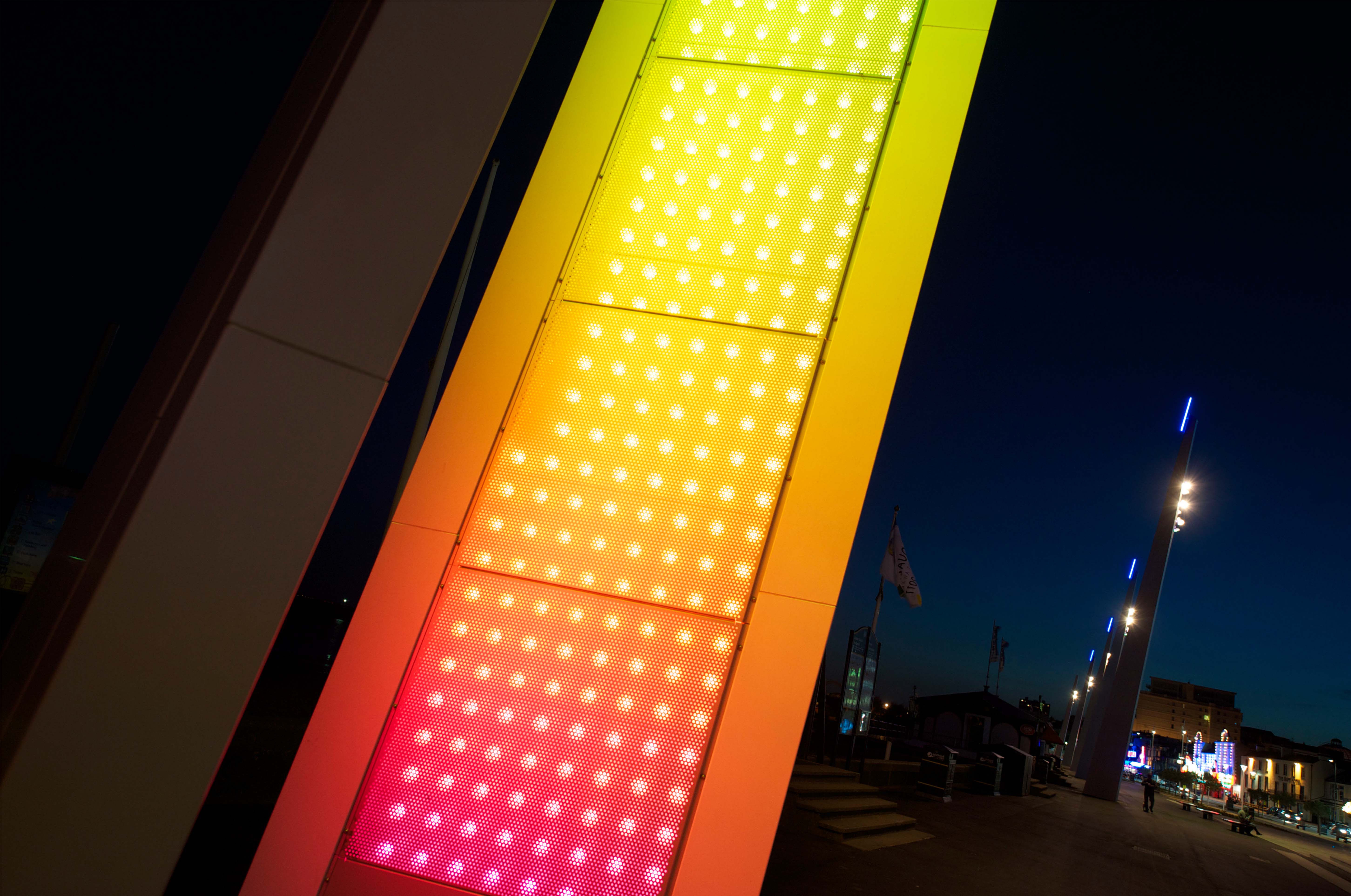 Southend Light Masts
When streetscapes and promenades are looking tired and well worn, inject new life into them with focal lighting that ensures local residents and visitors alike feel proud to be part of the area. As part of Southend-On-Sea's City Beach regeneration project, we installed bespoke LED colour-changing light masts that tower over the beach and make for an exciting and distinctive visitor attraction. These 22-metre high masts were designed to encourage visitors and residents to extend their time in the area in to the evening, when these arty illuminations come to life. The new-look beachfront has enriched the town's identity and given what was an otherwise tired area some character and merit.
Bringing the drama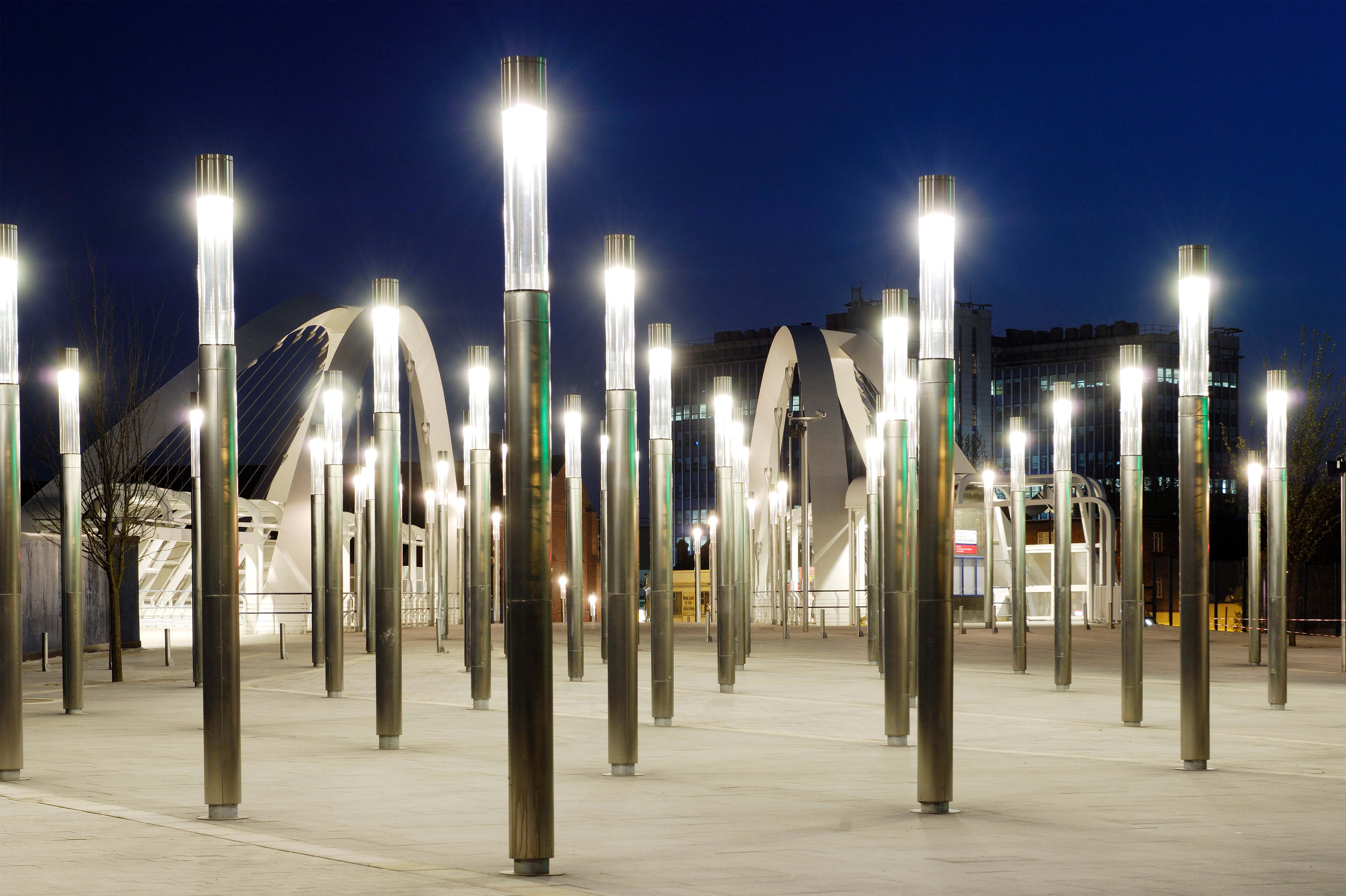 Wembley GEO Lightstacks
When developing a lighting solution that requires dramatic effect, take inspiration from our work on Wembley Stadium. We created bespoke lighting to complement the symbolic huge arch that replaced the twin towers and while the finished effect was to be a focal point, it also needed to provide safety for the vast match-day crowds. The bespoke Geo Lightstacks not only provide conversation-starting visual impact, but also naturally help to disperse crowds, making for safer access to the stadium. An advantage to these lightstacks – available from four to eight metres in height – is that they're designed for co-ordination with other Geo street furniture and signage.
Take heed from restaurants and bars that use lighting to create particular moods – this doesn't have to only apply to the indoors. Use soft lighting to create a restful feeling in places of relaxation or more dramatic lighting in entrances to evoke curiosity and make users feel welcome.
Talk to us to find out how we can help create just the mood you're going for in your next project.