In 1890 Solomon Marshall founded a small company with big principles, and ever since then we have been committed to being a responsible business. This led us to becoming a United Nationals Global Compact signatory in 2009 and to develop a wealth of international work on human rights, a strategic approach to fighting modern slavery in the UK and make a commitment to tackling climate change with Science-Based Targets. I'm often asked to share examples of how we've made Marshalls a responsible business. This blog takes a look at a few ways we do this and includes links for anyone wanting to know more.
What is a responsible business?
A responsible business is one that places emphasis on benefitting society, making it a central part of its strategy. A responsible business should understand where it can have the most impact on society, and focus on making positive change in those areas; it should also address any negative impacts it might have. Success comes from collaboration, from within the business and with leadership at every level, across sectors and with stakeholders and customers.
What does Marshalls do to be a responsible business and benefit society?
Across the business we talk about, and act upon, The Marshalls Way, which is about always doing the right things, for the right reasons, in the right way. On a large scale, we uphold the United Nations Global Compact (UNGC) pillars of human rights, labour, environment and anti-corruption by leading and participating in activities which make positive changes. For all this work we collaborate with others and, where we're leading the way, find ways to inspire businesses within the industry to follow our lead.
Here are four examples of how we operate as a responsible business to improve people's lives:
1. We pay our fair share of tax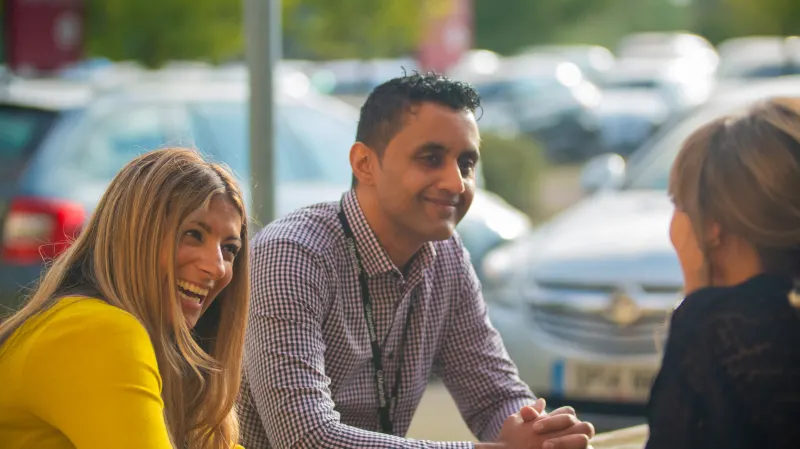 It's estimated that £400bn of global corporate profits are shifted annually to tax havens, with corporate tax revenue losses in the UK of approximately £7bn per annum. We don't think that's a responsible way to do business, which is why we're proud to be Fair Tax accredited and to pay our fair share of tax.
This is the 6th year we have received the Fair Tax Mark, which we receive by being open and transparent about our tax affairs, whilst seeking to pay the right amount of corporation tax at the right time. We're in good company too, businesses across a wide range of sectors including Lush, Capita and Timpsons are all accredited like us, and the list is growing.
2. We pay the Living Wage not just National Minimum Wage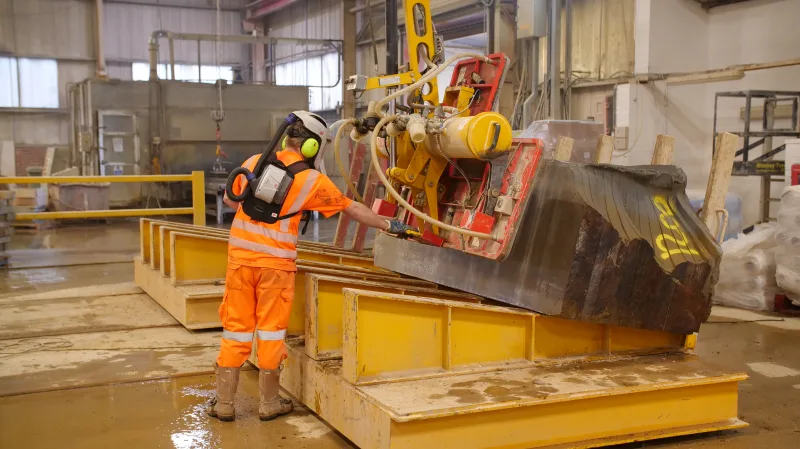 When people feel valued and properly rewarded they live better lives and have better futures, and that's what we want for the people who work with us. This is why we pay the real Living Wage, the only rate independently calculated annually, based on the real cost of living. At the time of publishing, the Real Living Wage stands at an extra £1.10 per hour compared to the National Minimum Wage. We're accredited by Living Wage Foundation, whose campaign has helped over 180,000 workers across the UK receive a pay rise.
3. We train our drivers to help stop modern slavery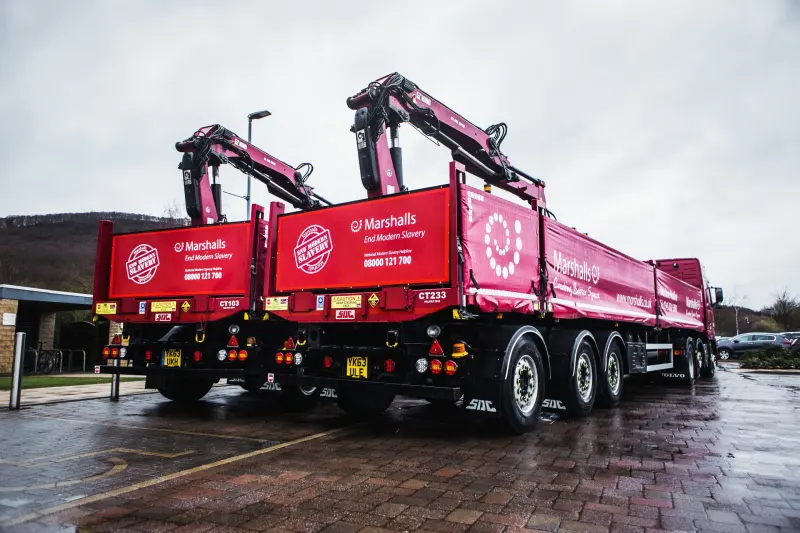 When it comes to industries deemed to be at 'high risk' of finding modern slavery in their supply chains – the construction sector is right near the top. This is why we go way beyond the statutory modern slavery statement on our website. We've developed a Marshalls training programme for our logistics staff which recognises their unique position to spot modern slavery – be it in a merchant's yard, along the motorway or construction site. By empowering them to spot the signs and to report modern slavery, we are adding more eyes and ears out there. Our training video is available for any business to use, and we have additional materials and expertise which we share with those that want to join us. If you're interested to know more, please contact us.
4. Our products help to keep people safe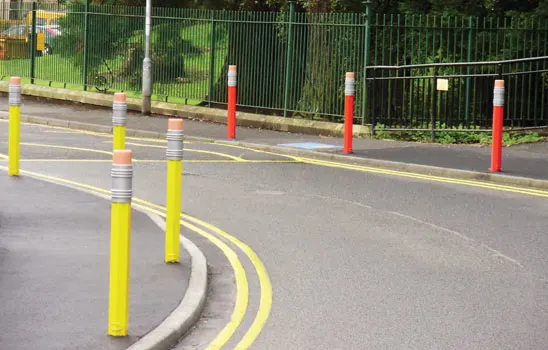 It's a huge task to manage an overseas supply chain, especially one that includes a number of developing countries. But despite this, we make it our mission to get out there and 'walk the supply chain' which means seeing first-hand the conditions that people work in, and doing all we can to ensure no forced or child labour is used and that everyone works safely and with fair pay.
And it's not just in the production side that we're keeping people safe, we also manufacture and sell products which protect people from the threat of terrorism. With a strapline of 'Safe…not scared', many of the Marshalls bollards, barriers and protective planters are engineered to be protective but designed to be attractive. This is so that people can enjoy public spaces but also be protected should the worst happen. Our giant pencil bollards (pictured above) are a great example of this, brightly coloured and designed to look like pencils they are used outside schools and family areas to keep people safe from traffic.
Becoming a more responsible business
As outlined in the introduction above, a key part of being a responsible business is encouraging others to follow suit, and collaborating where possible. I hope that this blog has inspired you to take ideas to your business about ways to become more responsible.