To deliver a good quality of life, cities have to understand that smart technologies need to work both ways: not just for citizens but with citizens. In previous posts we showed examples of how data-powered street furniture, lighting, and signage, are making our cities smarter. Yet the promise of smart sustainable cities won't be fulfilled without involvement from citizens whose participation and collaboration can be harnessed to boost the development of their own city.
Cities are playing with the idea of involving their citizens in the building and planning process, using sensors that expose and manage data to help improve services and save money. The culture of being always-on, carrying a smartphone wherever we go, makes real-time reporting and telling stories about a city so much easier, allowing the dream of citizen generated content to become a reality.
Through progressions in technology, smart cities are able to harness the smartness of their citizens, engaging them and enabling changes in behaviour. In the same way that these tools can be used to influence citizens, governers can also use them to control and manage their cities.
In this post, we will show how cities and their citizens are using sensors, smartphones, and social media, to create a collaborative form of smart city.
Smart Santander
With its 180,000 residents the Spanish city of Santander may be considered small but it has the largest number of sensors. 12,000 smart sensors are installed under the asphalt, fixed to street lamps, city buses, buildings, and rubbish bins. Their aim is to measure levels of pollution, noise, humidity, light, and traffic, generating valuable information that may reduce millions spent on utility bills, energy consumption, and traffic management. Santander has become a prototype for smart cities across Europe, gaining valuable data on how to boost civic engagement and enhance services for citizens.
This smart city experiment, called SmartSantander, was launched in September 2010 thanks to a €6 million budget from the European Commission and is now in its third and final phase.
Currently, the city demonstrates the real time benefits of the Internet of Things by allowing residents to have up-to-the-minute information on road closures, parking availability, bus delays, as well as aspects such as pollen count. This information can be accessed through street signs equipped with digital panels and citizens' smartphones or Augmented Reality applications - just a click away.
Forcing the city to react more quickly, citizens can use the app to report accidents, potholes or broken street lights directly to city hall. They can also use Santander City Brain to share, vote, and comment on ideas contibuted by other citizens, with their input being rewarded with incentives and prizes. For example, the current contest offers €3000 for submitting an idea and citizens are not short of them.
So far, these 'city gadgets of the future' have helped the city to save 25% on electricity bills and 20% on garbage, raising the voice of their citizens by doing something useful and contributing to the future of their city.
Sensing danger in Venice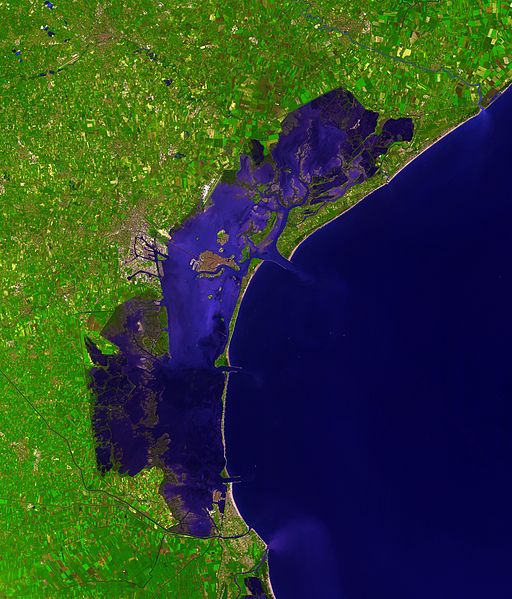 The high water problem in Venice has encouraged a collective of open data activists, #opendatavenezia, to introduce the Acqualta project. They aim to use citizens as sensors, producing data coming from a shared source.
The group plans to monitor the tide level through the use of wireless, solar-powered sensors spread across the Venetian lagoon, as well as encouraging businesses and faimilies to do the same.
Interestingly, this data is seen as a shared resource and is used differently to the traditional idea of information where data often belongs to a central authority and is controlled and distributed by them. The group is using Twitter to broadcast the data and the frequency of tweets is affected by the level of the water.
When the sea is under 60cm above sea level, Twitter is updated every half an hour; when the tide is high, there is an increase in the frequency to one tweet every few minutes. Citizens may find additional information on the Acqualta website and via an app being developed for iOS.
Making public data accessible
Since 2005, Helsinki is learning how to leverage a cluster of mobile applications with open data, the idea being to attract parties who can then use this data to develop other services. The city believes that the involvement of other start-ups, SMEs, and people on the streets, is crucial and critical to the success of extending this open ecosystem.
The city offers to its citizens an opportunity to report issues, give feedback on the faults they have noticed in their public environments and follow the journey of responses to feedback via "Metro Fix my street' web services.
Helsinki already has a number of other successful trials and projects accomplished using this philosophy, like Open311 API, Helsinki Region Infoshare, and Apps4Finland.
On the other side of the globe, Rio is learning how to manage information to avoid natural disasters and help its citizens.
To understand the city even better, a collaborative project was created by Unicef and a local organisation, CEDAPS (Centro de Promocao da Saude), empowering young people to create a map produced with mobile phones and the Internet. Teenagers use digital cameras sitting in old bottles, which are launched via kites to take pictures of specific danger points in favelas, where rubbish heaps can turn into a home for mosquitoes carrying dengue fever.
In partnership with IBM, the city also created an Operations Center, which monitors transport, water, weather, and energy. 900 cameras across the city are streaming videos into a wall, which is being monitored by 50 operators from 30 different agencies. This system helps the government to be able to react quickly in the event of disasters or accidents by alerting people with sirens, various Twitter accounts, SMS, and a mobile app, 1746 Rio.
This innovative approach has been recognised by the Smart City Expo World Congress, choosing Rio de Janeiro as the best smart city of 2013.
Amplifying the voice of citizens using social media
Smart cities require a vast amount of data to be collected on every aspect of our lives, every minute of every day and the increased interest in using social media for urban activism gives cities another way of collecting it.
Tweeting is not just done for fun. The real-time data generated via social media helps city governments introduce policies, actions, and programmes, making citizens happier and more content. When energised effectively, social media also becomes a way of changing citizens' behaviour and opening their minds to caring about problems like pollution, waste, famine, or floods.
@_somby We apologize for the late bus, and hope it did not get too much delayed. — Kolumbus (@Kolumbus_no) February 21, 2014
In Norway, more than 40,000 bus stops are tweeting, recording, and sharing stories from citizens. Through the use of a free mobile app, Tales of Things, citizens can scan QR codes to access bus timetables as well as leave messages on the bus stop for others.
In Poland, the worried citizens of the Europe's third most polluted city, Krakow, launched a Facebook campaign called Krakow Smog Alert to stop the usage of coal. The thought that Krakovians breathe in the amount of benzo(a)pyrene which is comparable to smoking 2500 cigarettes a year, pressured citizens to launch a social media campaign. Thanks to the campaign's virality and the interest it raised, the use of solid fuels was banned, giving Krakow's citizens the chance to look forward to a healthier future.
Así se las gasta la @PoliciaJun . Todos/as con #tatgranada @policia @TATGranada pic.twitter.com/3pfVLj0p7E — Alcalde de Jun (@JoseantonioJun) June 19, 2013
Policemen in Granada are on a mission to build trust with their community through social media in order to become more relevant and informed.
By preparing to use Twitter as a communication channel they plan to turn the power of social media, and the collaboration of citizens, into a weapon against crime. This experiment has so far appeared to be a success, attracting the attention of the FBI, who congratulated the Spanish National Police on their forward thinking.
Collaboration creates feelings of ownership
By actively encouraging participation from citizens, cities not only harness the power of crowd-sourcing but they elicit a feeling of participation. This feeling of ownership gives citizens more pride in the place in which they live, and makes them feel a duty to look after the space they share with others. If your city or town had an app, would you feel more inclined to get involved? And do you wish more communication was done via social media? Let us know in the comments.