The issue of house building in Britain has been one of the most hotly debated subjects in recent times – a debate that affects nearly every aspect of society and industry. But is it time to start thinking big in these difficult economic times and to take a different approach when constructing and designing homescapes for the future?
Deputy Prime Minister, Nick Clegg, certainly thinks so. At a much publicised speech to the National House Building Council recently he said: "The shortage of homes is becoming so acute, the Government will in future need to be even more ambitious, with new developments of 15,000 to 25,000 homes. It's time to think big and I want us to encourage projects which are sustainable and socially diverse. It's time to rediscover that proud tradition of creating new places."
His argument is that by creating places that draw on the best of British architecture and design, which have their own identity and character rather than destroy the countryside, they actually have a crucial role in keeping it intact. Such places must be put together in a way that makes sense for modern British families.
The idea behind this creation of so-called 'Garden Cities' draws its inspiration from places like Letchworth and Welwyn Garden City, which were conceived in the 20th century, and new post-war towns such as Stevenage and Milton Keynes. Behind these new settlements was the principle that the homes were built with the community in mind. Could this be the answer to the economic and housing crisis facing the country? By freeing up more greenbelt land and designing spaces where people actually want to live, thereby encouraging a sense of community and engagement, could this actually make a difference where all else has failed?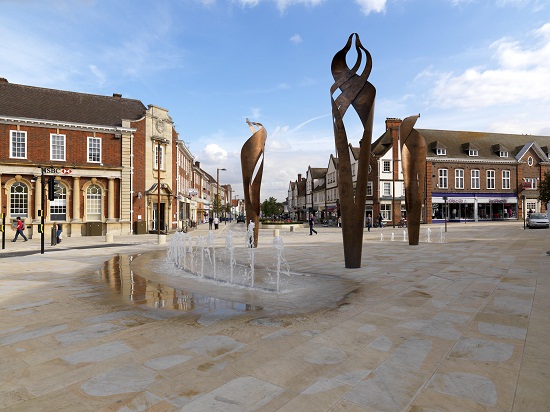 Letchworth Garden City
Kate Henderson, Chief Executive of the Town and Country Planning Association, says: "Given the scale of the housing crisis facing the nation, and with house-building at its lowest level since the 1920s, we simply cannot meet this need on a plot by plot basis alone. New garden cities provide a unique opportunity to deliver much needed housing in a whole-community approach, enhancing the natural environment and providing the economies of scale to support essential infrastructure – the exact opposite to bolt-on estates."
It seems just building more homes is no longer enough; these homes need to be built to a higher standard, with quality, sustainable materials and set within surroundings that stimulate the senses. Residents also want to have a sense of pride about them and, through the provision of well-planned navigation and transportation facilities, such developments will also be easier and safer places to live.
These aspirations may seem like a utopia to some, and will be hotly contested by many who fear that we will lose our green spaces to sprawling housing developments. Yet in the future there will be a desperate need to address the growing issue of where our young people will find accessible and affordable housing in areas where they want to live.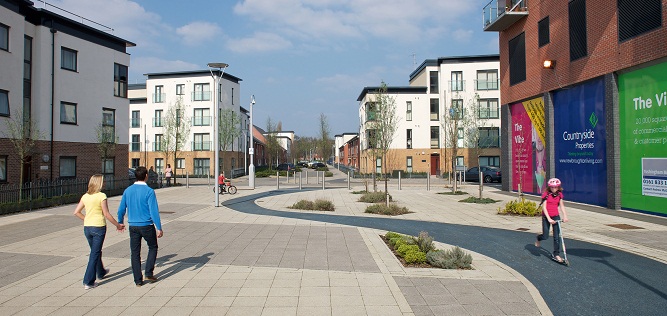 Salford
This situation has created what has been dubbed as a 'generation shift' where people have become more receptive to the idea of new developments where once there was strong resistance, simply because of the lack of suitable housing for the young. Again, Nick Clegg has called for radical action or "we will see more and more small communities wither, our big cities will become ever more congested as we continue to pile on top of each other, and the lack of supply will push prices and rents so high that unless you or your parents are very rich, for so many young people, living in your dream home is going to be a pipedream.'
In the recent Budget, the Chancellor announced a new £5.4 billion financial package to support the long-term problems in the housing market and address the most pressing issue of affordability and securing a mortgage for people who are trying to get on or moving up the housing ladder. This new 'Help to Buy' scheme, that runs from 1st April 2013 for three years, will assist buyers by increasing the supply of low-deposit mortgages and also encouraging new house-building to meet demand.
Whilst some critics of the scheme fear it will do more to inflate house prices even further, the majority have welcomed the package, especially house-builders and developers, who are in full support of the scheme. The National Housing Federation has said that "Investing the £3.5bn earmarked for Help to Buy loans directly into affordable housing could deliver up to 175,000 homes, dramatically impacting on housing need."
There is no doubt that we need more homes built in Britain and we can expect the debate to continue to rage for a long while yet. Many issues exist, from the cost of land and obtaining planning permission for developers - to meeting the needs of a growing population who can't afford to buy their own homes. The current state of the struggling construction industry, who would like to see some support and concessions coming directly from central Government, is also a concern. So perhaps a new approach is needed and we weren't so far off the mark in the early 20th Century, when community was at the heart of creating the kinds of places we aspire to live in.