It is estimated that there are over 4 billion streetlights currently standing in conurbations and on highways worldwide. Many of them are fitted with high intensity discharge lamps that require a lamp change every three or four years. Energy efficient, long lasting LEDs (available in a variety of colour temperatures) are starting to creep in to municipal outdoor lighting budgets around the world. The consensus is that the new lights will make energy savings and require less maintenance. All those installed currently are relatively new, so time will tell the extent of these savings in real terms, but it's not just the prospect of energy savings that is making LED luminaires more attractive.
Smarter upgrades for smarter cities
The idea of the Smart City is starting to grow and organisations around the world are not stopping at a simple switch from one lighting type to another. They recognise the potential for implementing other technologies, during an upgrade to LED street lighting, that could further improve energy efficiency, assist with crime fighting, and at one extreme monetise the global street light network. All this could be achieved by networking the existing street illumination infrastructure, and hooking it up to sensors.
A remotely accessible network of connected columns whose sensors can record movement or footfall in a given area, humidity, temperature, seismic activity, pollution, noise levels, UV radiation, or even audio and video, has huge potential for the Smart Cities of the future, and indeed the present. The data could be used for myriad applications to help cities prevent crime, predict the weather, prepare for natural disasters, or even just identify opportunities for better traffic management.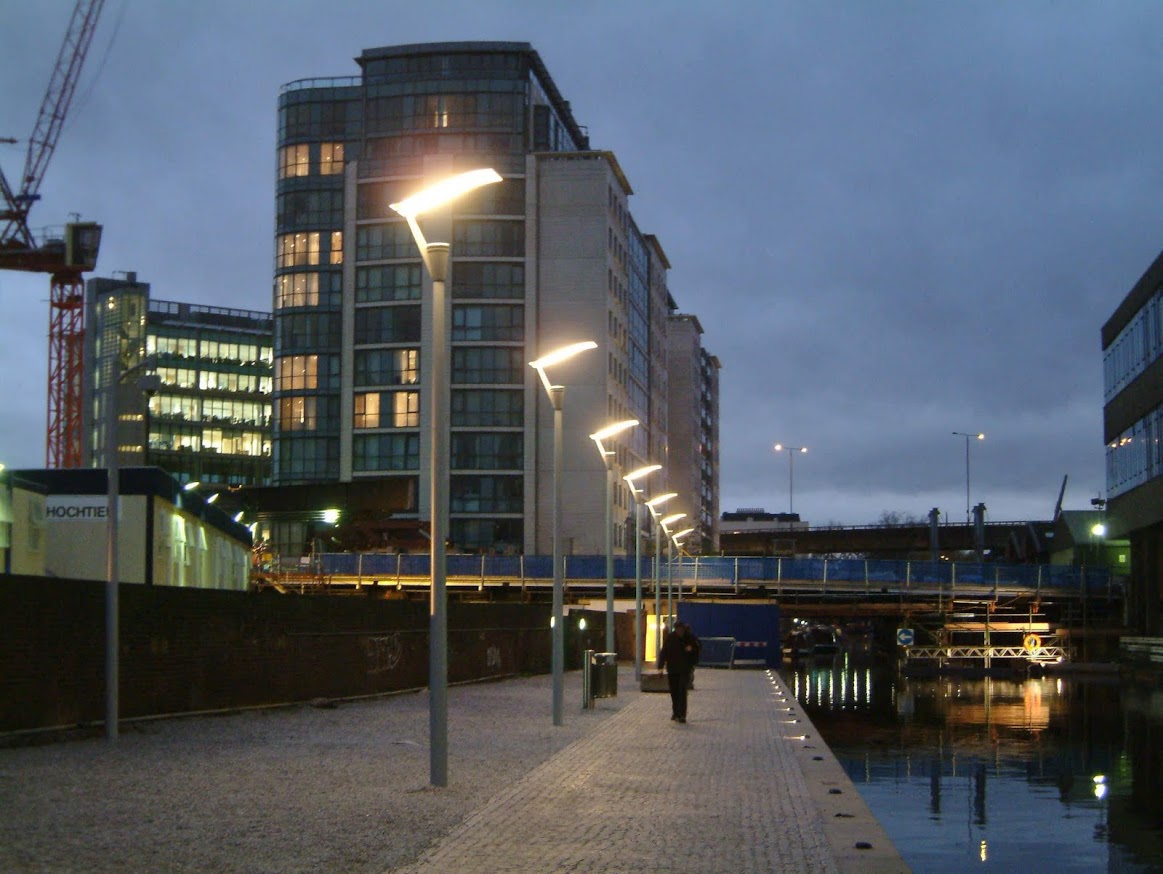 Seeing the light in person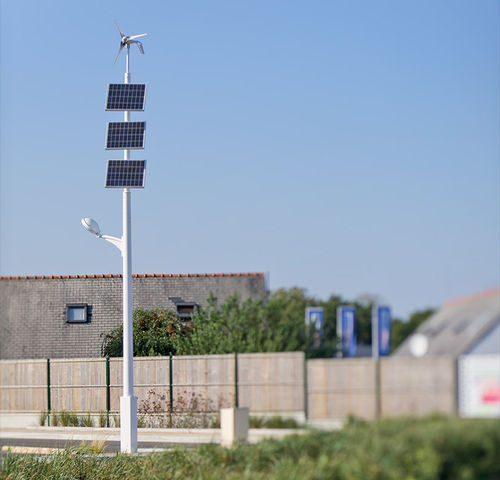 Eclatec solar lamp with motion sensors
The colour temperatures and energy efficiency of LEDs vary greatly between products, and all look different from the older street lamps. The change to LEDs could have a big impact on the feel of public spaces, as trees and building surfaces all handle different types of light in different ways. Choosing the right lighting, and the right sensors or smart technologies, for a certain space or city presents a design challenge, and a complicated set of decisions. Fortunately, a small industrial site in Albertslund in Denmark can provide unique insights.
The Danish Outdoor Lighting Lab (or DOLL), is a partnership between the Technical University of Denmark, the Albertslund local authority, and other organisations. The 'living lab' covers 10km of streets and bike paths, and provides an opportunity for municipal officials to see streetlights for themselves in a real urban environment. It's also a chance for manufacturers with Smart City visions to showcase their smart technologies in a real-life setting.
There are solar- and wind-powered lights, and lights with sensor technology. One example is motion sensors that can pick up the presence of a walker or jogger, and create a pool of brightness to follow their route, dimming once they have passed by. Sensors like these should calibrated in order to prevent the lights being accidentally tripped by animals, and also detect body heat, so that a person could not remain undetected just by standing still.
The lab is perfect for testing the application of Smart City technology. All lamp posts are connected to a central network wired by Cisco. From the central control room, customers can test out any solutions the lighting vendors would like to showcase, in a real life setting.
Taking the LED plunge
Clearly, local authorities are not blind to this potential, and LEDs are being implemented with the bigger picture in mind. Cities across the world are turning to LEDs and smart lighting with multiple purposes in mind. The first and foremost, in light of attempts to make savings and cut carbon emissions, are the reduced maintenance costs and energy benefits. Next on the list in many cases is crime-prevention.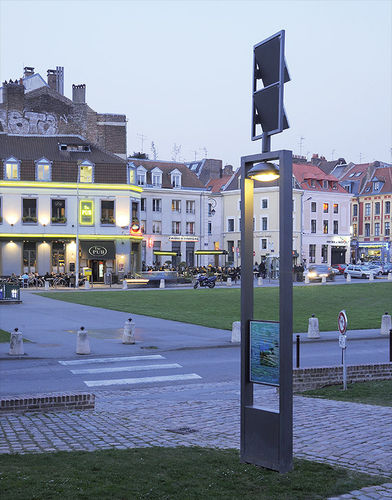 Eclatec solar outdoor solution with motion sensors
In Glasgow, UK, the new columns will be fitted with noise and motion sensors, so that detected disturbances can be fed back to emergency services. In addition, the energy-efficient LED lamps will be dimmable, so that the brightness could be increased for events such as street festivals and outdoor concerts. This dimming technology also has potential to improve currently unlit off-road cycle paths, at low costs. The lights would sit at a default of 40% brightness, increasing to 100% on detecting an approaching cyclist, although the problem of unintentional activation – by a fox, say – will have to be addressed.
In Chattanooga, Tennessee, downtown Coolidge park was being abandoned at night due to problems with gang activity. A local company managed to dissuade the local authority from flooding the park with stadium-style lighting in favour of a pilot scheme. The company proposed energy efficient, wirelessly networked LED streetlights. The energy savings and lower maintenance costs were compelling, but it was the crime-fighting potential of these lights that made the authorities sit up and take notice. The networked system of LEDs can be controlled in concert or individually from a police car, enabling officers to safely exit patrol cars, brighten the ambient light at a crime scene, and even trigger flashing warning signals to guide other law enforcers to specific locations. These lights could also be fitted with many types of sensor, video and audio streams, or WiFi routers.
Today's Smartly-lit Cities
Across Europe and the world, cities are employing intelligent lighting and taking advantage of smart technologies to learn about the urban environment. Helsinki, Finland, has a network of 86,000 luminaires that can be controlled to emit the appropriate level of light depending on the time of day.
Image copyright © Marcela (Ralf Roletschek)
This is important for a country whose latitude causes such significant variations in daylight hours from season to season. Maintenance will also be handled centrally, creating savings and exposing areas for improvement in the system. Oslo took up an intelligent networked lighting system in a bid to reduce energy usage as early as 2006. The new infrastructure will save power and optimise energy consumption. Meanwhile in the Netherlands, a Delft University student won a competition with his concept for improving energy efficiency on campus, and now his self-dimming network of LED lamps is coming into being.
In Chicago, US, sensors have been installed on existing street lighting that are capable of collecting a huge array of data. The data will be available to public, academic, and private bodies who will use it to conduct urban analytical research and test ideas on a previously impossible scale. In Santander and Barcelona, Spain, smart lighting has been installed that not only optimises energy use, but measures a huge amount of other data, such as humidity, temperature, pollution, noise, and movement of people and traffic. In Santander, the project has been EU funded and is centred around the University. All the data collected is publicly available via an app 'Pulse of the City', which also works as a problem-reporting system, improving maintenance processes.
Today's cities have plenty to gain from capitalising on existing infrastructure to make their processes smarter, save energy and learn more about their growing urban environments. LED lighting is an important element in these changes, and their energy efficiency is just the tip of the iceberg in terms of their potential.