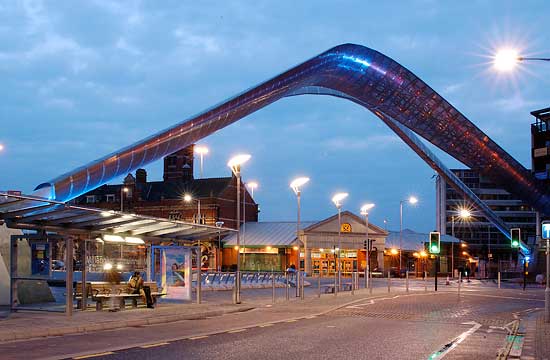 A commentary on urban regeneration, originally published in Building Products - June 2010.
With the likely cut in public sector funding across the board over the coming months, do you see the need and possibility for private sector initiatives to encourage urban renewal and regeneration?
Private sector spending is very important for the continuation of regeneration projects when significant spending cuts are likely in the public sector. Projects such as Canary Wharf, where Woodhouse has been heavily involved since the development started in 1989, would not have been possible without private funding. We hope that at least some of the predicted reductions in public expenditure will be offset by private sector initiatives as viable development opportunities open up. Woodhouse has always been an active exporter; a significant proportion of our work has been in the Middle East, where (in some regions at least) the high price of oil is leading to vast public realm developments.
Can you illustrate how products can benefit urban dwellers or urban-based organisations foster a greater sense of integration and ameliorating some of the more alienating aspects of urban living?
It is clear that when urban spaces are improved, through spatial design, good lighting and considered exterior furniture, the quality of life for both residents and visitors is enhanced. A well-planned and maintained public realm will have a direct and positive impact on the local community: civic pride and a sense of ownership gradually replacing the traditional "what's the point, it will all be wrecked anyway", attitude towards our environment.
A prime example is London's Exhibition Road, which runs from South Kensington in the south to Knightsbridge in the north, is a major destination for visitors to the capital and home to the world's leading arts, cultural, scientific and academic organisations.
The Royal Borough of Kensington and Chelsea, in partnership with Westminster City Council and the Mayor of London, has started work on the transformation of this historic street into one of London's best new public spaces.
The crowded, narrow pavements and traffic domination will go. In their place there will be an elegant kerb-free surface designed by Dixon Jones and created by Highway/ Traffic/ Lighting Consultancy, Project Centre, spanning the length and width of the road with safe pedestrian zones clear to all road users. Pedestrians will have more space and vehicles will be limited to 20 mph.
The creation of the single surface, to be complete by early 2012, will fundamentally change the balance of priority on the streets from traffic to pedestrians. Access for wheelchair users, families with push chairs, and others with limited mobility will be radically improved.
Exhibition Road has a central theme that can be applied to all urban situations. Street clutter should be kept to a minimum. While there has to be equipment - lighting, traffic control, and the provision of information and amenity for pedestrians – to ensure that the safe use of the public realm is maximised, its effect can and should be minimised by combining as many functions on single structures as is practical, and by employing unfussy product design and neutral colour schemes. The street is the important element, not the street furniture.
Is it possible to still retain some of the 'village life' aspects of country living for normal people in urban developments, in terms of products as well as organisation of space? How can you guard against developments becoming too 'mechanical' and lacking in human scale? What elements can be brought into to aid this?
There is without doubt a welcome trend towards the encouragement of pedestrian use of towns at the expense of the car. Compare Coventry, redesigned after the war to allow the quickest possible traffic circulation regardless of pedestrian movements, with Oxford, where "Park and Ride" services compensate for the difficulty of driving into the City. Various "Legible City" programmes have sprung up to encourage people out of vehicles and onto two feet, with well thought out street maps and signposting to make things easy for walkers.
This, in turn, affects scale. Projects designed around motorised transport inevitably call for a larger scale, more impersonal infrastructure than those created with pedestrian traffic in mind. The relative proportions of carriageway to footway change. Lighting fixtures can be reduced both in physical size and luminous output. Space can be made available for relaxation, with street vendors, seating, and planting. The uniformity demanded by an infrastructure created for cars can be replaced by diversity of spaces, materials and finishes: something of a return to the neighbourhoods and urban villages that characterised pre-mechanised life.
CABE's "Civilised Streets", published in 2008, recognises an important shift in thinking in recent years about urban street design. Where the car was king, now people must come first. The emergence of shared spaces removes physical barriers and forces drivers to consider pedestrians.
What are the current challenges and opportunities in terms of making streets safer and more pleasant for a wide range of users?
There is a conundrum here. For years, traffic engineers have sought to improve safety by increasing the physical separation between pedestrians and cars: miles of steel barriers, forests of warning signs, gallons of paint. But is all this stuff really necessary? The answer is almost certainly not: in a pioneering move about 10 years ago, Kensington and Chelsea embarked on a complete redesign of Kensington High Street, taking away virtually all the pedestrian barriers and warning signs, opening up the pedestrian crossings, even installing bike stands on the central reservations. At the same time, they increased the size of the pedestrian footways, reduced street clutter by installing modern multi-functional lighting columns and unifying the remaining street furniture into a single design palette.
The visual improvement was immediately obvious and it was soon apparent that there was no detriment to pedestrian or motorists' safety. Amazingly, people didn't jump under buses just because there was no guardrail preventing them from doing to.
Kensington High Street has become a world-famous and much imitated piece of urban design.
Who tends to be the driving force in product specification in current urban regeneration projects – the architect, contractor, end-user or other? What are the differences between the three in urban projects in terms of specification?
Generally it is the consultant, retained and instructed by the local authority client. Therefore we must at first instance respond to the requirements of the urban designer, architect or landscape architect. The role played by the ultimate client varies from project to project – some are heavily involved in the details, some happy to be guided by their consultant. At the same time, we cannot ignore the contractor, who will have particular requirements for programme and installation methods. The contractor also pays our bill…...
Is it possible to fully emulate traditional materials to adequately satisfy planning authorities when tackling urban schemes? Please give any examples.
The choice of favoured materials for the manufacture of street furniture changes over time, for reasons of technology, availability, price or just fashion. Ornate cast iron was the dominant element from Victorian times to the mid 20th century and is what most people would regard as being "traditional" for street furniture. Composite materials, like "Ferrocast®", allow us to emulate the appearance of cast iron while reducing whole-life costs. Steel, wood, plastics, glass, concrete, natural stone, aluminium and stainless steel are all currently widely used, although the current price of stainless steel rules it out of a lot of urban schemes. Planning authorities are placing increasing emphasis on the sustainability aspect of materials and we make sure that all our new product design has this as first priority.