From talking bollards and bins to signposts that tell you which way to go, we are laying the foundations for a journey where entire landscapes will communicate with people. No longer will there be restrictions on what we can do in our cities – our pioneering technology will allow for the two to combine and complement one another for a 'smart' experience.
Those in need of extra help and support whilst in a public space stand to benefit hugely from the work we are doing right now to increase safety and accessibility through intelligent street furniture – and it's hoped that in the future we can make life in the city easier, more convenient and generally more appealing for everyone, not just those who need the assistance most.
Adapting our surroundings for everyone
Once the current state of the ageing population is taken into consideration – it is expected that by 2030 there will be 15.5 million citizens over 65, and 19 million by 2050 – something has to change, as the amount of people affected by physical difficulties is set to keep on rising. We took this on board and began to look at the most efficient and effective methods of ensuring that people of all abilities can enjoy our streetscapes and the public realm. After working with highly-regarded digital designer and technologist Ross Atkin, we have created some pioneering technology that can be easily integrated into public spaces.
Digitising our cities
We developed an interactive system whereby the user can communicate with checkpoints within a public space, using the latest technological advancements. Set up either through a smartphone or tablet device, or a specialist Marshalls' fob, the user can choose what they would like to be notified on depending on their condition. The ability to adapt each service to the user removes the 'one size fits all' tag that has traditionally applied to the majority of public spaces before now, and allows a visually impaired person, for example, to gain confidence and trust in travelling around a public space by foot.
But how does it work?
Using Bluetooth beacon sensors inside the products, the street furniture will be able to detect when someone with the mobile device application or a Marshalls-branded fob is near, and depending on the user's settings, will react to the needs they have requested assistance with. To begin, we have introduced the responsive technology into our Loci range, with the ambition to roll it out across other co-ordinated ranges to ensure everyone has the freedom and independence to take in a public space at their own pace.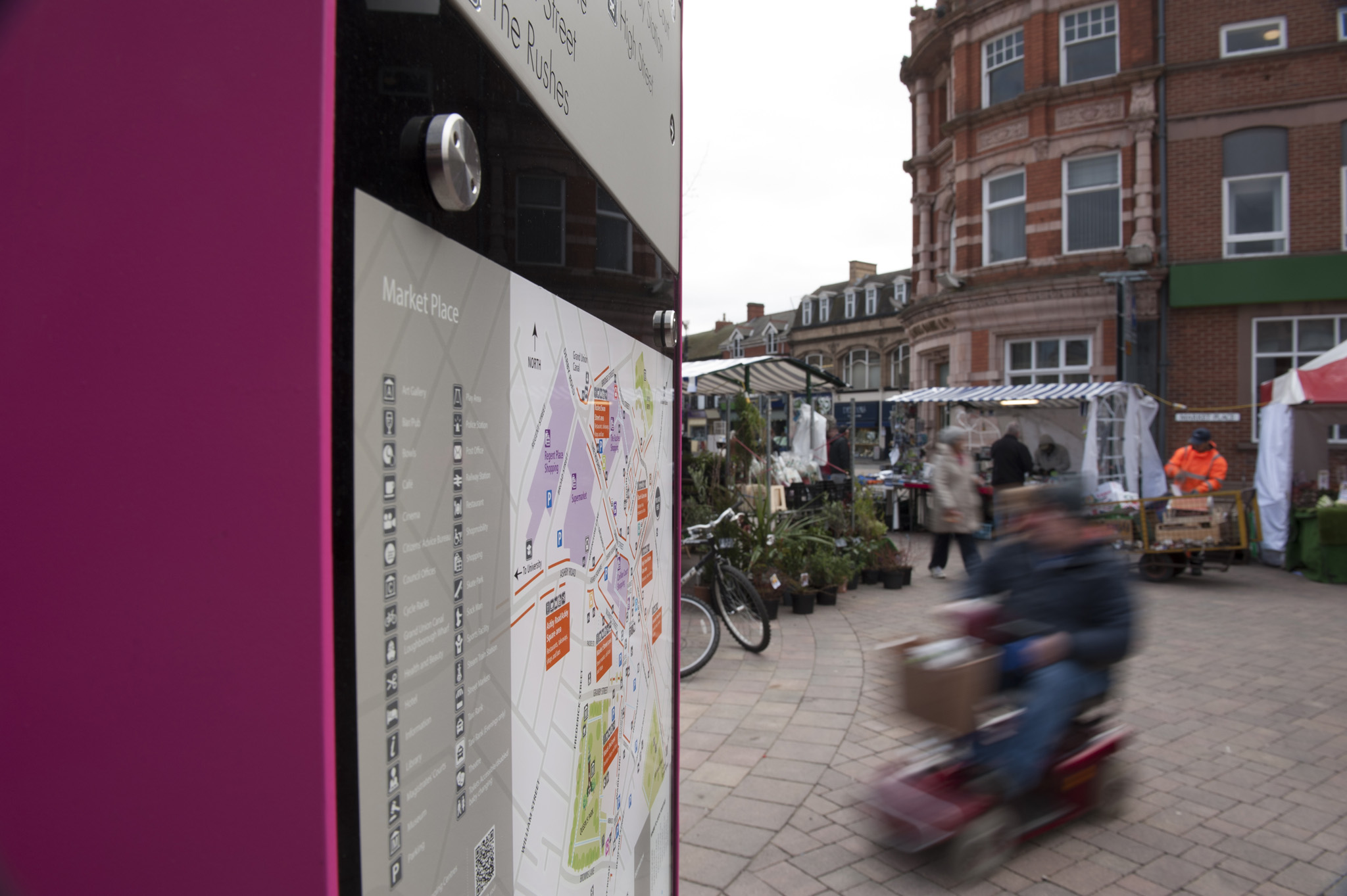 The main areas this responsive street furniture can help with are:
Bollards – are you talking to me?
Having a guide dog is a huge help for a blind or visually impaired person – however, it is difficult for the dog to distinguish places such as different shops, the doctors or the local takeaway or restaurant. Our street-responsive bollards have the ability to communicate with the users, by letting them know the name of the store or location they are passing by, so they can be confident of arriving at their destination.
Lighting – shining the way
A visually-impaired user will be able to set an increase in surrounding lighting. This means that if they walk past one of our streetlamps using the responsive street furniture technology, the bulbs will shine brighter as they approach and dim back down once they have passed in order to aid vision.
Monoliths – you'll never get lost again
Acting as a point of call for information, directions and assistance, our monoliths are a vital part of any public space. We have adapted them with the technology available in our street furniture range so they can communicate with users – be it changing the contrast lighting on the map, reading out directions or stating a user's current location.
Helping workers and tourists
We want to create a product range that is adaptable for not only those who face difficulties in city landscapes, but the public as a whole. As well as the visually impaired and less mobile, we also aim to help two other key groups – workers and tourists. For the workers who empty public bins on behalf of the council, unlocking every station with a key can become an extremely tedious task, especially if the bin in question does not need to be emptied after all the effort. However, we are in the process of developing the Responsive Street Furniture technology so it can be incorporated into the bins from our Loci range – aiming to make the task that little bit easier and enabling more efficient working.
How would it work?
The worker's smartphone or tablet device would be able to tell the workers which bins are full and need emptying, as well as communicate with the bins to automatically unlock when as they approach so they can easily remove the rubbish – the bin would then lock itself once completed. Tourists can also benefit from our technology, which can act as their very own tour guide around the city landscape. Using a mobile phone in the UK for a traveller can be extremely expensive, due to the charges incurred through data roaming services. By using one of our fobs, the user can choose their language and our responsive bollards and monoliths will translate any information or directions needed, so they can confidently take in what the public space has to offer without needing to worry about the language barrier.
The 'Smart City' in action
While we're focused on delivering an overall improvement in quality for pedestrians, another fine example of a tech-boosted development is happening in the Spanish city of Santander. Although it's at odds with our seven rules of good design , the scheme's focus on convenience for cars is nonetheless an impressive feat. By deploying readers, tags and various other devices around the area, the city's boffins receive instantaneous data on traffic flow, parking demand and environmental elements within their boundaries. The parking monitors are especially impressive – sensors embedded into parking spaces, under the tarmac, use ferromagnetic inputs to determine whether or not a car is parked there. This simple 0/1 function allows traffic signs to display how many parking spaces are available.
More in keeping with our view of priority to pedestrians is the work being done in Venice by Urbego and IUAV, where the popularity of tourism is affected by the relatively low amount of visible information available on the city's best destinations, confusing the flow of footfall and putting off visitors from getting really invested. The study used Wi-Fi and Bluetooth sensors to gather data on the flow of traffic in order to determine which places warranted better guidance and information for future city planning projects.
Such schemes to help pedestrians and drivers alike are responsible and cutting-edge – an example of the increasing role that technology has to play in town and city planning. As for us, to turn our dream into a reality we relied on our four key values – trust, leadership, sustainability and excellence. We are aiming to ensure these principles and technologies can be applied to public spaces anywhere for the benefit of all their users. From those who struggle with mobility and are visually impaired, to visitors and workers, our innovative and pioneering Intelligent Street Furniture will blaze a trail for a more independent and adaptable way of living – the possibilities are endless!