Open and here to support you.
All businesses in the Marshalls group are open.
We are working safely to manufacture products, take new orders and fulfill existing ones.
Find out more
RS005 Bollard
The Rhino RS005 Stainless Steel Bollard provides reliable perimeter protection for pedestrian walkways, car parks and buildings. Its sleek modern aesthetic and contemporary, double-ringed design adds a stylish aesthetic to a range of landscapes. Made from carefully selected 316L stainless steel for increased strength and durability, it requires minimal maintenance thanks to the material's natural resistance to corrosion and surface pitting. A choice of diameters and fixing methods are available, as well as stainless steel bezel and hazard banding.
Stylish and effective perimeter protection
Low maintenance
Hazard banding available
Made from durable stainless steel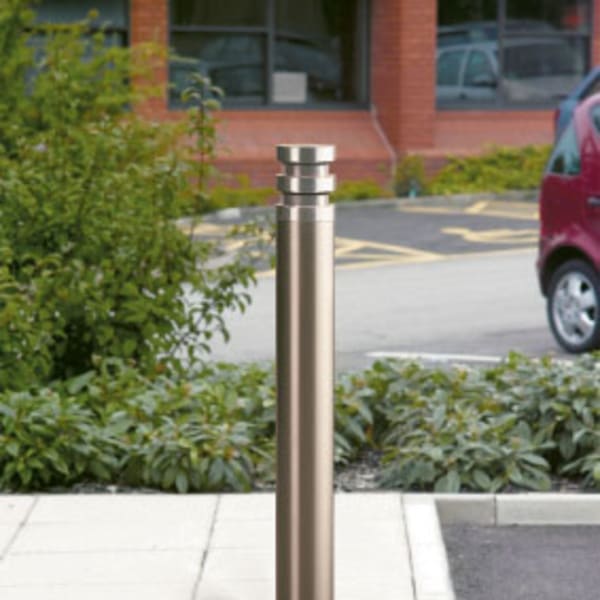 rs005
Certification Logos and Accreditations
| Product Name | Material | Finish | Diameter (mm) | Height (mm) | Reflective Tape Available | Reflective Tape Colours | Weight (kg) | Fixing Method |
| --- | --- | --- | --- | --- | --- | --- | --- | --- |
| RS005 Bollard Ø101 Removable | Steel | Brushed Satin | 101 | 1000 | Yes | Red, White or Yellow | 15 | Removable |
| RS005 Bollard Ø101 Root Fix | Steel | Brushed Satin | 101 | 1000 | Yes | Red, White or Yellow | 10 | Root Fixed |
| RS005 Bollard Ø101 Surface Mount | Steel | Brushed Satin | 101 | 1000 | Yes | Red, White or Yellow | 7 | Surface Mounted |
| RS005 Bollard Ø114 Removable | Steel | Brushed Satin | 114 | 1000 | Yes | Red, White or Yellow | 16 | Removable |
| RS005 Bollard Ø114 Root Fix | Steel | Brushed Satin | 114 | 1000 | Yes | Red, White or Yellow | 11 | Root Fixed |
| RS005 Bollard Ø114 Surface Mount | Steel | Brushed Satin | 114 | 1000 | Yes | Red, White or Yellow | 10 | Surface Mounted |
| RS005 Bollard Ø129 Removable | Steel | Brushed Satin | 129 | 1000 | Yes | Red, White or Yellow | 24 | Removable |
| RS005 Bollard Ø129 Root Fix | Steel | Brushed Satin | 129 | 1000 | Yes | Red, White or Yellow | 13 | Root Fixed |
| RS005 Bollard Ø129 Surface Mount | Steel | Brushed Satin | 129 | 1000 | Yes | Red, White or Yellow | 8 | Surface Mounted |
| RS005 Bollard Ø154 Removable | Steel | Brushed Satin | 154 | 1000 | Yes | Red, White or Yellow | 32 | Removable |
| RS005 Bollard Ø154 Root Fix | Steel | Brushed Satin | 154 | 1000 | Yes | Red, White or Yellow | 15 | Root Fixed |
| RS005 Bollard Ø154 Surface Mount | Steel | Brushed Satin | 154 | 1000 | Yes | Red, White or Yellow | 11 | Surface Mounted |