Mistral Priora Permeable Paving
A striking, contemporary surface option which offers excellent drainage without the need for drainage channels, Marshalls' market-leading Priora system has been proven over 15 years of successfully installed projects.

The patented nib on the edge of the Priora blocks creates voids through which water falls into a specially prepared sub-base. The nibs interlock to enhance surface stability, with tests showing they provide 40% more interlock than our standard block.

The result is maximum structural integrity as well as unsurpassed SuDS performance. Provided the sub-base is installed to Marshalls' specification, Mistral Priora is suitable for all loading requirements. It means that specifying Marshalls Priora blocks will bring long-term benefits in relation to pavement longevity and maintenance requirements.

Available in 3 different colours of Charcoal, Harvest Buff and Silver Grey, the exposed granite aggregates in the textured surface make Mistral Priora the first choice SuDS solution for modern developments and contemporary public spaces.
Random Course or Herringbone patterns are achievable, and must be stated at the time of order.



Market-leading SuDS performance
Patented nibs provide 40% more interlock
Suitable for all loading requirements
Available in 3 colour options
Striking, contemporary paving system
Maximum Loading Classification
Category 9 - 4 to 8 msa
Carbon Footprint
From 34 kg CO2 per m²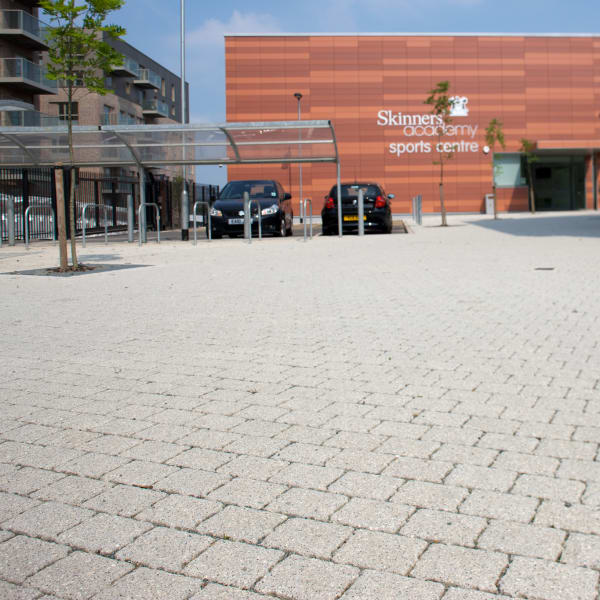 marshalls mistral priora silver grey london
Certification Logos and Accreditations
| Product Name | ID | Plan Size (mm) | Length (mm) | Width (mm) | Depth (mm) | Approx. Unit Weight (kg) | Approx. Pack Weight (kg) | Pack Size (m²) | Finish | Permeability L/S/H | Made to Stock / Made to Order | Carbon Footprint |
| --- | --- | --- | --- | --- | --- | --- | --- | --- | --- | --- | --- | --- |
| Mistral Priora 240 x 160 x 80 Silver Grey | PV5726300 | 240 x 160 | 240 | 160 | 80 | 7 | 1246 | 6.7 | Textured | 14295 | Made To Stock | 34 kg CO2 m² |
| Mistral Priora 160 x 120 x 80 Silver Grey | PV5726350 | 120 x 160 | 160 | 120 | 80 | 3.5 | 1086 | 6.7 | Textured | 14381 | Made To Stock | 34 kg CO2 m² |
| Mistral Priora 160 x 160 x 80 Silver Grey | PV5726400 | 160 x 160 | 160 | 160 | 80 | 4.7 | 1168 | 7.2 | Textured | 14338 | Made To Stock | 34 kg CO2 m² |
| Mistral Priora 240 x 160 x 80 Charcoal | PV5728300 | 240 x 160 | 240 | 160 | 80 | 7 | 1246 | 6.7 | Textured | 14295 | Made To Stock | 34 kg CO2 m² |
| Mistral Priora 160 x 120 x 80 Charcoal | PV5728350 | 120 x 160 | 160 | 120 | 80 | 3.5 | 1086 | 6.7 | Textured | 14381 | Made To Stock | 34 kg CO2 m² |
| Mistral Priora 160 x 160 x 80 Charcoal | PV5728400 | 160 x 160 | 160 | 160 | 80 | 4.7 | 1168 | 7.2 | Textured | 14338 | Made To Stock | 34 kg CO2 m² |