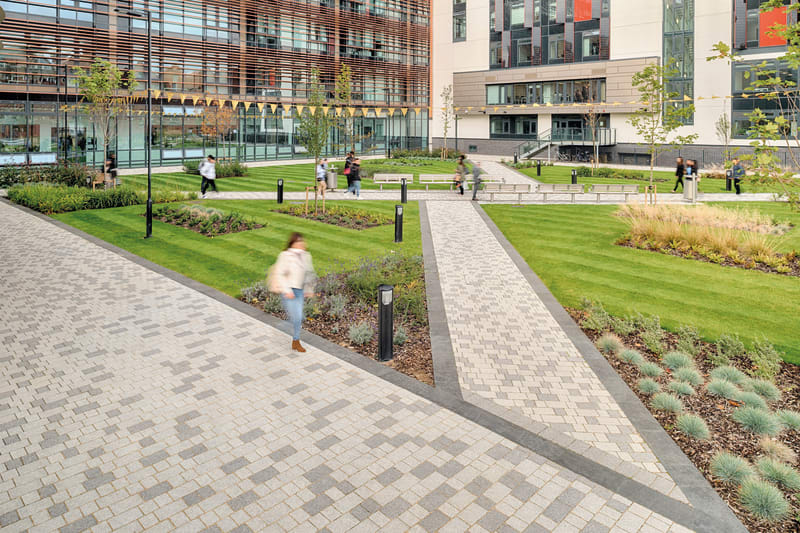 Marshalls Hard Landscaping for Commercial Construction
Here at Marshalls, we boast an unrivalled offering of external hard landscaping and flooring solutions. Marshalls' commercial landscaping products for housing and retail projects range from block paving, paving flags, kerb stones, natural stone, SuDS, street furniture and walling, to name just a few.
Through commercial landscaping, each of the specialist areas can be effortlessly combined to create better spaces. Marshalls' expert teams of engineers and sales consultants can assist in providing designs for any type of scheme using a palette of commercial hard landscaping products.
VIEW ALL PRODUCTS
What does Marshalls' range of commercial landscaping products include?

We are proud of our reputation as the leading supplier of construction and building materials in the UK, and we firmly believe our selection of hard landscaping products is unmatched by any of our competitors. Below are just a few examples of our extensive offering:
Why should I choose Marshalls' commercial landscaping construction materials?

We boast decades of experience as the leading hard landscaping suppliers in the UK, so you can be sure you're partnering with the very best when you come to Marshalls. Not only is the range and quality of our products unrivalled, but you'll also receive a premium service. Our team of experts can offer invaluable help from the very start of the project all the way to final completion and beyond including guidance on the right commercial landscaping products for your project, so why not get in touch today or download a brochure to see our full range and find out what we can do for you.