redi rock flood protection
Redi-Rock™ Flood Protection
With an increase in storms and flood damage Marshalls Civils and Drainage offers a range of flexible low cost, high quality flood protection solutions based on their innovative Redi-Rock™ interlocking modular wall system.
Whether looking to heighten river banks, build new sea walls or construct flood plain defences, Redi-Rock™ offers considerable benefits over alternative solutions, not least the aesthetically pleasing finish that Redi-Rock™ offers enabling it to blend perfectly into the local environment.
Concrete has a proven track record of performance in water applications, and the modular blocks are 100% concrete and not steel-reinforced. As the concrete wall flood protection blocks are dry laid, they can be easily moved should the situation on the ground change. Water application benefits include, Pre-cast strength against freeze-thaw cycles, massive blocks with in-built strength, quick and economical installation, dry-laid with no mortar requirements, competitive pricing and no maintenance alongside a natural stone appearance to blend into or compliment local environments.
Redi-Rock™- Waterways & Shoreline Defence
As past summers have shown, at least ten per cent of all land in England lies within areas at risk of flooding. This includes large areas of Eastern England and much of the cities of London, York and Hull. There are tens of thousands of buildings at risk including the Houses of Parliament.
Predictions for the next 50 years estimate that water levels in England will rise by around 0.3 meters.
To help answer this national challenge, Redi-Rock™ provides flexible solutions that offer savings in economy and time-scale when compared to traditional methods.
Shoreline Protection and Erosion Control
The proven track record of concrete performance in water applications makes Redi-Rock™ a fitting match too many challenges because the blocks are 100 per cent concrete and not steel reinforced. Most severe water conditions can be addressed by using different cement or additives in the concrete mix to guard against water erosion.
Waterways
Canals and rivers can utilise Redi-Rock™ blocks. Tow paths and river banks can be reinforced with a Redi-Rock™ walling solution that aesthetically compliments the environment. Redi-Rock™ is a quick to install and economically attractive solution that has the added advantage of being very ascetically pleasing in the country environment.
Flood Plain Defences
Redi-Rock™ is ideal for flood plain defences since as the seas rise so will the rivers and low lying land will flood unless protected. Redi-Rock™ concrete blocks are ideal for this type of flood defence. In the UK, the Environment agency has specified Redi-Rock™ for many projects including a large scheme in Newcastle.
Marshalls is able to offer Redi-Rock™ modular walling in
BIM (Building Information Modelling) which is now a requirement for all government construction projects.
Redi-Rock™ flood protection walling offers:
Quick and economical installation.
Overall cost savings on projects typically more than 30% compared to alternatives – In fact, many projects have achieved even greater savings when taking into account massive labour savings, less land take and faster installation.
Dry laid with no cement, formwork or shuttering and minimal foundations.
Can be installed in any weather and into water.
Minimal delays to work and schedules.
No maintenance.
Natural stone appearance to blend into or complement local landscapes.
If you would like a CPD style presentation of our Redi-Rock wall solution please call our marketing team on 01902 356220 or send an email to lch@marshalls.co.uk
Certifications, Accreditations & Credentials
UKCA Declarations of Performance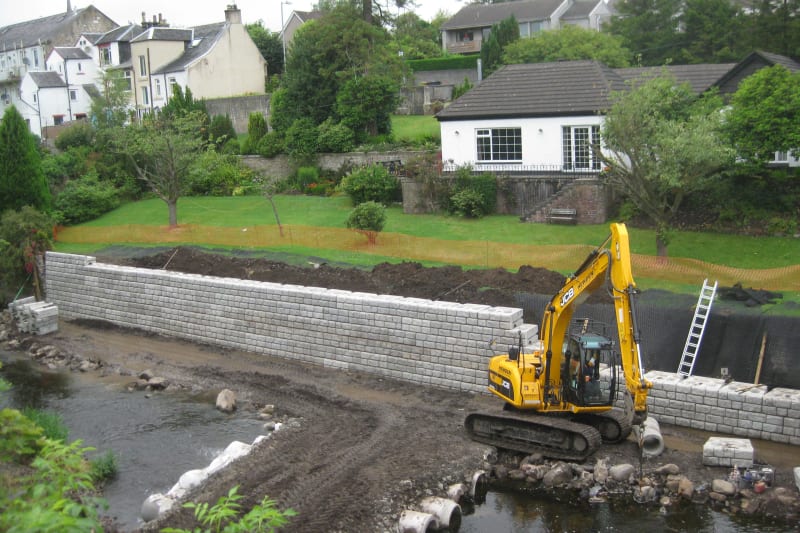 Redi-Rock™ Flood Protection BIM Model
At Marshalls we work alongside appropriate guidelines in which we are able to provide high quality 3D objects of our products that contain rich data to satisfy that information required by our clients.
We strive to improve the relationship with stakeholders and the BIM process enables us to share the relevant information.
Our BIM models are available to download directly from our BIM library.
We have a range of models available in AutoDesk Revit format including CoBie, IFC and NBS data.
View BIM Library